Posted: Tuesday, May 19th, 2015
Our Wednesday Morning Farmer's Market: Get Your Smiles and Satsumas Here
by Ken McAlpine
It is a bright blue children's story of a morning, an appropriate ceiling for the spread of vegetables here at the Wednesday morning Ventura County Certified Farmers' Market. Had Jackson Pollock done vegetables, here you have his canvas. There are perhaps twenty pop up tents in the parking lot of the Pacific View Mall, each tent shading a direct marketing farmer. To be a vendor at this market, the Ventura County Certified Farmers' Market Association (heretofore known as VCCMFA to save us all time) requires that said vendor must "raise, catch, gather,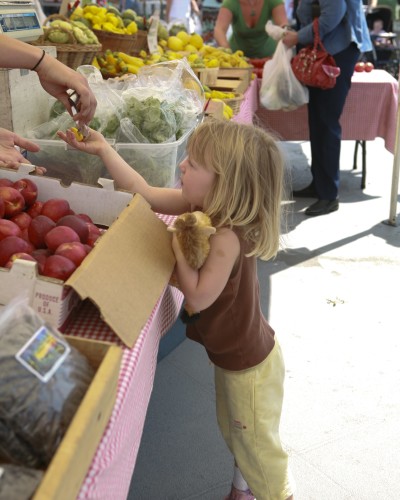 grow or otherwise produce the product they sell." From a consumer's viewpoint, encouraging verbs all, although it also indicates that even selling produce is no longer a simple affair. Unlike the marketers most of us know, the farmers' employees (and sometimes the farmers themselves) sit on stools smiling amiably, or talk on their cell phones, or patiently answer customer questions. More than a few nosh on their product. If I owned Da Vall Date Gardens, it would go out of business. "Something else, huh?" says the friendly gentleman who has just handed me a Medjool Date. "You're not going to find anything softer or sweeter than that." The handwritten sign in front of the Medjools says "rich, caramel meaty date." For the first time I realize it is possible for marketers to undersell something. I also realize, yet again, how woefully ignorant I am regarding our agricultural bounty here in Ventura County. Every day I see the geometric fields, often with workers bent double in what is surely back-wrenching labor. Sometimes I see the figures — in Ventura County our rich earth yields almost $2 billion in crops and livestock each year – but like most of us, I take this in, and then let it go. It's a cornucopia of wide blue skies and fruits and vegetables, but it's just home. I don't think I'm alone. I prefer to assume the high road and not point fingers, but I would guess there are still plenty of folks in my hometown who might — hypothetically speaking — stand beneath a pop up tent and stare Forrest Gump-like at a Romanesco Cauliflower as if it just fell to earth from another planet.
It looks like a lot of really small pine trees all bunched together, Momma.
But not one person at the Wednesday morning farmer's market holds my ignorance against me, including my sister-in-law Pat who, after almost 30 years, knows well the depths of my ignorance on many fronts. Although she will hate me for writing this (she makes the Dalai Lama look immodest), Pat is quite expert in the matter of farmer's markets and our local agricultural bounty, having, among many other things, helped bring local fruits and vegetables into our local school cafeterias. After I haul my stupefied gaze away from the Romanesco Cauliflower (I'm telling you, it really is amazing looking. If you don't know what it looks, Google it in private; our secret), Pat patiently explains how to pick out a good artichoke. "It's all about weight," she says, rummaging through an artichoke pile of many shapes and sizes. "If it has a thick stem, it has a bigger heart. You want thick leaves too." Pat hands one to me.  "Now this one seems really nice and heavy." It is like a club. I put it in my bag (Neophyte tip #1: when shopping farmer's markets, bring your own bag.) as if I was going to select it all along. I have eaten hundreds of artichokes in my life, but if it hadn't been for Pat I would still be standing in front of that pile of artichokes now. My modest sister-in-law leads me to the next booth, where she politely goes through another tutorial. All that's missing is my stroller. Regarding farmers markets and farmers' produce, I am not alone in my ignorance. The VCCMFA currently runs two weekly certified markets in Ventura (Saturdays downtown at the city parking lot on the corner of Palm & Santa Clara streets and Wednesdays here in the parking lot of the Pacific View Mall). The Downtown market has been operating since 1986, the midtown market since 1989, but it seems they are still something of a secret. "The hardest thing for us is just to get the word out," Ben Dominguez tells me when I stop at the information booth.  "We still have people who live here and they show up and say, 'We didn't know there was a market here.' This particular market has been held on Wednesday mornings for twenty years, but a lot of people still don't know about it." Since most of you can't come to the farmers' market with Pat, if you are produce impaired the information booth is a fine place to start. Not only is the booth manned by friendly, non-judgmental folks like Ben, they have lots of useful information too. For some reason Ben gathered up all their handouts and gave them to me. So it is that I now know that pineapple, persimmons and lemons should not be refrigerated, and that avocados, peaches and nectarines should be allowed to ripen on the counter first and then be placed in the fridge (but not way in the back, where they eventually become something even Pat can't identify). The information sheets also contained handy tips specific to produce ("If you have purchased something that is not quite ripe, place it in a paper bag with a ripe apple), as well as advice that seemed to me to extend beyond a farmer's market borders ("Select your product carefully. Use all your senses."). I also learned a few facts that might come in handy on a game show. For $10,000 dollars is "no spray" a legal term in the marketing of agriculture? (No.) But informational brochures only convey information. You have to come to the farmers' market to understand why you'll be very glad you came. Endless sampling aside — "Well, I will try another Chocolate Fuyu Persimmon, if I must." — the Wednesday morning farmer's market at the Pacific View Mall is a happy place. There are piles of colorful bounty, and retirees with walkers, and young mothers with strollers, and small children who have escaped said strollers and now have rings of various colors around their mouth. There is also something soothingly pleasant that, at first, I can't quite pin down. There are local chefs buying garlic and fresh vegetables for tonight's dinner menu and farmers whose families have known each other for generations, and people smile and nod to each other and engage in easy conversation about kids and neighbors and local happenings as if they have no place better to be. It reminds me of something, and eventually Ben reminds me what that is. When I tell him the Satsuma Mandarins taste so much better here in the sunshine, he smiles. "The most common comment we get from first timer shoppers is, 'Oh. That's what it tasted like when I was a kid.'" This story was originally published on kcet.org
Ventura's Ken McAlpine is the author of eight books. His website is www.kenmcalpine.com

Photo's courtesy of Ventura County Certified Farmers' Market Association
Discover More
Get to know Ventura, and discover the best things to do around the city.
Ventura Partners With