Posted: Saturday, Oct 3rd, 2015
FARMERS MARKET BOUNTY
Got veggies? One of the best ways to celebrate the season is by visiting one of our local Farmers Markets (we have 15 in Ventura County!). Indulge yourself with the seasonal bounty while supporting our local farmers! The Farmers Market is more than just filling up your bag with farm fresh goodies…it's ALL ABOUT THE EXPERIENCE! How to take your "market" experience up a few notches:
GET INSPIRED!
Prior to going, dig up a seasonal recipe you've been dying to try…make a list, select, prepare and enjoy! Autumn bounty is so versatile. Make that jam, roast up a melange of root vegetables or simmer that butternut squash soup. Or just bite into that juicy apple! Or wing it…and get inspired once there!
EARLY BIRD
Go early! Arrive before the market opens. Observe the vendors setting up. The veggies and fruit are piled high, virtually untouched and displayed beautifully! Bonus: it's not so crowded!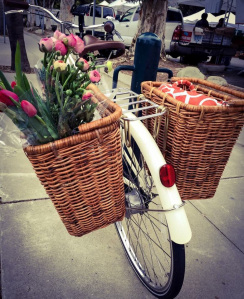 PEDAL
Ride your bike. Be sure to have an attached basket to carry your goodies home. Get some exercise and enjoy the journey!
BAG IT!
Bring along your favorite Farmers Market bag or basket (the cuter the better!). I love the Weekender Tote in vibrant patterns from our local Ventura designer: MidiQueen
midiqueenhandbags.com
Besides having a bag with "personality", you are helping our environment by being green.
FIRST TIMERS?
A tip: walk the whole market before you buy. Familiarize yourself. After going to the market a few times…you will have your favorite booths!
HOT DATE
Make it a date with your mate. First by selecting produce and then later by cooking together! Better yet, make it a weekly ritual starting with a breakfast date at a fav spot.
BRING THE KIDDOS
Take the kids! It's never too early to teach your kiddos to appreciate fresh produce. Get them involved. Engage them by letting them be a part of the meal planning. Who knows…you just might inspire a future chef!
SAVOR
Don't rush through the market. Enjoy the experience. Savor by taking your time. Stop and smell the roses…literally. Better yet, buy a bundle!
FAMILIAR FACE
Be on the lookout, you will almost always run into an old friend. Stop and catch up for a bit! Or…invite them for coffee.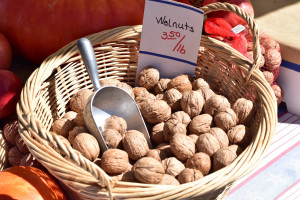 WHAT A VARIETY!
Besides an array of fruits and vegetables, our Farmers Markets have flowers, plants, farm fresh eggs, nuts, dried fruit, herbs, cheeses, artisan breads, freshly squeezed juices, specialty meats sausages, freshly caught fish and so much more!
SNAP!
Take photos. Bring out the photographer in you by capturing vibrant and colorful images of flowers, fruits and veggies. Looking for the perfect photo op is a great way to see things you might have missed. TIP: the lighting for photos is optimum in the early morning.
BE SOCIAL
Chat with others about how they use and prepare meals with that unfamiliar fruit/vegetable you've never seen. Those selling often have great tips…just ask!
LISTEN
Stop and listen to the musician. Dance. Music options change weekly. Don't forget to leave a tip (especially for those sweet young sisters playing their violins)!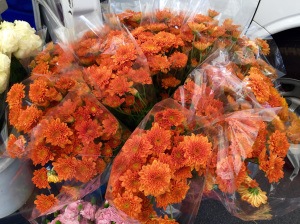 DON'T FORGET FLOWERS!
Brighten your home with flowers from the season! Autumn brings out the mums and sunflowers. Take home an extra bunch to make someone's day!
SIP & LINGER
Begin (or end) your experience with a lovely hot beverage from a nearby coffee cafe' (opt for local over a chain).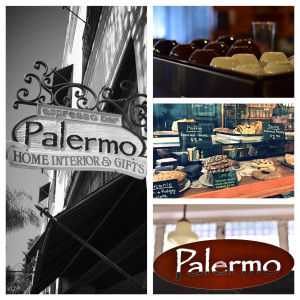 A fav pit stop on my Saturday morning route in Ventura is Palermo, a popular hip yet low key coffeehouse Downtown. Choose "for here" over "to go". Enjoy your drink out of a real cup instead of paper! Is your hot beverage lonely? Add a scone or muffin. Sit awhile outdoors at a bistro table or indoors on a cushy settee for two. Chat with a stranger. Make a friend. Buy the next person in line their drink and make someone smile!
GO OFTEN!
Make it a weekly ritual! Saturday's market is a wonderful way to begin every weekend.
TIPS
-Cash only -Pets not allowed at most markets
What's in season (SoCal)?
Most Popular Autumn Bounty: Winter Squash, Peppers, Greens (Lettuces, Kale, etc.), Apples, Figs, Persimmons, Sunflowers,
LOCAL FARMERS MARKETS IN THE 805:
WEDNESDAY -VENTURA 9am-1pm Pacific View Mall Main St (near Red Robin) -CAMARILLO 3-7pm Camarillo Community Center parking lot 1605 E. Burnley Street THURSDAY -OXNARD 9am-2pm Plaza Park 5th and C Street 4-8pm The Collection at Riverpark -THOUSAND OAKS 1:30-6pm Oaks Shopping Center east parking lot -VENTURA 3 -7pm Ventura Community Park 901 South Kimball Road FRIDAY -MOORPARK 3-7pm Village at Moorpark Shopping Center Miller Parkway and Los Angeles Avenue -SIMI VALLEY 11am-3:30pm Simi Valley Civic Center Plaza 2757 Tapo Canyon Rd. (next to TGI Friday's) SATURDAY -VENTURA 8:30am-noon Downtown Santa Clara Ave. and Palm St. -NEWBURY PARK 9am-2pm Newbury Park Library parking lot Borchard Road and Michael Drive -CAMARILLO 8am-noon 2220 Ventura Boulevard County of Ventura Senior Nutrition Center parking lot -CALABASAS 8am-1pm Old Town Calabasas Calabasas Road west of El Canon Avenue (across from Sagebrush Cantina) -WESTLAKE VILLAGE 10am-2pm 2797 Agoura Road (Village Glen) SUNDAY: -OXNARD/CHANNEL ISLANDS HARBOR 10am-2pm 2805 South Harbor Blvd. -OJAI 9am-1pm 300 E. Matilija Try out another
Farmers Market nearby
! There's something new to discover at each one! Interested in joining a Local Produce Delivery program? A wealth of info on Farmers Markets, Farm stands, Markets offering local produce and CSA (Community Supported Agriculture) and Local Delivery When traveling, check out the local Farmers Markets at your destination. You'll get a sense of the local flavor and grab something yummy too! Bon Appetit!
"Me & B Project" Written by Debbie Cvijanovich. Photos by her teen son Bennett. Follow us on Facebook at ROAM805 and ROAM. At
roamtraveler.com
for happenings, activities and inspiration to making the most of living in our awesome county! Ready, Set, Let's ROAM…

Discover More
Get to know Ventura, and discover the best things to do around the city.
Ventura Partners With