Posted: Wednesday, Jan 22nd, 2020
20 Ways to Warm Yourself at Ventura Harbor
by Ventura Harbor Village featured image by Photography by Wink
The fun doesn't end when it's a bit chilly out! We've put together a list of 20 ways in 2020 to warm yourself seaside at Ventura Harbor & Ventura Harbor Village!
We bet you'll find a few that are right up your alley.
#1 Handcrafted Chowders and Homemade Soups
This is absolutely the season to enjoy a bowl of hot soup or handcrafted chowders with a cool seaside view!
Click here
for a listing of what picturesque Ventura Harbor Village restaurants are offering.
#2 Happier Hours are by the Sea
Warm yourself from the inside out with a tasty seaside libation. For a listing of all our amazing happy hours please
click here
.
#3 Take a Soak in Style
New pop-up shop
Lemon & Lei
offers a variety of amazing bath bombs & refreshing soaps as part of the natural bath & body collection to help enhance your soak!
#4 Be a Kid Again (or Bring the Kiddos!)
Whether you prefer an invigorating game of air hockey or slicing and dicing Fruit Ninja style, the
Village Arcade & Carousel
has heaps of fun in store!
#5 Chocolate to Warm Your Heart & Soul
Chocolate connoisseurs, witness, right before your eyes, liquid chocolate pouring from chocolate machines at the new
Top This Chocolate,
where each creation can be made into personalized chocolate bars, squares or hearts with toppings of your choice!
#6 Laugh it Up!
Is there anything better than a belly laugh to get your blood pumping?
Ventura Harbor Comedy Club
has live comedy shows weekly!
#7 Warm Your Toesies
Put a spring in your step and warmth in your toes with a new pair of socks from
Lost in Socks
! Over 1,000 styles to choose from!
#8 Buy a New Hoodie or Sweater
It's probably time to revisit last year's hoodie or sweater… invest in a new favorite on-trend at
Barefoot Boutique
,
Ventura Swimwear
, or
Casa de Regalos
.
Village Market
has a variety of Ventura Harbor hoodies too!
#9 Upgrade your Wetsuit
Rips at the seams just won't do. Get your new wetsuit and booties or dive to new depths with a wetsuit from
Ventura Dive & Sport
!
#10 Top Yourself Off
Grab a wool beanie or a felt hat to keep you super warm (and cute too!) from
Hats Unlimited
. Or try a European-style scarf or poncho from
Anja's Boutique
!
#11 Stroll Through an Art Gallery or Two
Spend hours basking in the beauty of local art at
Harbor Village Gallery & Gifts
or Tina O'Brien's
Mermaid Gallery
. Visit
Treasure Cove
for beautiful jewelry & collectibles! Warm beverages just taste better out of a handmade mug. Get yours from local potters at
Ventura County Potters' Guild
.
#12 Splurge on a Hot Fudge Sundae
OK, so not all of it's hot, but how can you go wrong with an ooey-gooey treat?!
Coastal Cone
has you covered. Or how about a HOT dog from
The Parlor
.
#13 Savor a Real French Croissant Hot Out of the Oven
You know you want one. Chef Jean-Luc makes them fresh right here at
Le Petite Cafe & Bakery
. Try his cookies too! YUM.
#14 Warm Up Your Look
Do your hairdo justice! Maybe a trim or some winter low lights at
Silhouettes by the Beach Salon
.
#15 Take a Cozy Ride on the Water
Being on the water doesn't have to be chilly!
The Dreamer at
Ventura Boat Rentals
is warm and fully enclosed and offers weekend harbor cruises for your boating pleasure. Or how about an exhilarating trip on
Islands Packers
cozy Catamaran.
#16 Watch a Movie
Enjoy the high-definition 25-minute movie entitled, "
Treasure in the Sea
", narrated by Kevin Costner at the
Channel Islands National Park Visitor's Center
.
#17 Watch a Golden Sunset
The colors have been almost unreal… pink, purple, mauve, lavender, tangerine… any of our seaside locations offer spectacular sunset views, and for a real treat enjoy an early dinner (and sunset) at
Water's Edge Restaurant & Bar
.
#18 Try an Escape Room
It may be cold outside, but inside
The Ultimate Escape Rooms
, you'll have a fun, adventurous getaway to challenge your mind with friends, co-workers or family!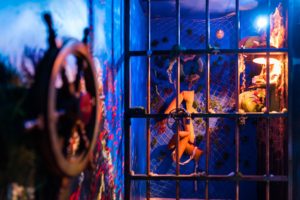 #19 Hot and Fresh Homemade Corn Tortillas
Need we say more? Homemade corn tortillas are unbelievably hard to find these days… and don't they make all the difference in tacos?! Get your plate at
Baja Bay Surf N' Taco
.
#20 Saganaki
That's right, flaming cheese! Where else can you get a seaside view and table-side flaming cheese? A winning combo for sure. Only at
The Greek Mediterranean Steak & Seafood Restaurant
.
Discover More
Get to know Ventura, and discover the best things to do around the city.
Ventura Partners With