Posted: Wednesday, Dec 29th, 2021
What's Happening in Ventura on New Year's Eve?
It's New Year's Eve in Ventura, and yes, there are things to celebrate. From a dance party high atop the Crowne Plaza Ventura Beach Hotel, to comedy (and fundraising at Poinsettia Pavilion), to bands, bands, and bands at the Ventura Beach Club, Ventura will be celebrating. For there are things to celebrate.
Yes, once again we celebrate New Year's Eve in strange and difficult times.
But that shouldn't stop us from raising a glass in the kind of toast you choose.
A toast to loved ones. A toast to so many heroes. A toast to innovative and hard-working restaurants and retailers, to businesses that not only adapted but outdid themselves.To little-not-so-little things. Like the whispered applause of eucalyptus leaves along the road rising to Grant Park. Like the soft touch of sun on skin. Like any Ventura sunset. .
Here in Ventura – and around this world we all call home – there is still much to be grateful for, including bright moments to come.
So choose your Ventura New Year's Eve offering to celebrate those things.
And maybe, as the clock chimes midnight, make your own silent toast and promise.
To be the best that you can be.
Because, at our collective best, nothing can beat us.
Crowne Plaza Ventura Beach, 450 East Harbor Boulevard.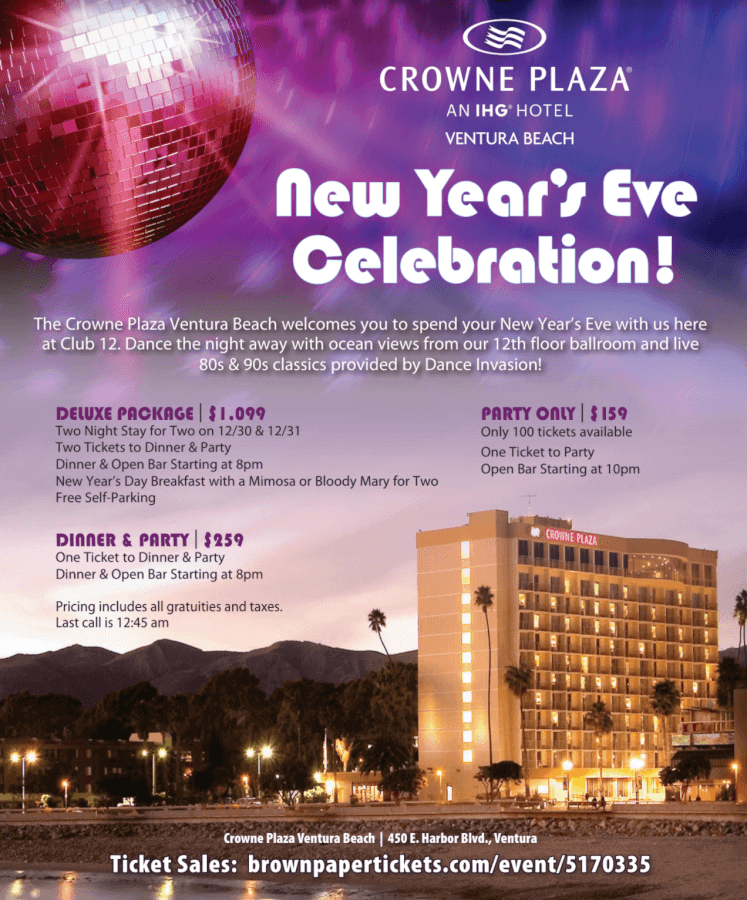 Ring in the New Year at the Crowne Plaza Ventura Beach Hotel. Dance the night away in their Top of the Harbor Ballroom, now transformed into Club 12, featuring live music by Dance Invasion. Enjoy 280-degree panoramic views of the Ventura coast and city skyline while dancing your way into the New Year. 80's or 90's, or dress cocktail attire encouraged. Tickets from $159.00. All Tickets include a hosted bar. Please click here for details and tickets

Moose Lodge, 10269 Telephone Road.
Celebrate New Year's Eve with The Mighty Cash Cats and The Linda Ronstadt Experience from 8 pm to 1:30am. They'll also have a DJ, party favors, and champagne toast. Pre-sale tickets from $20.00 per person, or $35 per couple. Tickets will be $25 per person at the doors. Dress to impress is encouraged, or as Johnny Cash famously said, "Wear your cleanest dirty shirt." Please click here for details and tickets.

Poinsettia Pavilion, 3451 Foothill Road.
Comedy Tonight Productions presents "Broadway at the Seaside 2," a New Year's Eve Dinner Show from 6 pm to 10 pm at Poinsettia Pavilion (which also features a twinkling lights panoramic view of Ventura like few others). A no host bar, followed by a catered dinner and performances of live Broadway classics (comedy style), then wrapped up with dancing and a New York New Year's Eve countdown at 9 pm California. Added plus, you can start 2022 by being kind and generous. The evening will also play host to silent auctions for local charities, including Family to Family, which provides meals to the homeless and disadvantaged in Ventura. Please click here for tickets and details.

Namba Performing Arts Space, 47 South Oak Street.
Sure, a New Year's Eve kiss is great, but why not a whole lot of laughs too? Ventura Improv Co. presents it's 30th Annual New Year's Eve Show. The $25 price of admission includes hors d'oeuvres and champagne toast. Doors open at 6:30 pm and the show starts at 7. Please click here for tickets and details.

Grapes & Hops with a Twist, 454 East Main Street.
The $35 cover gets you in the door for their Casino Night and Dance Party, and also buys you casino chips, party favors, a midnight champagne toast and the chance to dance to live music by House Arrest. 7 pm to midnight. Music by House Arrest. There are a limited number of tickets so advance purchase is required. Please click here for tickets and details.

Ventura Beach Club, 281 West Main Street.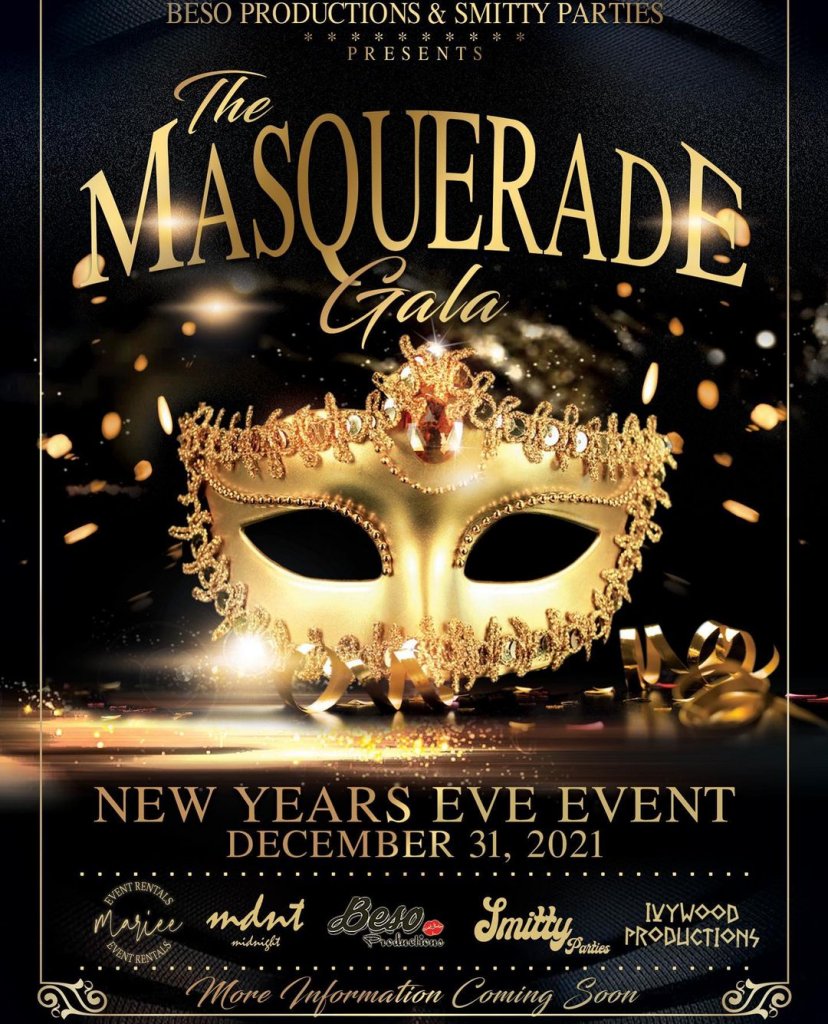 The Ventura Beach Club is throwing a "Masquerade Gala," so, for starters, you'll need a mask (and formal wear is encouraged). MC's, live music on indoor and outdoor stages from the likes of Petey, DJ Atre, Alex Baragas and Ayesarrugh. Doors open at 8 pm. Tickets start at $10 and, depending on the package, go up from there; but $10 still includes a glass of champagne for a NYE toast. Please click here for tickets and details.

The Greek Mediterranean Steak and Seafood, 1583 Spinnaker Way, Ventura Harbor Village.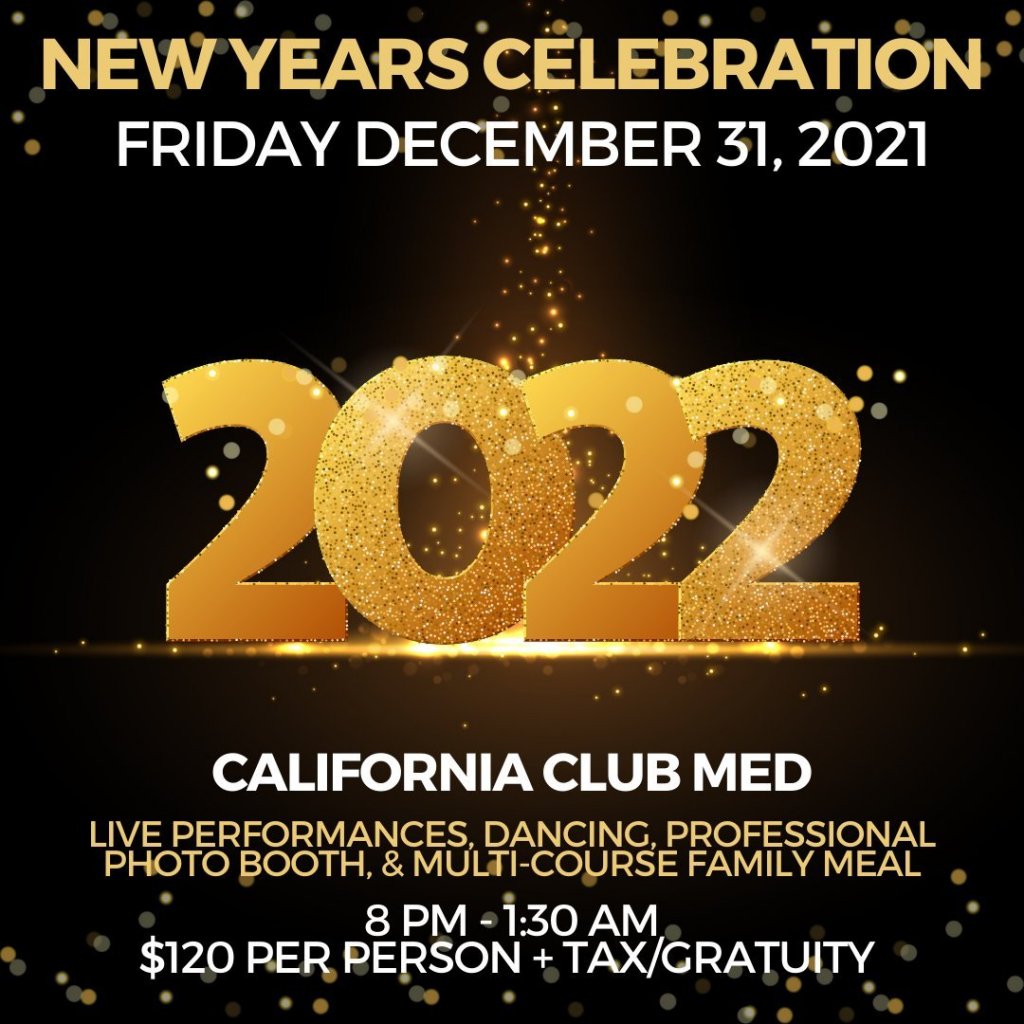 Boatyard Pub, 1593 Spinnaker Drive, Ventura Harbor Village.
Celebrate NYE with the live music of Oleander Falls from 6 pm to 9 pm. For more info please call 805-850-0202
Winchester's Grill & Saloon, 632 East Main Street.
Winchester's is synonymous with live music, and NYE will be no exception. From 9 pm to 12:30 am they're celebrating with the live music (rock from the 80s and on) courtesy of the Jayden Secor Band. Got stamina? The Swillys play on New Year's Day (2 pm to 5 pm).
Casa Bella, 391 East Main Street.
For those who like to get home early, Casa Bella

offers a Romantic Early Seating (4 pm to 7 pm) with a four-course dinner at a champagne toast (starting at $49). The second dinner and NYE celebration begins at 8:30 pm; also a four course meal, but this time with live music by Sound Effect, party favors, champagne and dancing until 2 am (starting at $99). Advance reservations highly recommended (805-340-1118).

Ring in the New Year with drink specials, party favors, and ball drop and good Irish cheer.

Leashless is throwing an East Coast NYE party with Jacob Marquez and the Good Vibes playing from 5 pm to 8 pm. They'll let you sleep in, but be back on New Year's day by 6:30 pm to hear Irie Nature play.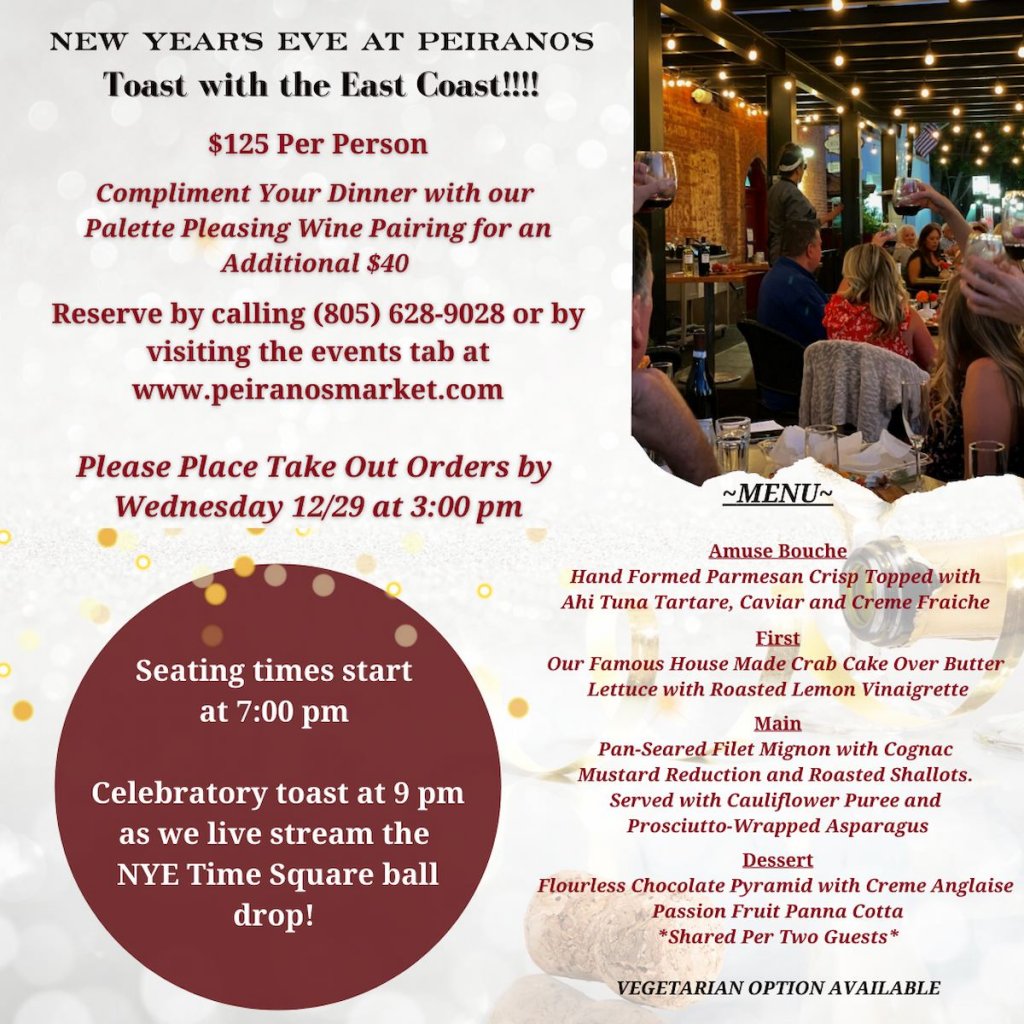 Make plans to join us for an unforgettable New Year's Eve. We are excited to present to you an intimate evening featuring a multi-course meal with optional wine pairing. Enjoy celebrating with an East Coast toast and live stream of the iconic New York City Times Square ball drop.
Reservations can be made by visiting our website below or calling (805) 628-9028.
Plenty of Other Possibilities …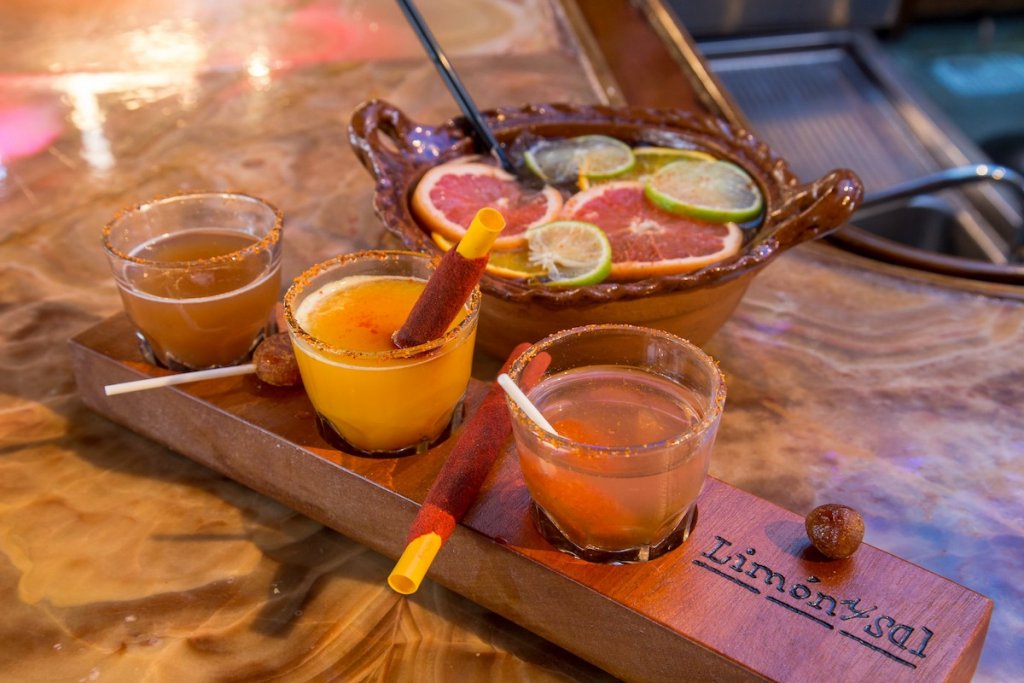 We try our best, but it's entirely possible we missed a few; plus some plans were still in the making as of Visit Ventura press time. So from The Blue Agave

, to Pacific by NoRu, to Limon y Sal, to the 805 Bar & Grilled Cheese and the Copa Cubana, to the Water's Edge Restaurant and Bar, check in with your Ventura favorites to see what they might have planned.

And – last but not at all least – a heartfelt thank you from all of us here at Visit Ventura for continuing to Support Local.


When it comes to kindness, caring, and the power of community, there's no place like Ventura.
Discover More
Get to know Ventura, and discover the best things to do around the city.
Ventura Partners With