Posted: Thursday, Jan 23rd, 2020
Ventura Continues to Make Headlines
by Visit Ventura featured image by Byba Sepit
It's always fun to see what others say about Ventura; from former Ventura natives having grown to be nationally recognized writers, to Montana outdoorsmen learning to surf for the very first time. In recent months, plenty has been said about Ventura — in magazines, Japanese videos and Los Angeles television news featurettes.
Here are a few of the highlights…
Ventura received a nice write up in the November/December 2019 issue of
VIA Magazine
(which reaches 5.9 million AAA members). Wrote Peter Fish (who grew up in Ventura and went on to become one of America's most respected travel writers),
"Ventura is Southern California's unsung beach town, not as posh as Santa Barbara to the north, not as glam as Malibu to the south. But that just means the Ventura seaside is less crowded, its restaurants less expensive. And when it comes to the essentials — sand, waves, seafood — Ventura delivers."
Peter also had this to say about the Channel Islands;
"If you really want to get away, drive to the Ventura Harbor and check out the visitor center for Channel Islands National Park. This small island group has been called North America's Galápagos, because of its unique plant and animal life. The park is blessedly undervisited—just like Ventura."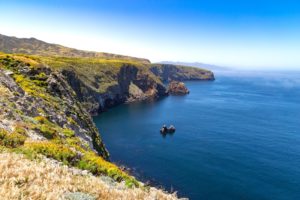 L.A's Spectrum News published
"Uncovering Ventura's Hidden Gems"
as part of their "
SoCal Scene
" series (again, Visit Ventura contributed footage).
"Sometimes, paradise is just a short trip away …"
Their correspondent Alison Martino explored our town, visiting
Ventura Spirits
and
Waypoint Ventura
among others, and weighed in.
"It's a quintessential beach town with a vibrant historic downtown, surf spots, sandy beaches, and a harbor…"
TVJAPAN online did a nice video featuring Ventura (Visit Ventura contributed footage). You don't have to understand Japanese to see the beauty. The Santa Clarita Valley Signal called out Ventura as a
biking gem
in a story on
"The Great Eight California Bike Trails,"
pointing out that
"biking in Ventura can introduce visitors to a multitude of destinations all in one ride.."
And guess which Southern California beach town has the best weather in the country?
With — count 'em — 304 pleasant weather days a year. Thanks,
Coastal Living Magazine,
for the shout out… Visit Ventura was contacted by the kind and hardworking Sheldon Brown, editor of The Ventura Breeze, asking us to write a piece about this very special place we call home. Like any good journalist, Sheldon asked us the question that mattered. We gave him our story — and our
answer
. To celebrate California Surfing Day (September 20th), Visit California brought three out-of-state influencers to California to experience the uniqueness of California's surfing communities. Montanan Justin Kauffman came to Ventura (he also visited Huntington Beach and Santa Monica) and posted
a lovely visual diary
, concluding,
"Sad to be leaving this town. Everything is so chill, relaxed and vibey here. Definitely coming back!"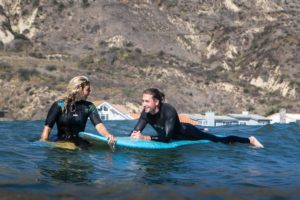 Oh, right. He also got surf lessons from Ventura's own Sage Erickson, one of the best surfers in the world, male or female. And, last but not least, Visit California weighed in on
Ventura's surf wealth
too.
"Not one, but two Ventura surf breaks are in "Surfin' USA" by the Beach Boys…
But such things are, by nature, subjective. Probably best you
come see for yourself
. You're welcome.
For more great stories, request our FREE inspiration guide right to your door!
Check out upcoming events!
Discover More
Get to know Ventura, and discover the best things to do around the city.
Ventura Partners With