Posted: Thursday, Oct 21st, 2021
What's Happening in Ventura this Halloween? Lots.
Featured photo by Ventura Harbor Village
What's Happening in Ventura this Halloween? Lots.
Yes, Halloween looms, and Ventura will celebrate in a big way, from dance parties, to witches paddles, to free trick or treating for the kids; even a costume contest for your dog (sign up early for this one).
Halloween lets you be you — or the complete opposite of you.
So dive in and celebrate a host of glorious, spooky, and often free, fun.
DOWNTOWN VENTURA
Downtown Ventura Halloween Dance Party
Friday, October 29th; 6 pm to 9:30 pm
95.1 KBBY, 103.3 KRUZ, and Downtown Ventura Partners team up to present a great night of (costumed) outdoor dancing at the corners of California & Main. DJ's spin dance fun, complete with spooky lighting, decorations, and booming sound. Costume contest prizes include tickets to Six Flags Magic Mountain and the San Diego ZOO & Safari Park; also gift cards and more. And it's free. For more information, please click here.
Spooky Spokes Ride @Transmission Brewing (1098 East Front Street)
Saturday, October 30th; 3 pm
The Spooky Spokes ride is family-friendly. Meet at Transmission Brewing and enjoy a short, run ride to the beach and back. Boo-tify your bike with your best and battiest decorations and you could win something awesome. Helmets are required and lights are recommended for all riders.
Kids Trick or Treat Downtown
Saturday, October 30th; 4 pm to 7 pm
Kids, wear your favorite costume while trick-or-treating at Downtown Ventura businesses. Stores offer goodies and it's free. Parent, please help support local (thank you!). For more information, please click here.
Tony's Pizzaria 80's Halloween Party (186 East Thompson Boulevard)
Sunday, October 31st; 2 pm to 6 pm
Tony's knows how to throw a pizza party. Dig through your closets (or your parents' closets) because not only is there pizza and live 80's music, there will also be prizes for the best 80's costumes. It was a scary time.
AT VENTURA HARBOR VILLAGE
Witches Paddle @"C" Dock
Friday, October 29th; 3 pm – 4:30 pm
A group of Harbor/Halloween lovers will celebrate their 3rd Annual Witches Paddle in Ventura Harbor. They're scheduled to "fly" at approximately 3 pm and the requirements to join are minimal. Anyone with a witch hat, a pair of striped socks, a cape, and a paddle board or kayak is welcome. Need to rent the paddle board or kayak? Ventura Boat Rentals

, right at Dock C (beneath Brophy Brothers), has both.
Seaside Skeleton Hunt
Saturday, October 30th and Sunday, October 31st; All Day
Over a dozen skeletons have escaped and are on the loose in Ventura Harbor Village. First, calm yourself. Then find them and take photos. Post the photos to social media for a chance to win a Harbor Halloween prize pack filled with goodies from Village shops (use #SeasideSkeletons in the caption and tag @venturaharbor to enter). Pay attention: a few small golden skeleton heads are also hidden about the Harbor. Find them, and the festive prizes inside are yours.
Howl-O-Ween
Saturday, October 30th; noon to 2 pm
Yes, the dogs dress up — and their owners do too — and there's no limit to what they dream up. Hundreds come to watch, but you and your four-legged buddy should sign yourselves up ahead of time — there's no entry fee, but Ventura Harbor Village is only accepting 75 dog entries so online pre-registration is encouraged to secure your spot: Previous champion dog/owner duos include farmer and a cow, bumblebee and bee trainer, and a fisherman and his first mate. Winners receive a blue ribbon, a $30 gift certificate to a Ventura Harbor Village restaurant, a pumpkin courtesy of Underwood Family farms, and a complimentary pup cone from Coastal Cone. All registered doggies will be treated to a doggy goody bag from Ventura Pet Barn.
Kids Trick or Treat
Sunday, October 31st; noon to 2 pm
An afternoon full of Halloween sweets, face painting, fortune-telling, and family fun. Please bring your own bag (though the kind Harbor folks will have extras for those who forget). Over 20 treat stops at participating Harbor boutiques and restaurants. Yes, it's free.
Be Astounded by a Professional Pumpkin Carver
Saturday, October 30th and Sunday, October 31st; noon to 2 pm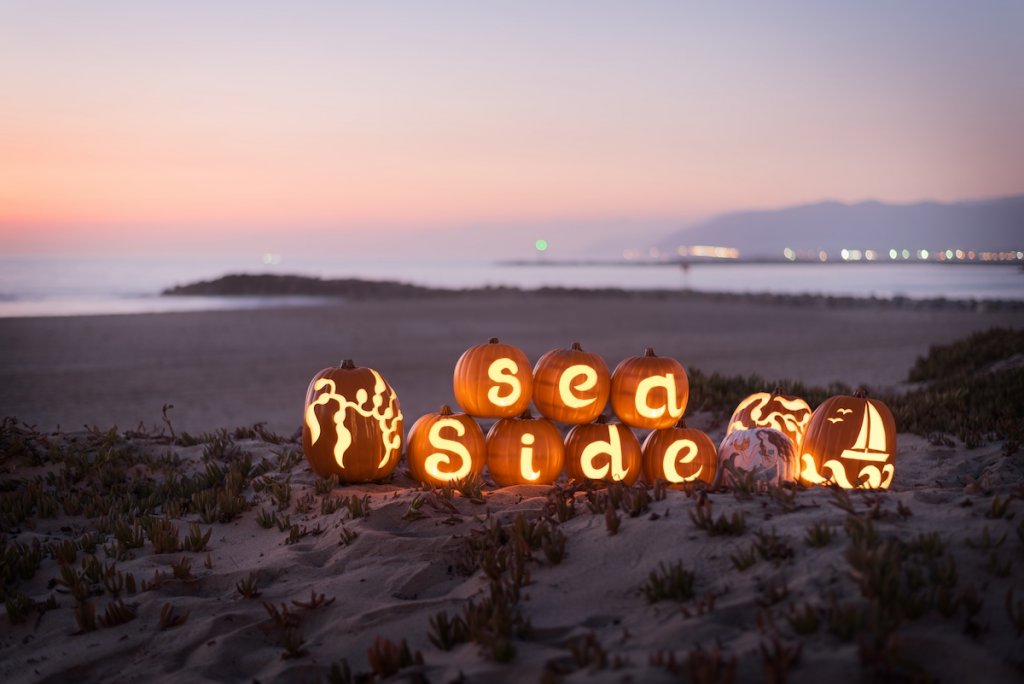 Local artist and professional pumpkin carver, Dawn Reily, will be on the seaside Promenade Stage carving a massive pumpkin-like nothing you've ever seen. Have a seat and be awed.
A FEW MORE SPOOKY ODDS 'N ENDS
Haunted Housing 5K
Saturday, October 30th; 5K start 8:30 am; Kids Run 9:30 am

The 6th annual Haunted Housing 5K unfolds on a flat oceanfront course along the beach in Ventura. Yes, costumes are highly encouraged! Perhaps best of all, 100% of the race proceeds will benefit the Housing Authority of the City of San Buenaventura's (HACSB) Scholarship Program. Meet at San Buenaventura State Beach (901 San Pedro Street). For more information, please click here.
The long-abandoned manor on the hill has a mysterious and bloody past. Nope, not a haunted house — this is a spooky-themed escape room. No scary actors, though there may be a themed game master inside your room to help you with clues. And possibly escape.
Through October 31st. Hours: Thursdays 6pm-10pm / Fridays 6pm-11pm/ Saturdays 6pm-11pm / Sundays 6pm-10pm
Some seriously hair-raising stuff. The aptly named Fear Grounds at the Ventura County Fairgrounds beside the sea offers, well, not your County Fair fare. Accommodating for current times, there are three open-air haunts, but they aren't without risk. The Fright Train, The Terror Trail, and The Cage are as good/bad as they sound. The motto for The Cage is simple. "Your job: survive. Their job: to stop you." The Terror Trail and The Cage are walk-throughs. The Fright Train is a ride. Either way, keep your defibrillator handy.
Ventura has Pumpkin Patches!
Big Wave Dave's Pumpkin Patch (103 South Mills Road)
Pumpkins and lots of fun, family-friendly play too
Prancer's Village Pumpkin Patch (3075 Johnson Drive)
Pumpkins, yep, along with a hay pyramid, wagon ride, barrel train, horse rides, pick your own fields and more. Tickets are required. For more information, please click here.
McGrath Brothers Great Pacific Pumpkins (5100 Olivas Park Drive)
Zillions of pumpkins, a hay maze, and tractor-drawn hayrides, hosted by fifth-generation Ventura County farmers.
Rodela's Produce and Flowers (4550 Olivas Park Drive).
Road tripping? Don't despair. Small pumpkins are the perfect way to wedge the jumbled luggage in your trunk. Rodela's has a tiny, toddler-friendly, pumpkin square (doesn't even qualify as a patch) — plus lots of fresh local produce.
Discover More
Get to know Ventura, and discover the best things to do around the city.
Ventura Partners With