Posted: Wednesday, May 10th, 2023
Ventura's Surfing and Skateboarding History: Through the Decades
Hero Image by Beth O'Rourke
Surfboards strapped to sandy cars. Skateboarders trying new tricks under the Ventura sunshine. Surfing in Ventura. Skateboarding in Ventura. It just makes sense.
Maybe because surfing and skateboarding are part of this community's very essence. Skate and surf culture is in our blood and has been for as long as we can remember. Major skate and surf brands have originated in Ventura (Powell Peralta moved to Ventura in 2018 and Walden Surfboards has had a manufacturing facility in town since the early 90s). Pro skaters and surfers call Ventura their hometown (Curren Caples, Mike and Jake Anderson, Dane Reynolds, and Sage Erickson just to name a few). We're a genuine beach town with surfers and skaters through our streets and in our DNA— literally passed down through generations.
Take Mary Monks AKA Mondos Mary/Mary Mondos for example. Mary is one of the first well-known female American surfers. Her favorite beaches to surf? Ventura beaches, hence her nickname which references Mondo's, the break between Ventura and Rincon.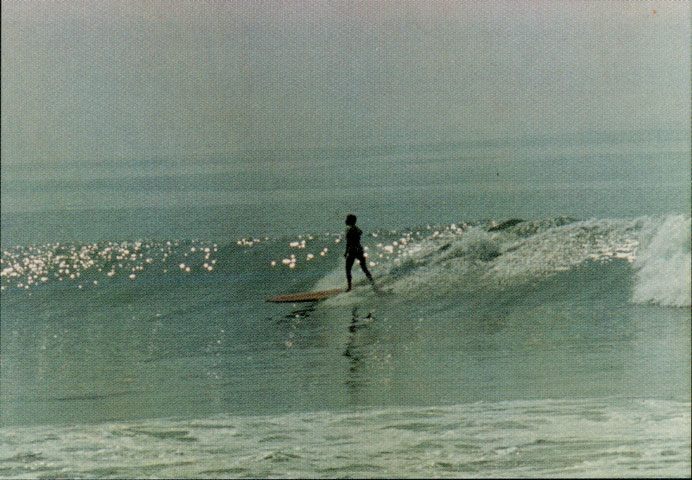 Three public skateparks are home to aspiring-turned-pro skateboarders. And it doesn't hurt that multiple pro skateboarders call Ventura home and can provide the up-and-comers some tips. Our very own Curren Caples showcased Ventura and Ventura County in a Target commercial.
Ventura has solidified its reputation of having a real-deal skateboarding culture. This summer, the X Games (the world's most elite extreme sporting event) is coming to Ventura. X Games California 2023 will take over the Ventura County Fairgrounds July 21-23, 2023. Looking for tickets and more information? Check it out here.
Ventura's 30 miles of clean coastline is a surfer's playground. Mondo's Beach, locally loved Surfer's Point/C-Street, and world-renowned Rincon Beach offer some of the best waves in the world. All in Ventura? You bet. And we're proud of it.
We spoke to two goliaths in their respective realms to share their take on surfing and skateboarding history in Ventura: Bill "Blinky" Hubina, Ventura surfboard shaper icon who was inducted into the International Surfboard Builders Hall of Fame in 2022 and owner of Ventura Surf Shop

, and Dave Balton, a Ventura skate shop manager for the past 40 years (he currently manages BlackHole SkateShop) and who's seen the skateboarding culture in town evolve since the very beginning.

Ventura is proud to have such a rich history of these two activities — really, these two lifestyles. We're proud to be the hometown of so many pro-surfers and pro-skateboarders.

Without further ado, let's start at the beginning of the story…
1960s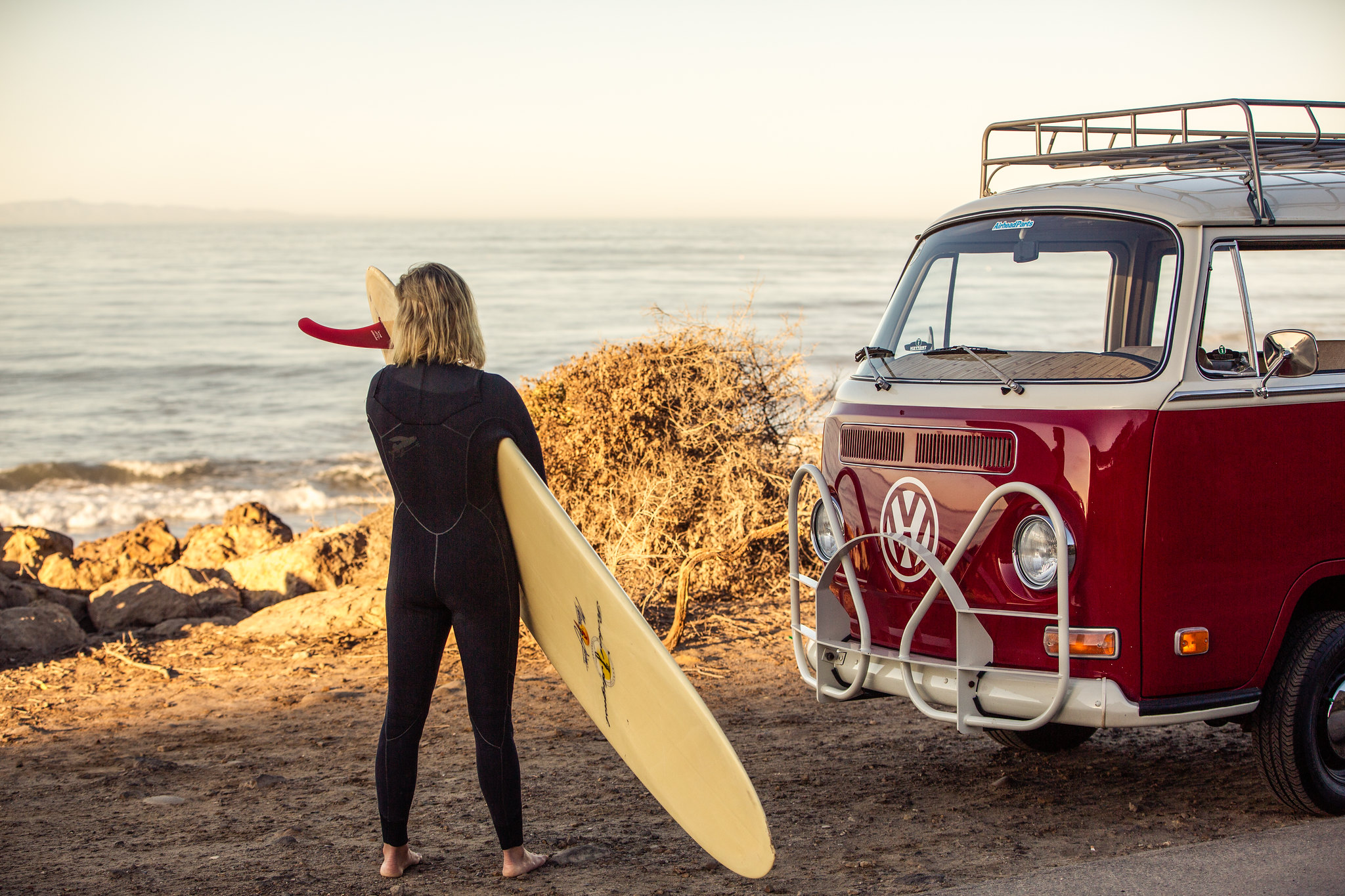 Hollywood surfer film Gidget was released in 1959, introducing surfing to American pop culture. The movie's success put Ventura's surf scene on the map with a large swath of surfing newbies wanting a piece of our cool surfing vibes. The Beach Boy's album Surfin' USA was released in 1963 and the Ventura County line gets a shout-out in the title song's lyrics. It seems like everyone wanted to be a surfer and live the California dream that they hear on the radio and see on the silver screen. And Ventura is the perfect coastline to live out that classic California surfing dream.
Welcome to the golden age of surfing.
"Everyone wanted to be a surfer from the movies. There were only like 20 spots along the entire coast of California (to surf) so everyone would come to Rincon," Blinky explained. "There were waves for everybody, and everyone wanted to just hang out and meet each other."
Let's get down to the facts. Ventura was home to three surfboard businesses in the 60s. Tom Hale opened the very first Ventura surf shop. Shortly after, Morey Pope opened on Front Street. The former of the duo was known for making the rare Australian surfboards and some of the first surfboards with removable fins. William Dennis (home to our very own Blinky) opened in the same decade and after a long journey, found its way home as Ventura Surf Shop on Thompson Blv. making some of the first short boards in California at large.
And we can't forget a surf competition that put Ventura on the map; Tom Morey of Morey Pope hosted the first professional surfing competition right at C-Street in 1965. The Nose Riding Competition is an event that will go down in history.
It's true that during the 60s, the surfboard business in Ventura was fluid, with the owners of these early surf shops collaborating with and often branching out from each other. In a way, this dynamic between surf shops perfectly demonstrates what the "golden age of surfing" was to Blinky: an era of friendliness and just riding the waves together through the California dream.
1970s
While surfing had its heyday in the 1960s, skateboarding was just starting to make its way to Ventura's streets in the 1970s. Dave, who moved to Ventura in 1974 as a young kid, said he had never seen a skateboard until he moved to California.
Dave remembered one of the first skateboard venues in town at Camino Real Park: a "sidewalk through the hills" as he put it. Riders on bikes and skateboards would use this long sidewalk to circle around the baseball park.
Down the road in Oxnard, Endless Wave Skatepark made strides as a hotspot for skaters in Ventura County during the 70s. As a full cement skatepark with a snake run, bowl, and pipe, Dave remembered Endless Wave Skatepark as one of the most influential skateparks in the county.
In 1976, a skateboard contest is hosted in Ventura. To have a skateboarding competition during skateboarding's infancy in Ventura was remarkable
Meanwhile, surfing entered a new era: the short board revolution. Out with the old longboarding of the 1960s and in with the new short boarding of this decade. Short boards were easier to move in the waves and hit the water with a bang. Blinky said he remembers the short board culture as incredibly new and a bit angsty— a testament to the fact that the innovation in surfing was moving fast in Ventura.
In 1979, the first Rincon Classic was founded by a crew of local surfers. Considered as the Super Bowl of local surfing competitions in town, household names like Tom Curren, Bobby Martinez, Chris Brown, Kim Mearig, Davey Smith, and Dane Reynolds to up-and-coming stars like Lakey Peterson, Conner and Parker Coffin, Demi Boelsterli, and Kilian Garland have surfed the Rincon Classic. Little did they know in 1979 that the locals-only competition would serve as a celebrated community gathering to this day.
1980s
Ventura skaters had to get creative in the 80s. It wasn't easy to build skateparks. Skateparks were considered to be a liability because of how dangerous ripping in the bowl could be. Obtaining and being able to afford insurance was a common roadblock for skatepark developers.
So in true Ventura do-it-yourself fashion, local skaters took matters in their own hands. In the 80s, skateboarding entered its backyard ramp boom.
Dave said skateboarding in the 80s was about homemade ramps and being able to skate anywhere. A vert ramp, known as the B Ramp, was built on the east side of Ventura. Famous skateboarders at the time, like Christian Hosoi, made their way to the B Ramp in Ventura to try it out.
"(The B Ramp) was super grunge, it was real skateboarding," Dave said.
Ventura was defined by street skating during the 1980s because skaters had nowhere else to go. And if you have to define Ventura's skateboarding history: it's all about innovation and doing what you can with what you have.
In the Ventura surf realm, Ventura resident and "Father of the Modern Longboard" Steve Walden released the Magic Model in 1981. The Magic Model is considered by many, the blueprint for all-around-surf boards and noseriders.
1990s/2000s
Technology started to play a big role in surfing. Big companies started to invest in machines to increase production and meet the demand of surfers. Shaping machines started to eclipse the art of hand-shaping (much to Blinky's dismay). Being able to see professional surfers on TV started to raise the bar for local surfers who wanted to replicate the crazy tricks they watched on TV.
Technology impacts skateboarding too. Skate Street Ventura, built in 1998, was featured in Tony Hawk Pro Skater Video Game, and Hawk's motion capture was actually filmed in Ventura as well.
By 1997, Ventura's three skateparks — Hobert Park, West Park, and Pacific Park— were built.
Current Day: What is Ventura's Surf and Skate Culture?
Ventura's surf and skate culture is as healthy as it has ever been according to both Blinky and Dave. Surfing and skateboarding became exponentially popular during the global pandemic as more people sought activities outdoors.
Though surfing and skateboarding may seem like two different worlds, they both share some similar values: the importance of local love. The skateboarding community is tightly connected. It takes a community to come together to build ramps in each other's backyards and learn how to shred with nothing more than a skateboard and open road together.
Ventura skateboarders have never really had a "perfect" place to skate like a huge full-size skatepark Dave said. But that doesn't mean skateboarding in Ventura is lacking.
Instead, Ventura's skateboarding history has bred a "do-it-yourself mentality." As our very own Curren Caples put it: the Ventura skateboarding culture is raw. It's gritty, real, and perfectly Ventura. And we wouldn't want it any other way.
As for what makes surfing in Ventura versus other iconic beach spots in Southern California special? It's both simple and intimate: it comes down to community.
"I would be nothing without my community," Ventura local and professional surfboarder Ming-Hui Brown said.
When you walk down the Ventura promenade, you're going to find locals surfing C-Street. Once the sun has dipped below the horizon, they'll pack up their surfboard on top of the car hood and drive through our streets, the streets of Ventura, to home. Ventura surfers live alongside each other, buy groceries at the same stores, grab an early morning coffee at the same shops, and hang out at Emma Wood together. Quite possibly, there's nothing stronger than the Ventura surfing community.
You can try, but you won't find another skateboarding and surfing community along the Golden Coast like here at home. Ventura, where surfers bob on the waves from dawn to dusk and skateboarders rip the bowl all day long. Here in Ventura, the land of endless summers and a quiet beach town that doubles as a launch pad for pros and rookies alike.
Discover More
Get to know Ventura, and discover the best things to do around the city.
Ventura Partners With