Posted: Thursday, Oct 19th, 2023
10 Things to Do on Your Next Solo Trip to Ventura
Ventura's small-town beach vibes, miles of clean and uncrowded coastline, and walkable downtown make it a great destination to go on a solo adventure. You won't find a ton of frills in Ventura — we specialize in down-to-earth beachy ease that's perfect for a budget-friendly trip.
Traveling solo means no fighting over the itinerary or finding a dinner spot that everyone will like. When you book a trip to Ventura for some "me" time, the entire coastline is…well your oyster. As you explore Ventura you'll feel comfortable setting out on your own. Here are 10 Things to Do on your solo trip to Ventura. Call it TLC with me, myself, and I! Happy traveling!
1. Hike in Harmon Canyon
Hike through Harmon Canyon

and enjoy the fresh air, native Californian plants, and beautiful trails. A popular spot for mountain biking as well, you can spend a great morning or afternoon hiking through Harmon Canyon and have a chance to take a break under the shade of giant oak trees. Walk along the 2.5-mile main trail or take off on your own on one of the five side trails. Leashed dogs are welcome up to the 1.6-mile mark in case you've brought your furry friend on your solo trip!
2. Shop in Downtown Ventura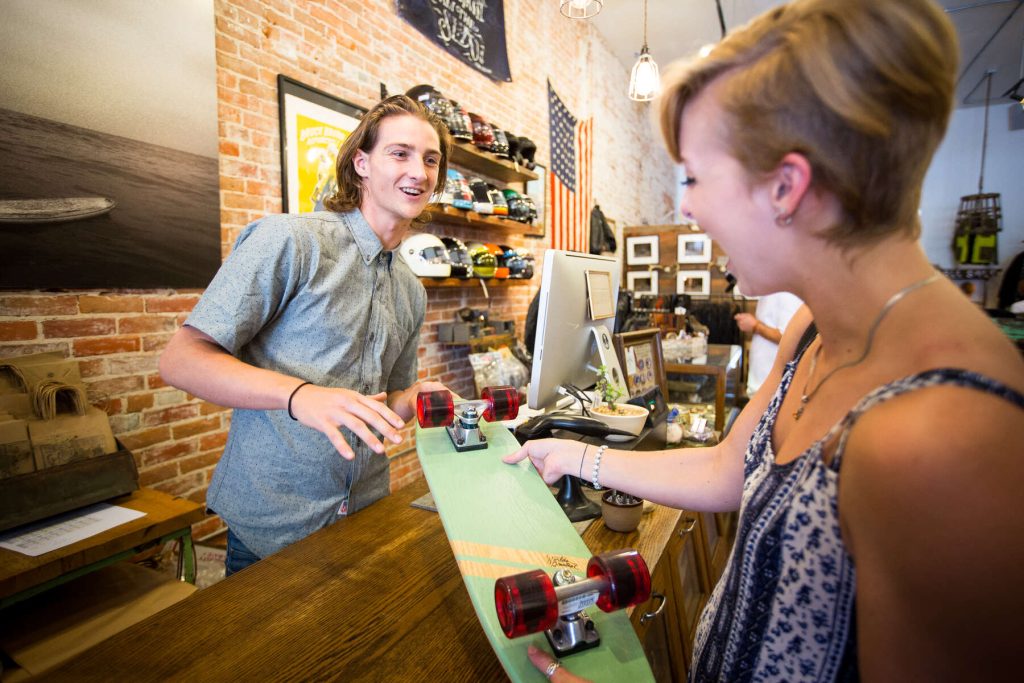 Lose track of time browsing through our local shops and boutiques along Main Street. Don't miss out on the chance to buy your own unique sea glass jewelry at Betty Belts

or find your new fashion statement at Passport Habits.

Are you looking for hidden gems? Ventura is known for its vintage and thrift stores from antique sunglasses to a perfectly worn-out denim jacket.
3. Take a Ventura Historical Walking Tour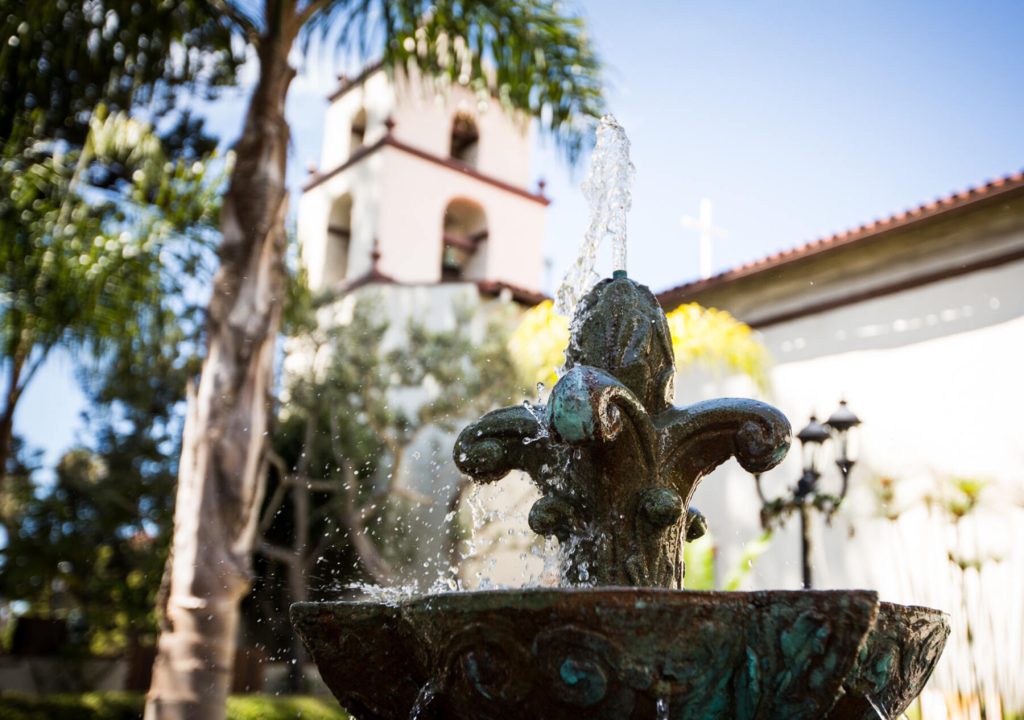 If you're a history buff, stop at the Ventura Visitor Center

for a complimentary Historic Walking Tour Guide. Starting in the historical district of Main Street at the Museum of Ventura County, the walking tour will take you to the San Buenaventura Mission, to Ventura City Hall, and end at the Ortega Adobe (fun fact: Emilio Ortega had a house in Ventura and is believed to have founded the first commercial food operation of Ortega chilis).

Right in the heart of the Historical District of Ventura is the Clocktower Inn

. If you're looking to stay close to history, book a room at the Clocktower Inn!
4. Try Classic Fish Tacos in Ventura for Lunch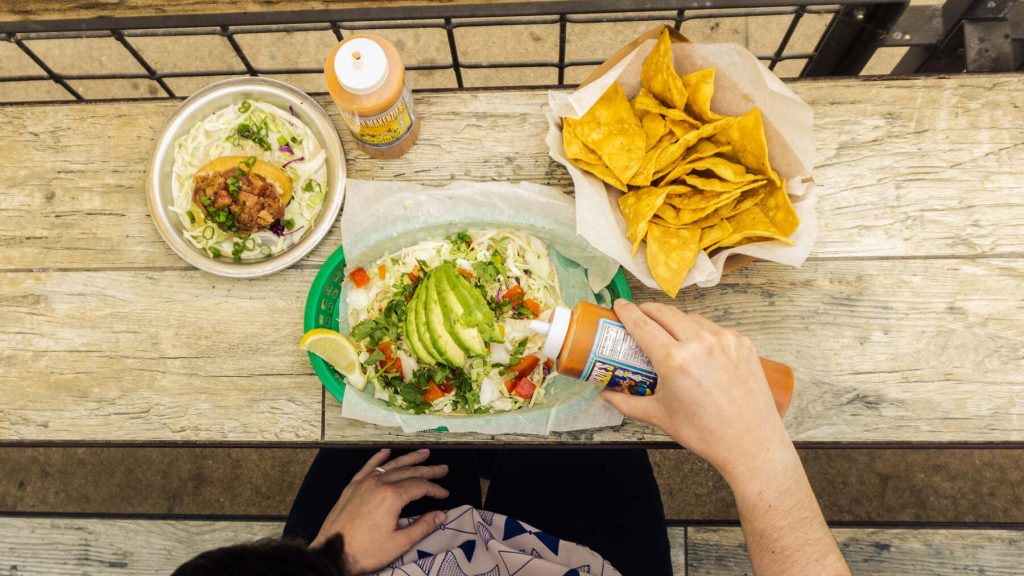 Enjoy Ventura's classic fish tacos solo. A trip to Ventura isn't complete without checking out Spencer Makenzie's

world-famous fish tacos (bonus points if you also order an ahi pocket). If you want to stay within walking distance of these amazing fish tacos, stay at Waypoint Ventura where you can spend the night in a vintage airstream!

Or head over to the Ventura Pier

where you'll find another popular taco spot: Beach House Tacos. Try their baja taco, grab a seat to chill at, and enjoy a killer view of the ocean. The Crowne Plaza Ventura Beach is conveniently situated just a few minutes away from the Ventura Pier — if you're looking for a hotel with an ocean view this is where it's at!
5. Have a Beach Day in Ventura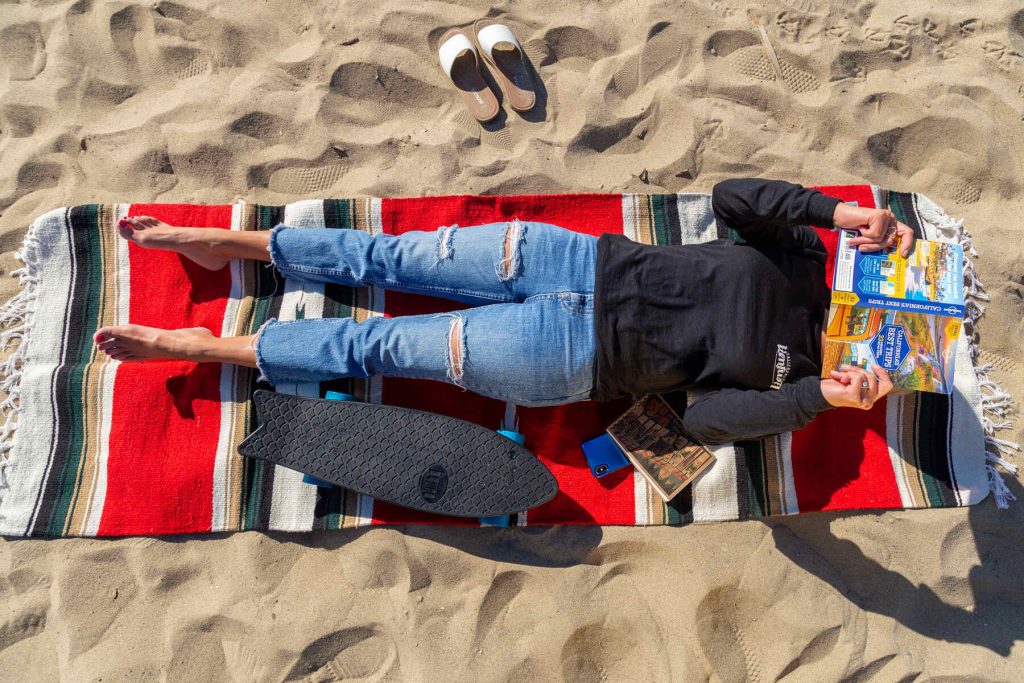 Whether you jump right in or hang out on the shore, spending an afternoon at the beach is a must. Lucky for you, Ventura has 30 miles of clean and uncrowded coastline for you to spread out and enjoy the sun. Find a spot at Ventura State Beach

, head a little ways up north to Mondos Beach, or lounge around at Surfers Knoll by the Ventura Harbor. Whichever beach you choose, it'll be a day of relaxation and sunshine without the hassle of crowds and trying to find the perfect spot.
6. Go to the Downtown Ventura Farmers' Market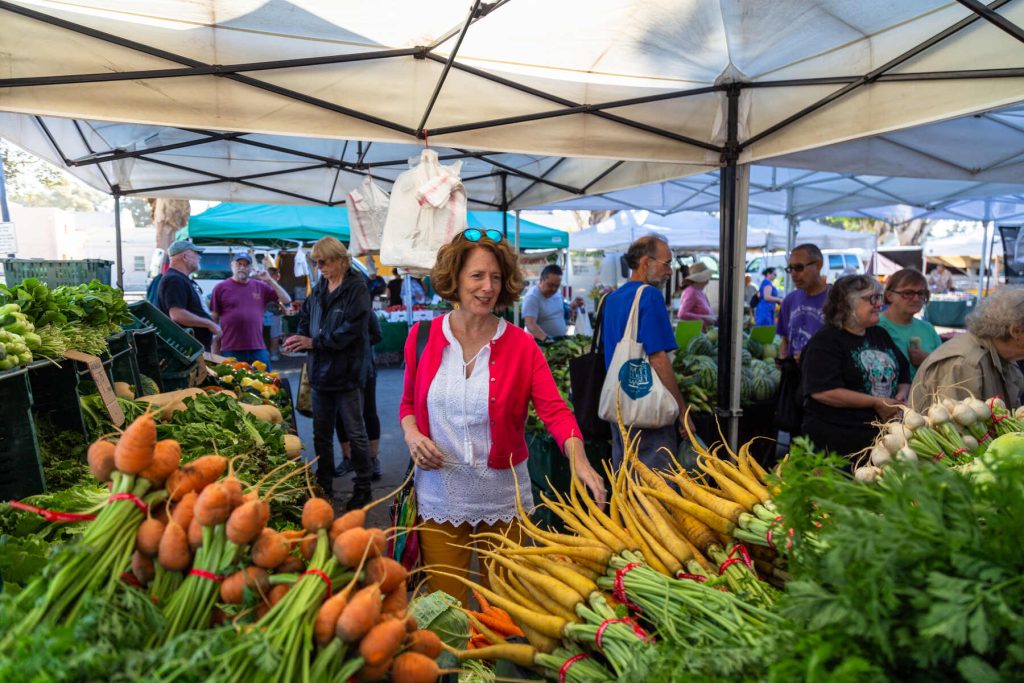 If you're planning a weekend getaway trip to Ventura, make sure you get here in time for the Saturday morning Downtown Ventura Farmers' Market

. Operating since 1986, the Downtown Ventura Farmers' Market has over three dozen vendors from fresh fruit and vegetables to beautiful flowers to meat, honey, and cheese.

You can also grab hot food for lunch at diverse food trucks. There's almost always live music throughout the morning to cultivate a fun, inviting, and lowkey morning for farmers market shopping in Ventura!
7. Indulge in a Self-Care Day in Ventura 
The best part of Ventura? Spend a few moments on our beach and let the wonderful combination of cool sea salt air, California sunshine, and warm sand totally refresh your mind, body, and soul. They say the ocean heals all and we can't help but agree! But if you're looking for a little extra, take advantage of yoga studios all across town that offer travel passes for visitors. For more information on yoga travel passes check this blog out.

Looking for a little spa day? Book a reservation with Coastal Skin Care

, Sugar Junkie Studio, the Skin Genie, or the Skin Magician for a few examples to get a massage or facial treatment.
8. Visit the Channel Islands National Park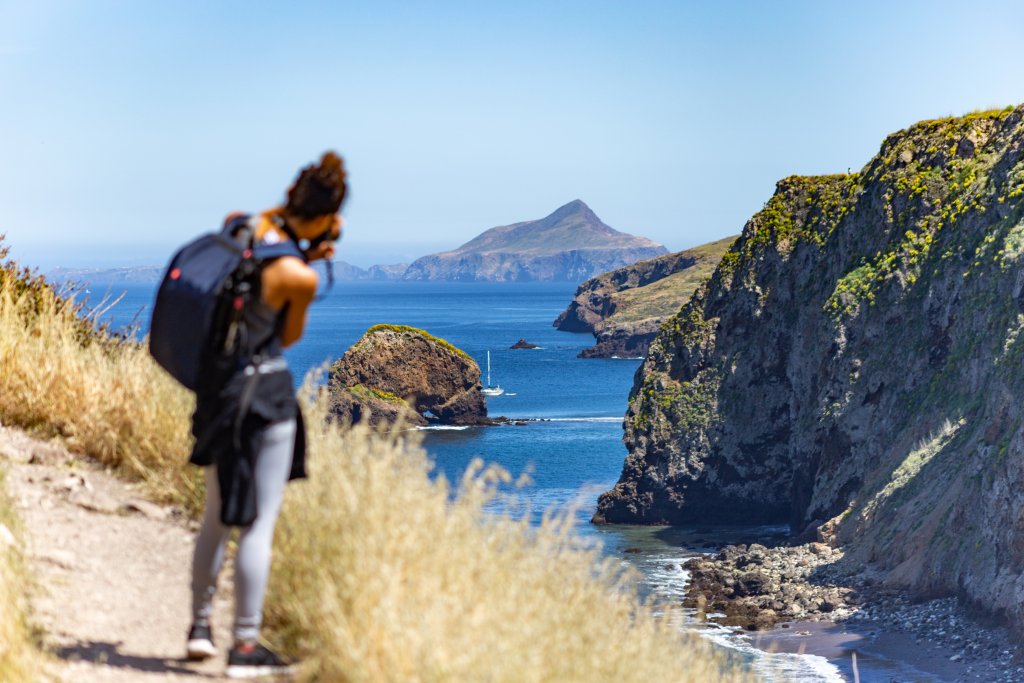 Venture to where the wild things at the Channel Islands National Park

, just an hour boat ride from Ventura's coast. Who said traveling overseas was difficult? Book your boat ride to the islands in advance through Island Packers and take a solo day trip to Santa Cruz Island and step into a completely different world.

Put your phone on do not disturb and set out on a hike around the islands as the cutest island foxes keep you company. Indulge in the quietness of nature and the beauty of the ocean all around you. If you're looking to up the ante, go on a guided sea cave kayak tour and explore some of the most beautiful sea caves in California.

To make the early morning boat departure from the Ventura Harbor, book a room at Four Points by Sheraton Ventura Harbor Resort

which is located right at the Ventura Harbor.
9. Take a Surf Class in Ventura
Not many people know it but Ventura is home to world-class waves. Yes, Ventura is the ultimate beach town through and through. With consistent swells and great weather year-round, Ventura is one of the best places to surf in California. If you're a beginner and want to learn how to shred some waves, consider taking a surf class.
10. Rent a Bike and Cruise around Ventura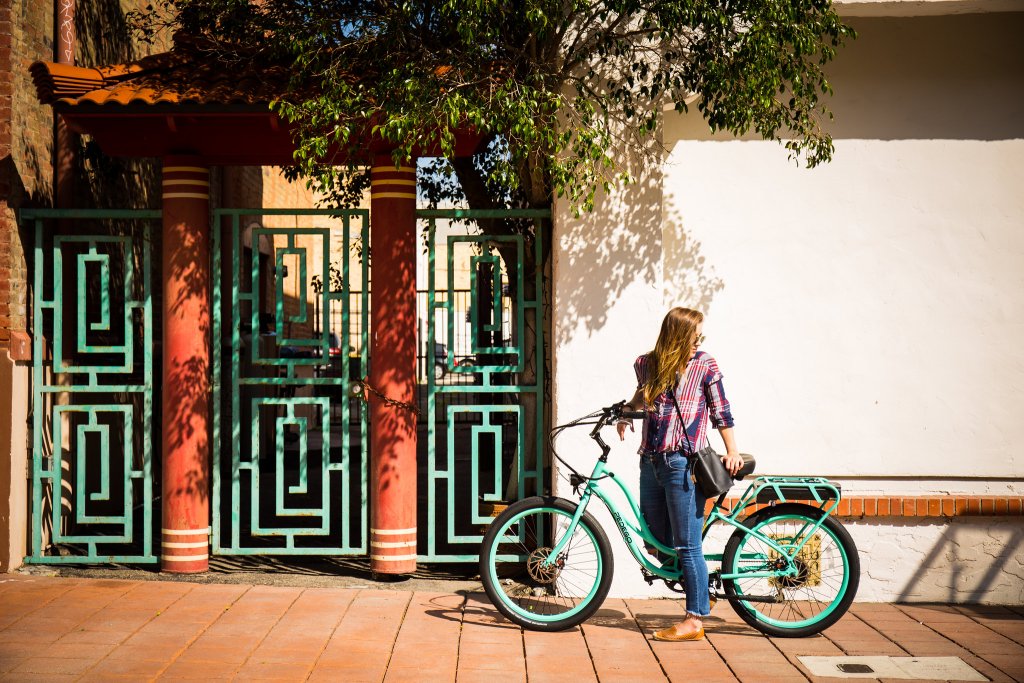 Cruise along the Ventura promenade for a relaxing day with the wind through your hair and sunshine on your face. You can rent a cute beach cruiser from Wheel Fun Rentals

right next to the Ventura Pier. Go south along Ventura State Beach to the Ventura Keys or head north to Emma Wood State Beach. Better yet, if you're looking for a longer bike ride, rent an e-bike at Ventura Bike Depot and bike along the beach on the Rincon Bike Trail. Keep your eyes open as this bike trail is known for a dolphin sighting or two.

Things to Do


Family Fun

Ventura Shopping

Arts, Culture & History

Pet Friendly

Hotels

Parking
Outdoors


Beaches & Surfing

Biking & Hiking Trails
Food & Drink


Restaurants

Outdoor Dining
Discover More
Get to know Ventura, and discover the best things to do around the city.
Ventura Partners With