Posted: Monday, Feb 18th, 2019
19 Things To Do in Ventura in 2019
by Visit Ventura
As any Venturan will know, there is never a limit of diverse activities to do in Ventura. With a community of friendly people and an ocean breeze, the incredible views never get old. You'll want to go through to cross these off, here are 19 things you MUST do in Ventura in 2019.
Travel through time in Ventura with the 28 historic sites that have contributed to Ventura's culture for generations. From the
San Buenaventura Mission
to the Moreton Bay Fig Tree pick up the walking tour guide at the
Visitors Center
.
The San Buenaventura Mission is the 9th in the chain of 21 missions and the last one founded personally by Fray Junipero Serra. In the Church garden can be found the almost life size statue of Fray Junipero Serra! This undaunted missionary lived wholeheartedly his motto: Siempre adelante. Nunca atras. Never turn back. Always go forward.

Ventura is culturally enriched with art everywhere you go. Murals in the post office, murals on the street, art galleries and paintings on the
utility boxes
throughout the city. Even if you walk along the beach you'll pass by rock balancing art potentially by
Juan Manuel Cisneros
who commits to creating extravagant rock art on the beach. Ventura has the gift of finding beauty in the ordinary.
Pro Tip: Check out the fiery Phoenix rising from the ashes at Plaza Park. It goes to show that with community Ventura can get through anything.
Walk through all the thrift stores/ antique shops and sail through the times. Ventura contains great deals and memorabilia for all ages.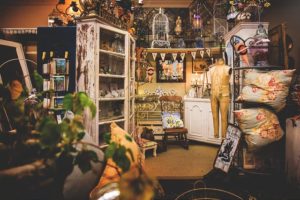 #4 – Join a fitness class
New year new you? Check out classes with 
Fit Buddha,
Club Pilates
or
Yoga Jones
to get those endorphins pumping and that tummy toned!
Pop up Yoga
is held every Sunday at 9:30 am at Marina Park with Ventura's beauty keeping you at peace.
Pro tip: Bring layers for Pop Up Yoga, you never know what type of weather may blow through that day!
View this post on Instagram
Surf's up with Mary Osborne. As
California's State Sport
, if you haven't tried it before you may want to
give it a shot
!
"No other sport represents the California Dream better than surfing — riding the waves of opportunity and living in harmony with nature" – Assembly member Al Muratsuchi.
View this post on Instagram
#6 – Rent a bike
Near, far, wherever you go. There is a bike for you to take along the way. Tandem for friends or electric for long distance, your options are limitless when you rent out a bike from
Wheel Fun Rentals
,
Cycle Dynamics
or even
Bike Depot
. Take these two-wheeled beauties on an adventure either
throughout Ventura
or further into the
mountains
!
Pro tip: Wear a helmet!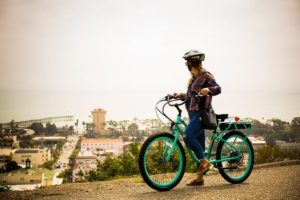 #7 – Gelato at Palermo
Other than their sensational coffee, they have 18 flavors of gelato to choose from!
Pro tip: Try them together! Their affogato contains two scoops of gelato and two shots of expresso.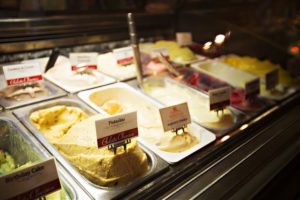 With some of the most authentic Mexican restaurants in Ventura, each of these 14 restaurants have their own specialty!
Buen Provecho!
View this post on Instagram
Finding the happy hours in Ventura has never been easier each day of the week. While there are many places to check out,
come by the Visitors Center to get a handout of them all in Ventura.
Cafe Fiore
has a delectable cucumber and jalapeno mojito but even if you aren't into drinking,
Casa Bella
has a great happy hour that lasts all day on the weekends with Kobe Steak nachos and chile rellenos with pulled pork that will leave you drooling.
VenTiki
has a happy hour all day and all night on Tuesdays serving food and drinks at half price!
Pro tip: On Monday's after 6pm at VenTiki if you wear a mustache you get mai tais at half price!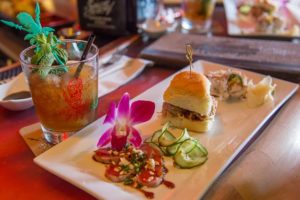 Have you ever had a fish shaped ice cream cone? Coastal Cone is famous for its homemade Taiyaki cones.
View this post on Instagram
#11 – Shuck your own shell on the beach at the Jolly Oyster
They will provide all the items you will need, just make sure to bring the wine or beer! It's a BYOB beach!
View this post on Instagram
#12 – Watch the sunset or sunrise at one of our many beaches
Each day is going to be a uniquely spectacular show, you won't want to miss a single one.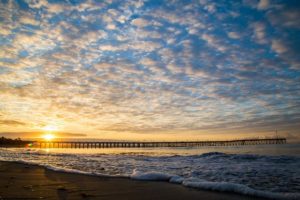 #13 – Hunt for sea glass
Walking along the
San Buenaventura State Beach
there's a sparkle that catches your eye as the tide crawls back. These are the small gifts that the ocean produces on our shores from broken bottles that have had the edges worn away and created a frosted appearance that makes mermaids jealous. Picking sea glass is like finding the treasure without having to resort to piracy, make sure you catch them when the waves roll back! In Ventura, it's almost as valuable as gold.
Hike, snorkel, dive or kayak. Nature's masterpieces climb 160 ft tall in these caves where you can venture through with your friends or coworkers.
Pro tip: The Channel Islands National Park is pack in pack out. Any trash that you take with you onto the island, make sure to pack with you when you leave! There are

no

trash cans on the island.
View this post on Instagram
Check out these friendly giants with
Island Packers
.
Pro tip: On the morning of your departure, make sure to call after 5:30am to ensure your trip isn't cancelled due to unfavorable weather!
View this post on Instagram
#16 – Go for a Hike
Ocean breeze in your hair and Ventura is your oyster. Go for a hike to get the best views of the city. Ventura is very lucky to have so many options to hike with the best views of the city. On mainland, you'll want to check out
Arroyo Verde Park
and the
Ventura Botanical Gardens
. But it would definitely be worth making a day trip of it if you head out to the
Channel Islands National Park
, you may end up making friends with some dolphins along the way and even get a chance to see the infamous island fox prancing around. Go up for just the day or stay the night, the Channel Islands National Park also provides options for camping.

#17- Test your wit in Escape Rooms
The
Ultimate Escape Rooms
at Harbor Village are an adventure game that locks you in a room with other participants and you must use various elements in the room to get out. Various puzzles will test your knowledge and wit for you to escape before the time is up! Various rooms include the Wizard's Lair, the Mermaid's Curse Room, the Attic and the We Are All Mad Here Room. The
Two Trees Escape Rooms
currently only has Mystery in the Manor available but many more are coming soon… Stay tuned!
View this post on Instagram
#18 – Experience Ventura Overnight
A variety of fun properties to check out include the new
Waypoint Ventura Vintage Trailer Hotels & RV Park
as well as the recently renovated beachfront
Marriott Ventura
and the
Crowne Plaza
. These luxurious locations are what vacations & staycations were made for.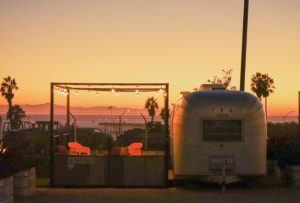 We love when locals even come on in to learn more about their city along with our visitors. We have a great team each enthusiastic about promoting the beautifully cultured city of Ventura. We look forward to seeing you soon!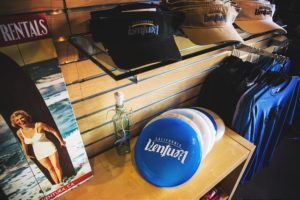 Check out upcoming events!
Discover More
Get to know Ventura, and discover the best things to do around the city.
Ventura Partners With