Posted: Tuesday, Aug 9th, 2022
Why Ventura is the Best Place to Hike and Bike 
Keeping it short — because we're already cutting into playtime — Ventura is a pathological liar's dream of outdoor play. Road bike rides where you'll see deer and dolphin on the same ride. Mountain bike rides with glorious climbs and fallaway descents, perfectly groomed and banked. Hiking trails that rise to heavenly, wind-caressed silence – or cross remote islands with sweeping Pacific Ocean views. Or maybe even a remote natural canyon framed by sandstone walls, shaped by wind and water, and hung with a peace that is beyond words (Santa Rosa Island's Lobo Canyon).
A few good reasons why Ventura is the best place to hike and bike.
And why you should come feel the peace and the pounding of your heart.
Ventura's Weather
Right. Ventura's weather. Ventura has some 270 sunny days a year. Daytime temperatures average 70 degrees. Year-round.
Nope. Not a typo.
The Rincon Bike Trail
This may be the loveliest – and easiest – coastal bike in California, and that's saying something. Starting at Ventura Bike Depot

(a great place to rent bikes if you don't have your own), you'll follow a mix of road and designated pathway north from Ventura for about twelve miles to the lovely town of Carpinteria. It's mostly flat, and virtually all of it is right along the ocean. Plenty of chance for dolphin sightings – and, if leisurely is your aim, you can pull over almost anywhere for a dip in the ocean. Ahhhhhhhhh.
The Lake Casitas Loop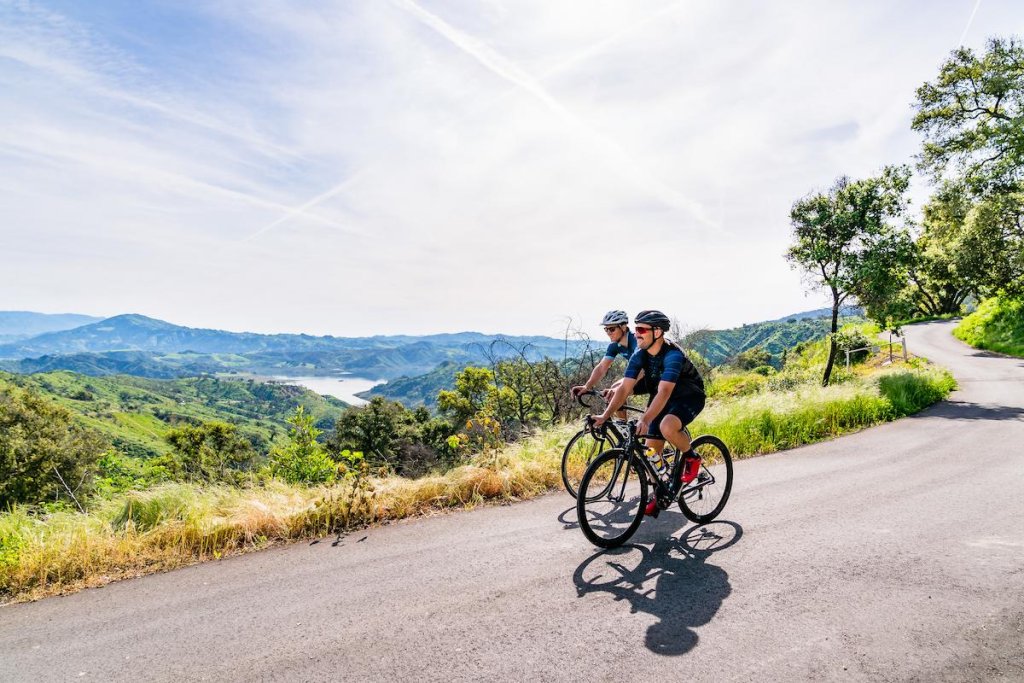 Road riders love the Lake Casitas loop, which begins in Ventura and heads up Ventura Avenue and through Ventura Canyon before looping around the north shore of Lake Casitas via a challenging climb up over Casitas Pass. Your reward? A swooping 2,000-foot descent to the ocean, and then a ride back along the Rincon Trail — and the ocean's edge — to Ventura. The ride, some 40 miles in all, is definitely for fit riders. Always wanted to see dolphin and deer on the same ride? This is your chance.
Hiking and Mountain Biking in Harmon Canyon Preserve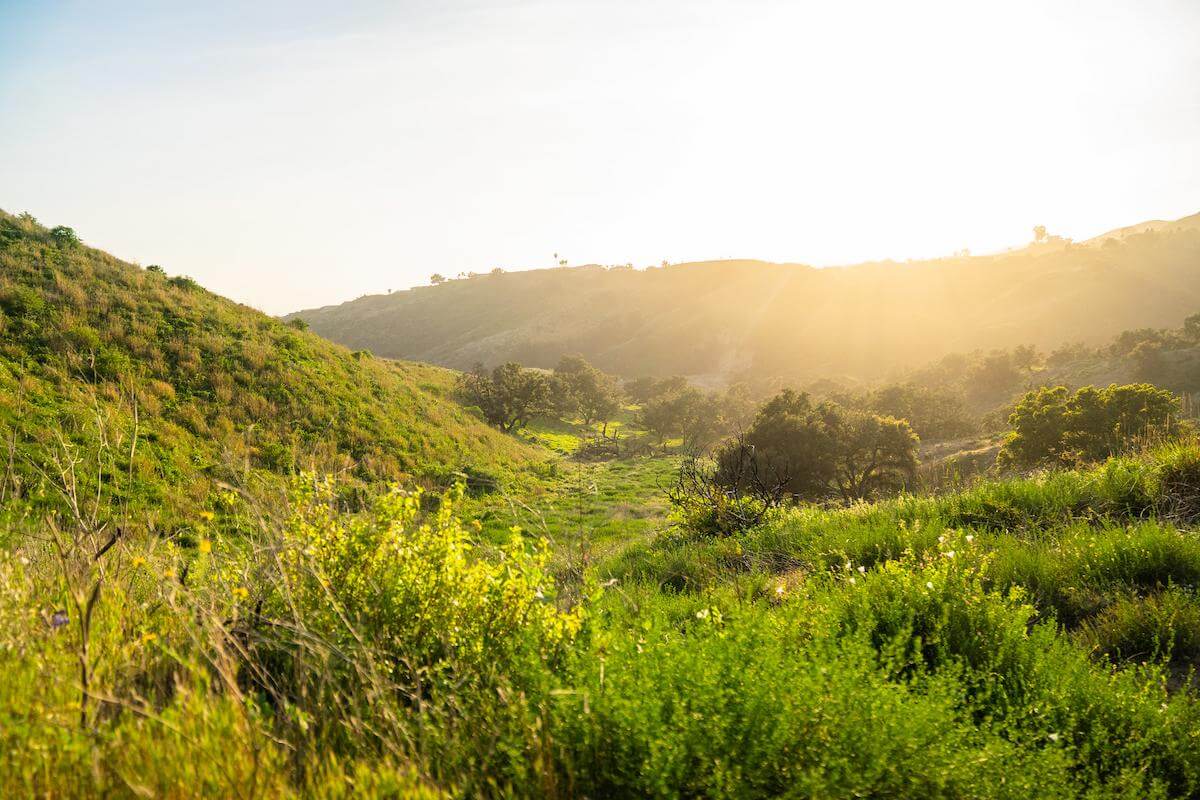 The beauty – and fun – of Harmon Canyon Preserve just keeps getting more and more ridiculous. Working tirelessly, the Ventura Land Trust keeps adding new trails and new land. What does this mean to you? Hiking trails that take you away from everything except Nature's serenity. And for mountain bikers, swooping downhill singletrack that will make your eyes tear and your heart sing. Happily for the directionally impaired, the trails are well-marked with signage and many of the side trails loop back to the main trail. Don't miss Trail 107, which rises, almost literally, into the heavens and offers a spectacular panorama at the summit.
And let's not forget the joyous underlying premise. Preservation ensures that future generations will know the thrill and joy of quiet places and wide skies. And swooping descents.
Hiking in Arroyo Verde Park
It may be Ventura's favorite park, and with good reason. The main trail is only a 2.3-mile loop, but there are lots of trails forking off the main trail. You'll start in the grassy area and then head for the hills for glorious seascape panoramas. The trails are fairly easy and rolling at the base of the hills, but some of the trails on the hillsides climb steeply. One reason Arroyo Verde

is hugely popular with local walkers and runners interested in getting a little heart rate going.
Hiking in the Lovely Ventura Botanical Gardens
Maybe two miles of trail in all, but here in the Ventura Botanical Gardens

it's not about quantity – it's all about breathtaking quality. The trails climb up Ventura's hillside, offering stunning ocean views, including the looming bulks of Anacapa and Santa Cruz Islands. Then there's the flora. Native yes, but also rare South African and Chilean blooms of reds, yellows and oranges. It's not just about what you see. The loveliest scents waft on the ocean breeze. There's a $7 admission fee – thank you for supporting a great cause – and Fridays are free.
Hiking in Channel Islands National Park
The five islands that comprise Channel Islands National Park have been called the "Galápagos of North America." That's underselling them. From north to south, the islands are San Miguel, Santa Rosa, Santa Cruz, Anacapa, and Santa Barbara. Relatively close to the California mainland — and, in two cases (Santa Cruz and Anacapa), only a little over an hour boat trip from Ventura Harbor with Island Packers Cruises

– the park's five islands are the loveliest step back in time; a wondrous world where housecat-size foxes scamper through fields of Seuss-like flowers, and moon and sun shine down on, well, nothing. And the hiking (sorry, no mountain biking is allowed in the Park), well it's just plain ridiculous.
Ventura Carbo Reload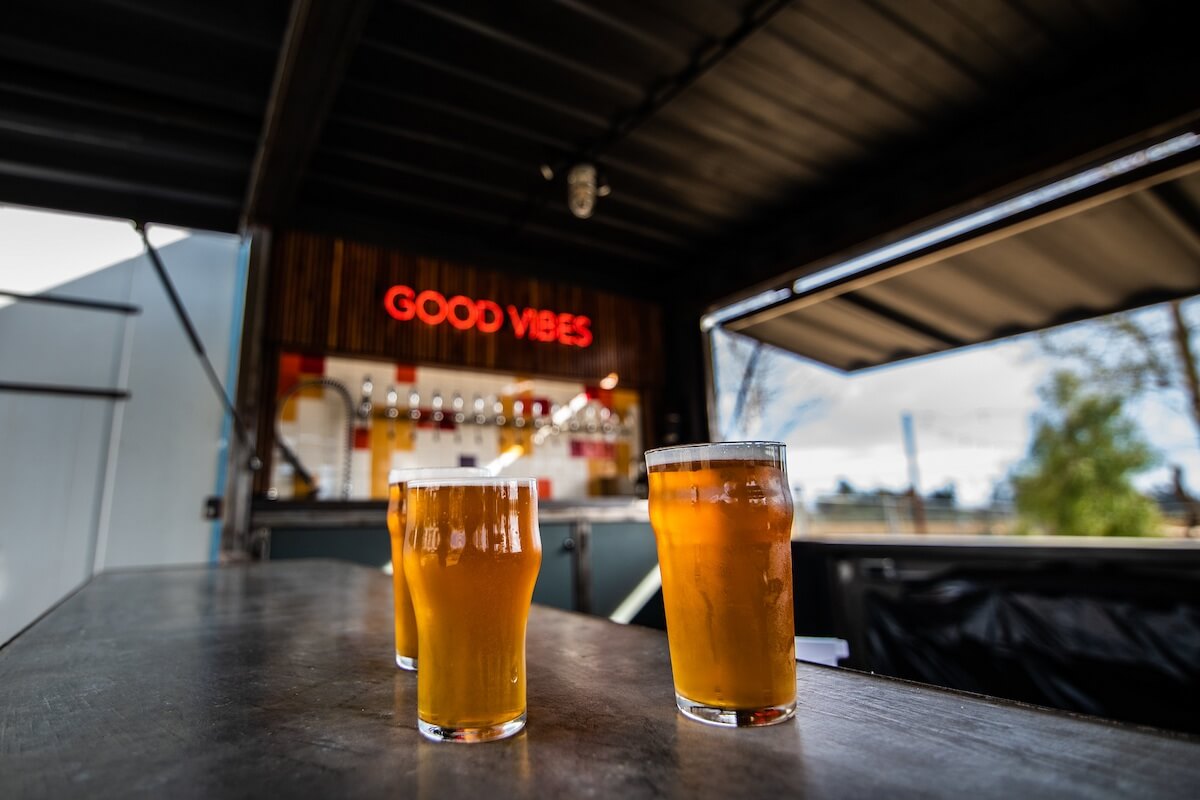 Maybe there's little (no?) science behind it, but even nutritionists would agree that few things taste better after a bike or hike than pizza. Mmmmmmmmm. And – from Jimmy's Slice to Tony's Pizzaria to PizzaMan Dan's to Fluid State Beer Garden

– Ventura has your pizza replenishment.

Or Replace Lost Calories with Some of the Best – and Most Affordable – Mexican Food You'll Ever Taste

Ventura Avenue has some of the best real deal Mexican food you'll ever taste. The Taco District, with 12-plus family-owned Mexican restaurants, is as authentic and flavorful as any Mexican food you'll find. Looking for takeout? Johnny's Mexican Food

never disappoints. Dining in? Taqueria Tepatitlan has bountiful plates with micheladas that pair perfectly with their specialty dishes.

So Many Great Places to Raise a Post Play Toast

Ventura has become a craft beer epicenter, a craft beer symphony, perfectly blended and played on your tongue, courtesy of local brewers who relish the words experiment, fun, and "what box?". From Topa Topa Brewing Company

, to Ventura Coast Brewing Company to MadeWest Brewery to Leashless Brewing (organic beer) and on, Ventura's breweries offer the perfect post-hike quaff. Though it might seem impossible, beer tastes even better when your socks are dusty, your face is sun-burnished, and your legs are a little sore. Maybe combine pizza and beer at side-by-side Transmission Brewing and Topper's Pizza. You've already gotten your exercise.

It's All So Easy

Ventura's best road bike rides start right in town. Harmon Canyon, with its hiking and mountain biking, is only a ten-minute drive from downtown Ventura. You can walk – or ride a bike – between plenty of our breweries and pizza places. We're small town. Figuratively and literally.

And It's All So Important

Here in Ventura, we know that hiking and biking are play. But we also know that they are far more. You should grab every chance to do the things that matter, like watch sheep clouds scud to the horizon.

Treating yourself to wild – and stillness – matters greatly.
Discover More
Get to know Ventura, and discover the best things to do around the city.
Ventura Partners With