Posted: Thursday, Apr 23rd, 2015
The story of Ventura's Two Trees
They are lovely, the two trees in the gloaming. On this feels-like-summer evening, the sun is setting. The world is soft pastels. This turns the two trees darker, delineating them so I can almost pick out individual branches from five miles away. The two trees are clearly visible from many places in my hometown because they sit together and alone atop a hill, two lovely sentinels on an undeveloped swath of land.
This alone makes me happy. But there is something else about the trees that makes my heart lift. They are a reminder of something important to all of us.
If you live in Ventura you know these trees. We call them Two Trees. We are a simple town without pretention. Many towns — probably every town, if you know the town well enough — have an icon. The world bursts with iconic landmarks. They are usually quite grand. Paris has The Eiffel Tower. New York has the Statue of Liberty. Sydney, the Opera House. Boston has Fenway Park.
These are nice icons, but I prefer the small ones. The ones that dissolve as the sun sets.
They are interesting, our Two Trees (I capitalize them because while they are only two trees among the world's many, they are important to us). Some say they were planted as a beacon for seagoing ships, to aid captains in making Ventura landfall. I have been told that on certain sailing charts you can still find the Hill of the Trees, marking Ventura. I like this story. Ships have romance, and in this day and age of Google Earth the thought of scanning the horizon for two trees has a certain charm.
The Trees' real story is interesting, too. In 1898 Joseph Sexton, a horticulturist of note, planted 13 Blue Gum Eucalyptus saplings atop the hill. It's said he did this for the best of reasons; because he thought they would look nice. Mr. Sexton had an eye for beauty. He had good sense, too. He hired his neighbor Owen Marron to do the planting and subsequent caretaking. In 1898 it was a hellish business hauling water, by horseback and burro, up the steep hillside. Mr. Marron's substantial efforts saw the trees survive for five years. Then a wildfire burned eight of them to the ground.
Nature is fickle and indiscriminate. Man can just be imbecilic. Five trees remained atop the hill until Halloween pranksters cut three trees down. A citizens group replaced the three trees. Eventually others came along and again cut three of the five trees down, proving that there is indeed a gene for the IQ of pudding.
Two Trees has also narrowly escaped fires on several occasions. In 2005 our town watched as an inferno blazed over the ridgeline toward the trees (and our town), black smoke and hypnotizing flame filling the day and night sky. Firefighters again performed the miracle they do. Five years later a group of teens, hiking from a local park to Two Trees, found a lighter on the ground. Someone decided to see if it worked. It did. In the teens' defense, they called 911. Again firefighters saved our Trees.
Our Two Trees are survivors. They are also part of the fabric of our town. One year, for their senior prank, the seniors at Ventura High School moved an entire classroom of desks up to Two Trees. One must salute such creativity.
People are drawn to our Two Trees. They have a hypnotic quality, a far-reaching siren call not normal for simple Blue Gums. Once, after the Trees again skirted fiery disaster, our local paper printed a letter from a woman immensely relieved that the Trees were still there. "I scan the horizon so avidly that my eyes are nearly popping out of their sockets until I finally sight my favorite view: Two Tree Hill. I would have mourned their loss," the woman wrote from her home in Florida.
Technically, our Two Trees aren't really our Two Trees. The hill on which they sit is privately owned by the Dabney-Lloyd Corporation. There are "No Trespassing" signs and barbed wire, which many blithely ignore. On Yelp, purveyor of all things opinion, trail users note, "To get to the top you have to cross a 'no trespassing' sign, so beware to the worry warts", and "just go under the barbed wire and you are on your way." Proving that everyone has a Facebook page, our Two Trees regularly post entries welcoming people up ("Happy Valentines day! If you have no one to celebrate with, remember, we're always here for you."). I wonder if both trees collaborate on the posts and if their internet access is better up there.
Not all visitors are respectful. I am told there is often trash at the base of Trees (and along the trail) and that visitors have carved their names in the bark of the Trees. What possesses some people to claim things for their own I don't know, but I believe it has something to do with pudding.
It is true the view from atop the hill where the two eucalyptus sprout from the hardscrabble earth is stunning, but the last time I enjoyed it was roughly 1987. I would very much like to hike up and enjoy the view again. Sometimes people ask me to go with them. But in the end I always decline because I would not feel right walking up unless I allowed you to walk through my backyard, and I don't want to do that because you would see how lax I am with yard work. Plus I am afraid the pudding people will carve their names in our empty planter.
But I still enjoy the Trees very, very much. I see them every day and they make me smile every time. It's not just the way they look, romantic (it is Two Trees) sentinels back-dropped by all manner of skies, and a sign that our town stills see the wisdom of undeveloped hillsides. It's what they mean.
Technically the Trees are not mine, any more than the Eiffel Tower belongs to the Parisienne. But when it comes to life, technicality should be swiftly discarded. In my mind the Trees are mine. And each time I see them they whisper the same thing to me. If your town has an icon — and I'm betting it does — you understand.
This is your home. This is where you belong.
This story was originally published on KCET.org
Ventura's Ken McAlpine is the author of eight books. His website is www.kenmcalpine.com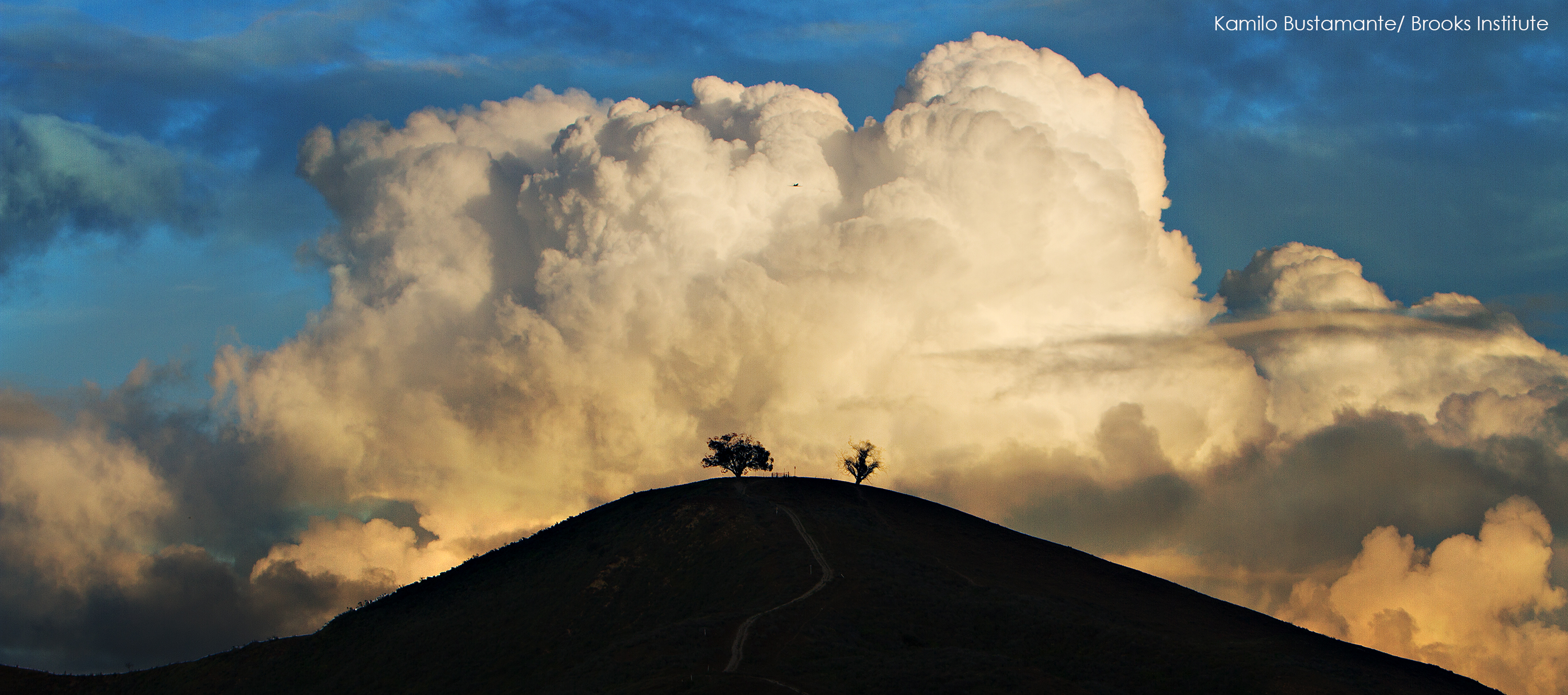 Discover More
Get to know Ventura, and discover the best things to do around the city.
Ventura Partners With