Posted: Thursday, Mar 26th, 2020
Ventura Has The Open Spaces We All Need Right Now
by Visit Ventura
Yes, these are hard and uncertain times, but spending twenty-four hours a day with the news blaring and your shoulders bunched up around your ears isn't going to help anyone, least of all you. So take a moment — better yet, a whole bunch of moments — to breathe in Ventura's solace of sky, sea, and emptiness (while keeping your six foot distance). Sometimes the quieter you are, the more things come into view.
If you're visiting here — or when you visit here (because this too shall pass) — know that Ventura has a host of lovely places where you can take a deep draught of refreshing nature. And, great news, there some incredibly exciting new opportunities on the horizon (see below). If you live here, well you are already lucky to know these views and open spaces — but they might remind you of the timeless foundations on which Ventura firmly stands. Invincible spirit. 805 strength. Caring without horizons.
Visitor or resident. These beautiful places, they remind all of us.
Good things always outlast the dark.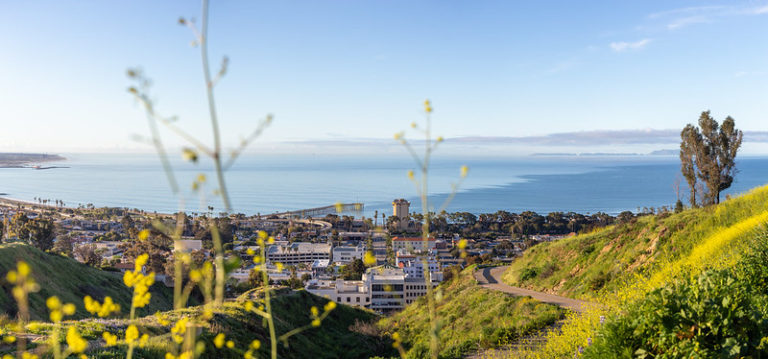 Breathe in a world-class panorama from Grant Park…
Grant Park sits above Ventura (just above City Hall). Here you have nothing, and everything; the whisper of eucalyptus trees, and one of the finest seascape views in the world. Below you, toy town buildings. Beyond, the Pacific, broken by the rise of Anacapa and Santa Cruz Islands. No place better for a sunset. Want a taste of what you'll see?



Breathe in the same world-class panorama from the Ventura Botanical Gardens…
Located just below Grant Park, the Ventura Botanical Gardens offer a stunning wander among the loveliness of five Mediterranean climate zones (some 160-plus species). There's a small Mediterranean pine forest (about 60 trees), a small Eucalyptus forest (7 species), coastal sage scrub, chaparral, and the same spectacular ocean panorama that Grant Park offers. And, take note. Responding to COVID-19 and the need for open places for folks to go, until April 30th the Botanical Gardens will now be free on both Tuesdays and Fridays ($7 admission on other days). And the upper gardens are always free to the public.


Stroll to the end of the Ventura Pier…
No better place to inhale sky and sea. If it's the end of the day, watch the sun slip behind hummocked Santa Cruz Island. If it's the day's beginning, watch the sun pull free from the Santa Monica Mountains. If you choose to watch a sunset, added plus if you stay and watch night come — the lights of the pier throwing fingers across the water, the stars winking as if in on a secret. Inside tip: take a moment to stand at the ocean's edge underneath the Pier. Real peace in water's sighings.

Head for the hills in
Arroyo Verde Park…
Arroyo Verde is a local favorite, some 132 acres of land where it's easy to find a pensive moment alone. Start in the grassy area and then head for the hills. Added plus, our recent rains have turned Arroyo Verde into an eruption of flowers and soothing green. But from high in the hills, the sweeping seascapes remain as they always have been.
Reassuring in itself. How about a virtual hike to warm up…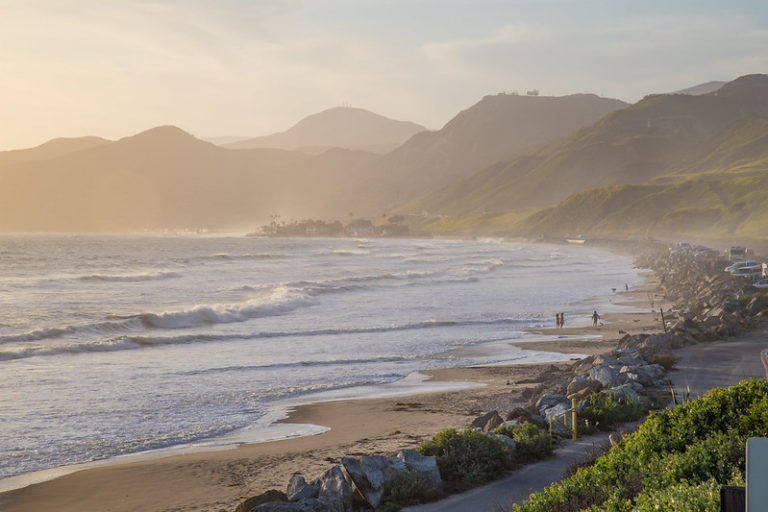 Walk any beach…
… but why not start with the beach across from
Ventura Harbor
. Ventura has no shortage of
beaches
for ruminating, but if you want to get away from everything, wander the water's edge along the beach across from Ventura Harbor. Park at Surfer's Knoll (or across the street in the Ventura Harbor parking lot), and walk south toward the Santa Clara Rivermouth. The world falls away. And the beach by the Ventura Pier works just as well too…
View this post on Instagram

Or beside a river …
On the northern edge of Ventura, just back from the Pacific and edged by the Ventura River, the Ventura River Estuary is a special place. Here the world is nothing but dappled shade and the whisper of leaves applauding the briny wind. Hike the trail beside the Ventura River. Stand in the sunshine and watch Great Blue Herons pick their way across the mudflats like fussy, unhurried grandmothers.

And something to really look forward to — Ventura's grandest Grand Opening of wild space in years…
Since 2003, the Ventura Land Trust has been working tirelessly to preserve Ventura's beautiful open spaces. They manage the Ventura River Estuary (please see above), keeping it clean, removing invasive plants, and building trails. And they are nearing the end of a long road that will soon see them opening the first large-scale, publicly accessible hillside nature preserve in Ventura, a pastoral heaven of gnarled oaks, downy grasses, and wind-kissed vistas.
A place to hear the things that matter.

(Confused about going outside? Here's a great article that explains everything clearly)