Real Cheap Sports
36 W. Santa Clara St.
Ventura, CA, 93001
(805) 648-3803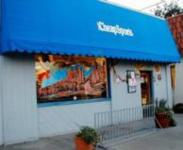 Since 1981 Real Cheap Sports has been committed to keeping the tradition of the small, customer-focused outdoor store alive in Ventura.
Our knowledgeable, friendly staff and great prices on outdoor clothing and gear have made us a local favorite for over 26 years.
We offer great deals every day on clothing and gear from top brands.
Area's largest authorized outlet for Patagonia overruns, closeouts and seconds.