Fox Fine Jewelry
560 E. Main St.
Ventura, CA, 93001
(805) 652-1800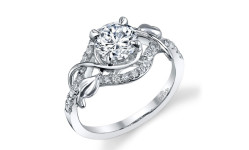 Downtown Ventura's Fox Fine Jewelry is locally owned by George and Debbie Fox, and consistently voted Ventura County's #1 Jeweler. They are best known for their unique and beautiful jewelry, and their expertise in repairs and custom design.
George Fox is a Master Jeweler and Certified Gemologist, who designs jewelry using computer modeling, allowing you to see the jewelry before it's made. Fox Fine Jewelry does every repair imaginable, from sizings and soldering to platinum, stringing, appraisals and even eyeglasses! George Fox is an antique restoration expert. All jewelry left for repair or custom design is photographed and insured for your security.
Debbie Fox carefully selects the jewelry in their cases. "I want everyone to be able to find that special piece of jewelry at a price they can afford," says Debbie. A woman with a big heart, she began giving away necklaces to the unemployed in response to the Great Recession. Fox Fine Jewelry's program has grown over the years and to date they have given away over 900 necklaces. A big supporter of the arts, Debbie won the 2012 Mayor's Art's Award for Fox's charitable work.