Posted: Monday, May 18th, 2020
Take a Walk/Ride on Ventura's Artistic Side (Part One)
by Visit Ventura
The magic of art knows no bounds and touches all corners of the soul. And one thing art often does is lift our spirits — a welcome boon in these times. Happy salve, Ventura blossoms with murals. Beautiful murals have long been a part of Ventura's history (and documented that history). But in recent years unexpected palettes across Ventura have been adorned with happy art of all kinds; from paintings of bright yellow bumblebees on an electric box — with the caption "Bee Happy!" — to sprawling tapestries on the outer walls of grocery stores, restaurants and breweries. It's as if some happy madcap elf army has skipped about town, their sole mission to make our days brighter — and serve testament to the power of creativity and the sheer joy of the moments we've been given in this life. In Ventura, inspirational street art is everywhere. Think of Ventura as The Louvre, but without a ceiling and unamused security guards. So why not take a happy ambling tour? Starting today, we're launching a series of blogs that will guide you around town, showcasing our fascinating murals. Because you can learn a lot too; our historical murals, for instance. But sometimes it's just the chance to let your jaw drop and your eyes go wide. Art for the pure joy of art is more than enough. If you live in Ventura, well there's no finer excuse to get out the door and give your spirits a jolt of good. And if you're reading this from some other town, so what? Come on along on for a virtual wander. We love having your company. And maybe you can assemble and save a kaleidoscopic roadmap for the time when you can visit. If anything, there will only be more murals (follow the ongoing progress of Ventura's inspirational artists on Instagram
Ventura Street Art
) You can start a Ventura mural adventure anywhere, but we'll begin our series downtown; this one a literal walk on the artistic side.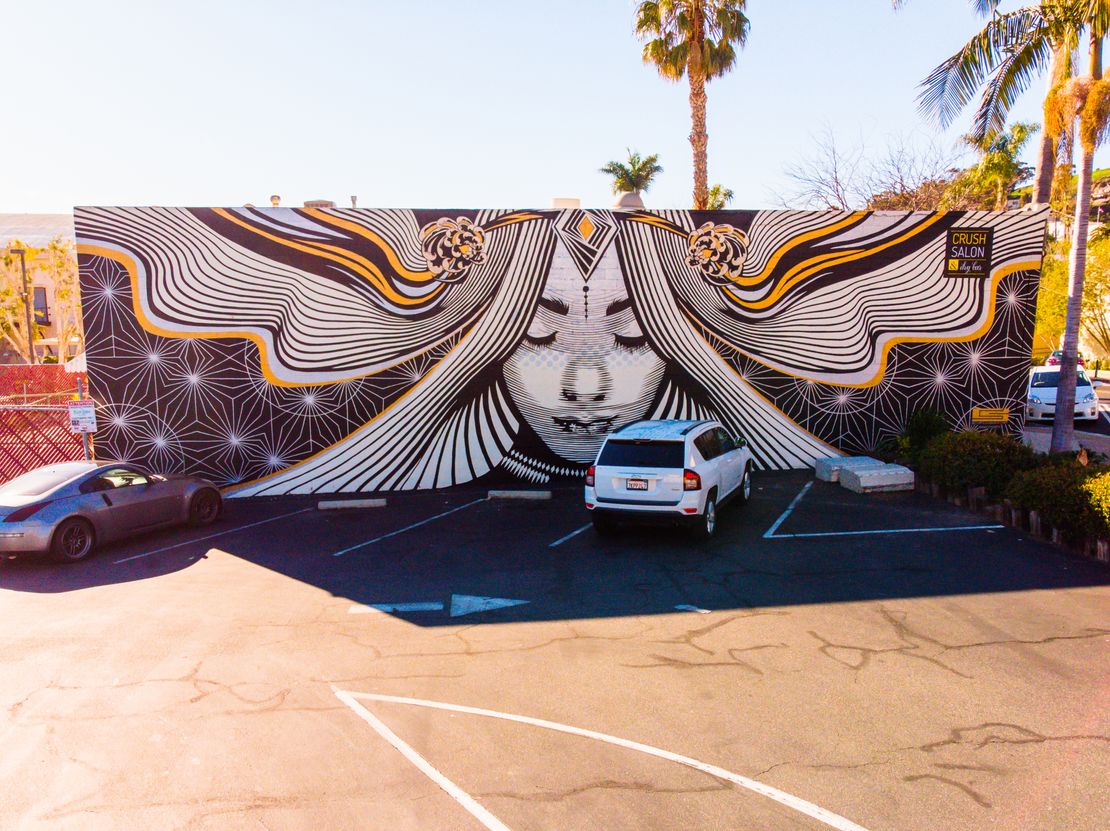 Start with
"AMATERASU"
(654 East Main Street), across the street from the Library and adjacent to Fluid State Beer Garden (side note; Fluid State elevates pizza to art). Artist
Chris Saunders
created a stylish version of the Shinto solar goddess Amaterasu, rendered bold in black, white, gold and silver.
View this post on Instagram
Just recently — and appropriately — art has turned to say a larger-than-life thank you. Head down Main Street to Andrew Rodriguez's new mural (300 block) dedicated to our larger-than-life frontline heroes. What you do here is your own business. But some might take a quiet moment to remember the best of humanity. No, humanity is not perfect. But in these challenging times, we have seen so many examples of how close to perfect humanity can be. Kind, selfless, tireless, caring, brave examples. There really aren't words for this quiet heroism. But now there's a mural.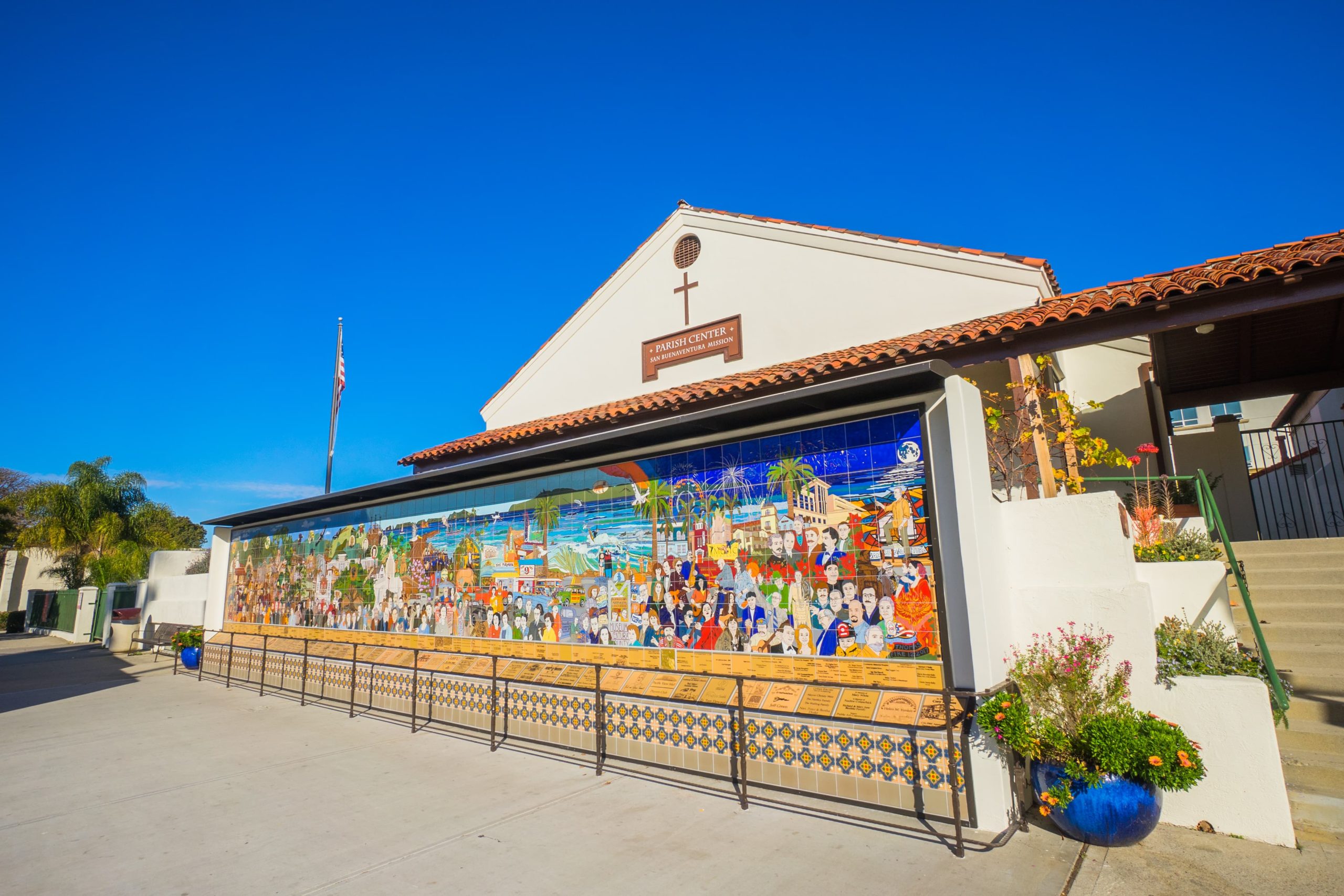 Continue down Main Street to the San Buenaventura Mission. Here you'll find the lovely illustrated history of Ventura created by artist Michael O'Kelly. O'Kelly's framed memorial mural depicts 150 years of Ventura history via over 100 ceramic tiles showcasing the people, landmarks and scenes (both old and new) that have helped make the city what it is today.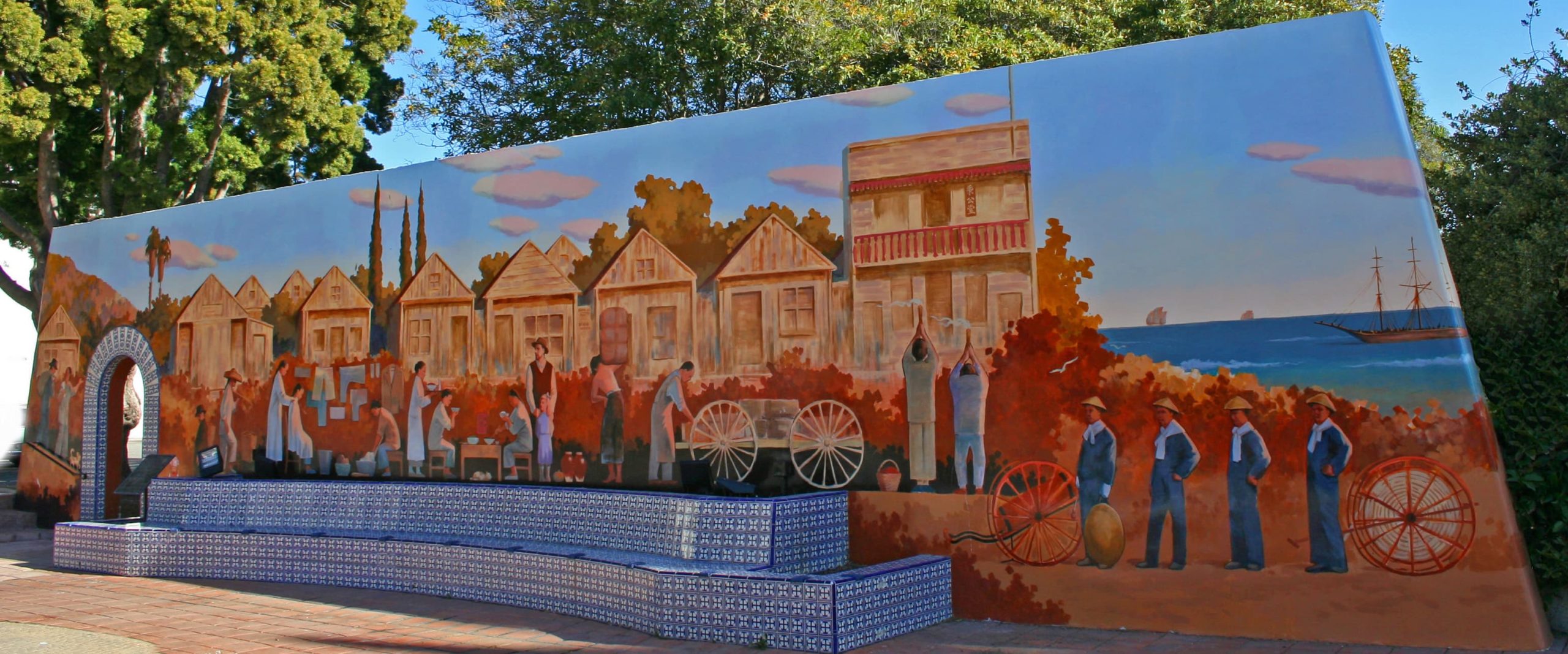 Directly across the street from O'Kelly's memorial mural, you'll find the
China Alley Mural
. Artists Qi Pang Guo and Song Yun created a beautiful mural featuring scenes from the early 1880's, when a Chinese settlement of merchants, laborers, and families flourished in the area between Main and Santa Clara Streets.
View this post on Instagram
Head toward the sea (a favorite Ventura pastime) and beneath the Figueroa Street underpass, you'll find the
Tortilla Flats Mural
. Artists
MB Hanrahan
and Moses Mora created this mural commemorating – through a potpourri of images of Chumash, Latino, Asian, African-American, Midwest and Dust Bowl families – the historic importance of our city's first culturally diverse neighborhood. Continue down Figueroa to the sea. Gaze out at Anacapa and Santa Cruz islands looming from the sea. No one paints a mural like Mother Nature. (Our next Walk/Ride on the Artistic Side begins not too far away, with lovely, flowing hair. Care to take a guess?)
Discover More
Get to know Ventura, and discover the best things to do around the city.
Ventura Partners With