Posted: Thursday, Feb 20th, 2020
How Dog-Friendly is Ventura?
by Visit Ventura
Here's the thing about being a dog. We get a lot of attention but we're rarely asked for our opinion. We're not sore about it. It alleviates stress (have you ever watched us sleep?). It's just the two-legged world's loss. But I've been provided a rare opportunity, and not coincidentally, it's Ventura that's done the providing — because if there's a
dog-friendlier town
, let me know and I'll nose up my travel bowl and go. Ventura
caters almost as much to dogs
as humans. So, while they still addressing this shortfall, when it comes to
being dog-friendly
, they still set a pretty high bar. In Ventura, we're not just welcome — we're celebrated. Ventura has its own "
AmbassaDogs
" — four-legged city reps. They also have
their own surfing dogs, including Haole,
who is something of a role model to me (read on). And, since all my dog readers are probably hungry already, I'll tell you that there are so many stores in Downtown Ventura that put out bowls and offer treats that you can pretty much eat and drink your way up and down Main Street. The best place to start is the
Ventura Visitors Center
. They love dogs, and they hand out treats like, well, they know us. Plus, they can clue your owner in other dog-friendly places. It's true our owners, while good-hearted, sometimes need a little direction. Since we all love ice cream, why not start there? My role model Haole has a weakness for
McConnell's Fine Ice Cream
, and if McConnell's is good enough to be his vice, well it's good enough to be my vice too. If you're well-behaved, the nice folks behind the counter will give you your own little scoop. And you don't have to suffer the ignominy of eating it off off the floor as fast as you can.
Well, they love us so much it's almost embarrassing. Pay attention (I know it's hard for you Labs) … among other things, they offer Pupcreams (ice cream made specifically for pups), a pup-friendly patio, and, contain yourselves, pup community socials where your best friends can bring you pups in for free Pupcreams and pup toys, plus arts and crafts and raffle drawings (their next one is March 1st, in time for
Mermaid Month
at the
Ventura Harbor Village
).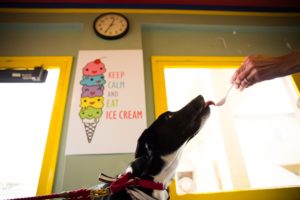 Yeessssssssssss. Ventura has tons of them, and we're welcome on plenty of them on-leash (I'm not pointing paws, but some of us can't be trusted off-leash). A few beach strolls you're sure to like are
Surfer's Point
,
Marina Park
, and
Harbor Cove
. Here's a great link your owner can click on for all the info on dog-friendly beaches, and why we're not allowed on some beaches (bird habitat, for one). If you're strolling at Surfer's Point, guide your owner up on to the
Ventura Pier
. They'll get an incredible view, and you can snuffle a history of smells in wood.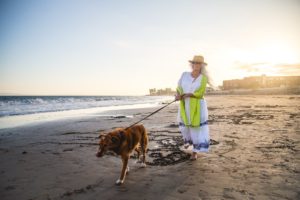 Mmmmmmmmm. If you're ambling around at at Surfer's Point, maybe give your best friend a tug up Figueroa Street. They won't be sorry you led them to
Tony's Pizzari
a. They've been
serving pizza since 1959
(that's even a lot of dog years), and they've got a cool outdoor seating area with picnic tables in the shade.
Parks?
Yep, reams of them too.
Cemetery Park
may be the place to cavort — lots of other dogs and a nice ocean view for your owner (just don't let them wander off without you).
Camino Real Park
has dog-sized water fountains and — contain yourself, excitable sorts — a dog area where you're allowed to run freeeeeeeee.
Arroyo Verde Park
has off-leash hours every day from 6:00-9:00 am, Tuesday through Sunday. And spectacular high in the hills ocean views for your day-dreamy owner. On the east end of town, Kimball Park is a popular dog-walking spot for local dogs, a big loop that still won't come close to wearing you out. It's also home to the
Ventura Aquatic Center
, with all kinds of wet (pools, waterslides, classes) fun. Sorry Labs, not for us.
If your best friend is like mine, they might have a weakness for beer — and Ventura has lots of places to drink great beer. It's called craft beer, and each place has their own recipes, and people love them. That's nice for people, but the important thing is you won't get left out. Beer people are open-minded people, and they love dogs — almost all of Ventura's breweries are dog-friendly.
Transmission Brewing
,
Topa Topa Brewing Company
,
MadeWest Brewing Company
,
Ventura Coast Brewing Company
, they all have (outdoor) patios that are perfect for lolling. Inside tip, lots of the breweries also have delicious food trucks, so you might be able to earn yourself a tasty morsel with a mournful look.
Barrelhouse 101
saves you the play-acting. They have a dog menu.

Dogs aren't much for shopping, but, being amenable, we're happy to tag along. And Ventura makes it worth our while. I mean you've never seen so many dog-friendly shops in downtown Ventura, from places where they'll just scratch your head (which is good) to places where they'll ruffle your head and hand you a treat. Again, for a full list, the best thing to do is stop by the
Visitors Center
. And, yep, they start you out with a treat.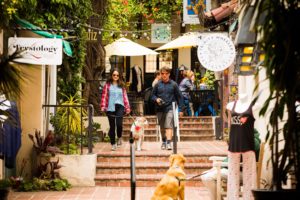 And finally, a bark out to
my surfing hero Haole
— because it will benefit you. Yep, he's got his own beer (Haole Boy Lager;
Rincon Brewery
), he's been on "
Good Morning America
," and he's written his own book. But those are just trappings. We dogs have always known what really matters — loyalty, afternoon naps, dancing like no one is watching — so I'll also tell that Haole volunteers with
"A Walk on Water,"
a water therapy organization for special needs children. And maybe here's why. Think of it as a dog's wisdom passed on to you. It's one of Haole's favorite sayings.
"Your greatness isn't what you have, it's what you give."
For more great stories, request our FREE inspiration guide right to your door!
Check out upcoming events!
Discover More
Get to know Ventura, and discover the best things to do around the city.
Ventura Partners With