Posted: Monday, Oct 21st, 2019
Why Ventura Models Itself After a Dog's Life
by Visit Ventura
He's got his own beer (Haole Boy Lager; Rincon Brewery), his own surf wax-scented candle (Haole Boy Candles; also available at
Rincon Brewery
), his own
facebook page
, and his own book (well, co-authored: "Ride The Wave, Love Sofia and Haole the Surf Dog"). On September 5th, he appeared on "The Today Show," charming America, and everyone on the set.
But as someone once said about fame, it's fleeting.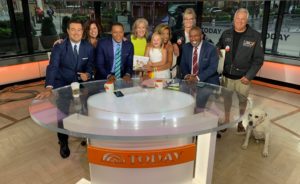 Here's what matters…
Haole volunteers with "
A Walk on Water
," a water therapy organization for special needs children. He
surfs
the Cove at C Street with happy abandon, and he loves to share waves. He is brave, fighting cancer with a labrador's loopy smile and rock-solid will (100 percent of the sales of Rincon Brewery's Haole Boy Candles goes toward his medical costs.) Haole will not give in.
"I will continue to live my absolute best life."
Sure, he has his weaknesses (
McConnell's Ice Cream
), but Haole sees things clearly.
"Your greatness isn't what you have, it's what you give."
It would be a better world if we were all a bit more like Haole.
As Ventura's ambassa-dog, this local had a lot to say about his favorite places to check out in the place he calls home.
Learn a little bit more about
dog-friendly Ventura.
For more great stories, request our FREE inspiration guide right to your door!
Check out upcoming events!
Discover More
Get to know Ventura, and discover the best things to do around the city.
Ventura Partners With