Posted: Thursday, May 14th, 2020
Thank you, Haole. The True Meaning of Legend.
by Visit Ventura
Header image by Steve Cattanach
It's with heavy hearts that we announce the passing of Ventura's own Haole, because it is always sad when a bright soul leaves this world. But, like all bright souls, Haole wouldn't want us to be sad. Haole would want us to remember — and continue on, holding those memories. Yes, Haole was bigger than Ventura. He appeared on "Good Morning America," charming America and everyone on the set. He had his own facebook page and his own book (well, co-authored: "Ride The Wave, Love Sofia and Haole the Surf Dog"). And yes, he was a dog, so he didn't care. Haole saw things rightly. "Your greatness isn't what you have, it's what you give." And so Haole volunteered with
"A Walk on Water"
— a water therapy organization for special needs children — criss-crossing the country to do a simple, not-so-simple thing. Put a smile on a child's face and happy warmth in a child's heart. Children know good, and children loved Haole. As Ventura's Ambassadog, he took up Ventura's sport, surfing the Cove at C Street with barking abandon — happily sharing waves in a lineup where sharing isn't always the case. In a world where people sometimes look out for themselves, Haole always looked out for others. Haole (along with his best friends Kim and John) was always there — for everybody. Haole knew the world wasn't all sparkling waves and
McConnell's
ice cream. "Everyone has something they are dealing with. Let's practice kindness." He was a brave and quiet warrior, fighting cancer with a labrador's loopy smile and steadfast will. He knew the meaning of courage — and the meaning of life. Family, friends and fun. And giving to others. Those things, they always made life brighter. "I will continue to live my absolute best life." Haole lived that life right up until he died. He loved unconditionally and played unconditionally and gave unconditionally. He swallowed life. He would want us to remember that. And we would be wise to remember.
There's never been a surf therapy dog quite like Haole. He transcended what we thought was possible in canine/human connection. His calming presence at AWOW events enabled life-changing experiences to happen for thousands of children in need. Haole, like most surfers, was happiest in the ocean; and I will always keep the image of him trimming down the line in my mind. Sean Swentek – Director A Walk On Water — Surf Therapy
Haole Boy has made a positive difference in more children's lives than any human I know. His presence was a constant source of comfort for any child who was afraid of the ocean and it seemed that being near him in the water would make children feel safe and joyful. He understood nonverbal communication better than anyone and seemed to understand and embrace his role as a friend to children with special needs. He was also the best surfing dog who has ever lived and would even tandem ride with kids who had never surfed. He will be greatly missed but will live on in our memories forever Robert Glover- owner of Harvest Cafe and member of A Walk on Water
No one who witnessed Haole on a wave, shifting his weight as he glided down the line, could possibly forget that image of grace and athleticism. He was a Surf Therapist in the truest sense of the word. At AWOW events with his pawrents John and Kim Murphy, he lent his own immense courage to countless AWOW athletes; many of whom found the confidence to paddle out just by seeing Haole in the lineup. He was a calming and kind force on the beach as well, making the job of our human volunteers easier by turning tears into smiles. He created moments of peace, love, laughter and joy at every event. I take comfort in knowing that Haole is smiling down on us as he catches wave after perfect wave. A Walk on Water volunteer Jo Becker
Haole was an inspiring patient and he always came into the hospital with the blissed out disposition of a surfer. For almost two years both Haole and his pawrents handled the numerous chemotherapy, targeted and radiation treatments with dignity, patience, and persistence. Haole never got irritable or discouraged even during times of uncertainty or physical discomfort. Haole had a very laidback and wise aura and as a veterinary oncologist I wish all patients with cancer could embody the positive energy that Haole brought into the hospital on a daily basis. Dr. Daina Budreckis, DACVIM (Oncology)- Advanced Veterinary Specialists, Santa Barbara.
Haole immediately made his way into my heart. He had so many that loved him and his veterinary team was no exception – he was the best patient. Every time I saw him – prior to an exam or an ultrasound – I would look into his kind, soulful eyes and give him a big hug (he gave the best hugs). I will miss his hugs. I will miss how he practically fell asleep in the dim lights of our ultrasound room. I will miss his smile (such a great smile!). I will miss his cool surfboard leash he used as his leash. I will miss his parents – their unconditional love and devotion to their boy. Haole fought his cancer for a very long time – he persevered longer than what was medically expected. He was a warrior and he was brave. I feel honored to have known Haole and to have been a part of his veterinary team. Haole will forever be missed. May you Rest in Paradise Haole and ride that elusive never-ending wave. Sending peace and comfort to Kim, John, and Primo. Dr. Melissa Herrera Horizon Veterinary Specialists
Dear sweet Haole Boy, As a fellow Ventura therapy dog, I know just how important and special you are to this community. I also know that we therapy dogs are blessed with the best job in the world – we get to be loved on all day and spread joy everywhere we go. I hope that brings your pawrents some peace, knowing just how loved you are by so many. I know they must be really hurting right now. You fought the good fight and inspired so many. I admire your courage and hope to be just like you when I get older! You're going to be missed by so many, Haole Boy. See you on the other side of the rainbow bridge, my furiend ❤️ Love, Charles
When I saw a surfing dog that was serving his community, it was a natural that Haole be our dogbassador. Sharing his soul and love with others was a joy to watch. He will live on in our our hearts and the stories we share. Marlyss Auster President & CEO Visit Ventura
When I first met Haole I was amazed at his ability not only in the water but with people. You instantly loved this dog and my wife was a first-hand account. She made me tell her when he was going to be at Rincon Brewery so she could actually meet him. We both loved this dog, and will always miss him. He was very lucky to have Kim and John — they were amazing parents to him. Hearing John talk about him, you couldn't not be drawn to Haole. We will deeply miss him. Mike Laan Digital Marketing Manager Visit Ventura
Haole Boy, you old soul of a doggie. Your calming presence and ever knowing of what anyone around you needed was a gift to everyone. Your heart connection with many went far and wide. You had the ability to make people feel safe on land and in the ocean. Watching you surf a wave and adjust your body weight to stay on your board was magical. I know you will always be with your humans and watching out for them and your wild brother, Primo. I also know past Hyatt pack members greeted you in doggie heaven. You will forever be a part of our Rincon Brewery family. You have your own beer with us and a favorite for many. Please know your pawrents are a part of my life always. Shine on always Haole Boy. Gratitude to you for the huge difference you made, therapy pup. 🧡🐾🧡 Luisa Hyatt, co-owner of Ventura's Rincon Brewery
Haole, you became a part of Surf Rodeo family through the years and we thank you for bringing so much laughter and smiles to everyone's face …that's what Surf Rodeo is all about! You will be so missed! Love, The Surf Rodeo Team
It is with eyes brimming with tears and hearts aching, we say goodbye to one of our Ocean Ohana. Haole Boy, a Team Betty icon, has left this blue marble. In spite of the valiant efforts of John and Kim, and Haole's will to live an awesome life for much longer than ever expected, he surrendered to death from Cancer this week. Who knew that a dog could learn to surf the way he did? Or ever imagine that in doing so, he would be of such deep service to our Community and Humanity? So now from here on, whenever we see the term "service dog", we will remember and honor the memory of what Haole did for us, and how Kim and John were so deeply faithful in their own dedication to us all. A deep, soft, gentle aloha to our four footed surfer and comfort to his family from all of us at Betty Belts. A hui ho. Donna and Team Betty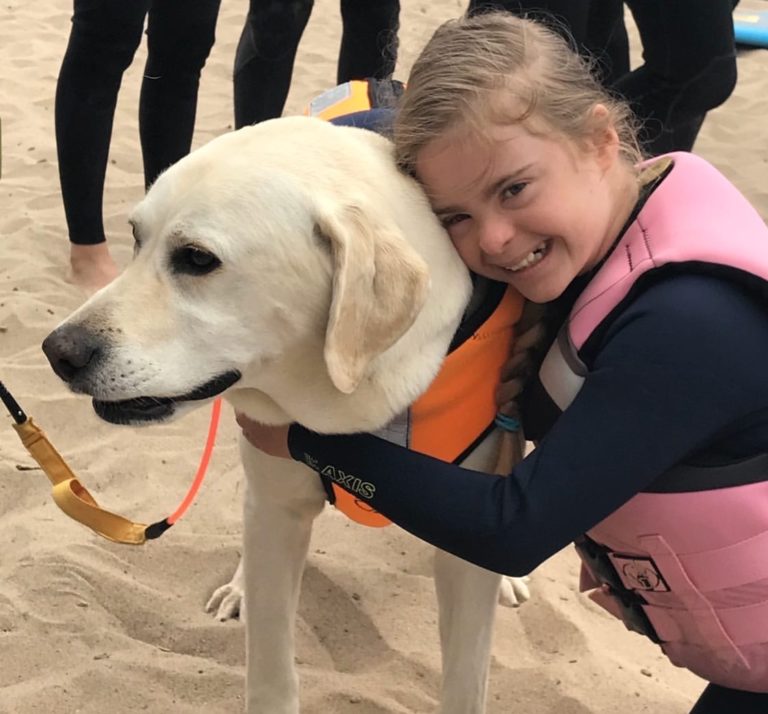 Haole was my friend. He made me smile and he made me happy. I always looked forward to seeing him at A Walk on Water events. I was always so excited to see him! He was the first one I would look for to say hi. I loved being at the beach with him and watching him surf and surfing with him. I will miss him SO much. I love you Haole. Grace Gerenser 12 years old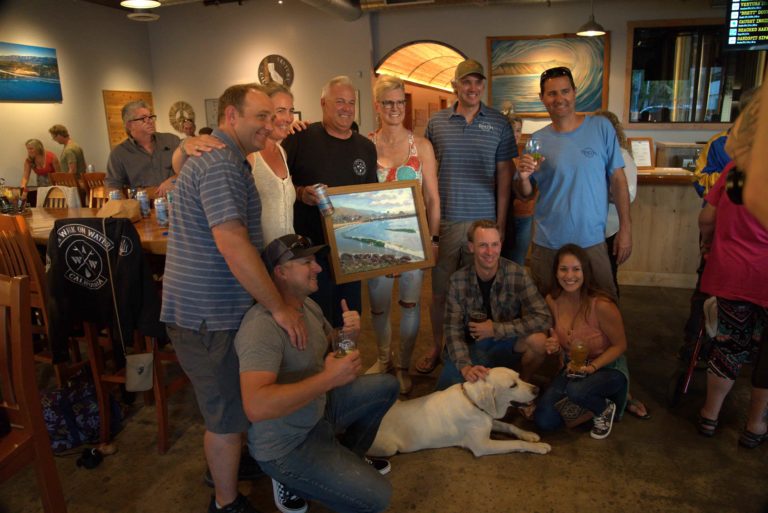 I remember meeting Haole when John and Kim brought him to the beach as a puppy. Having grown up with labs and being a dog person I have never met a puppy, much less a young lab, with such a calm demeaner. From early on it was evident that Haole was something special. A quick search on Youtube will provide many videos of surfing dogs but what is really special about Haole is how John and Kim were able to use Haole's talents and attitude for so much good, specifically his work with A Walk On Water providing surf therapy for people with special needs. It's sad that Haole is no longer with us physically but his legacy will live on in the hearts of the many people he helped and inspired around the world. Chas Cloud Head Brewer Rincon Brewery
When I first starting shooting water photography and looking for subject matter to shoot, I got really excited about this surfing dog I heard about. Not just a little dog that sat on a board with their owner but a dog who actually surfed a wave by himself. I had so much fun shooting this larger than life character that had no ego. Sometimes we meet that old wise soul that has something to show us, we just weren't expecting it in this form. I had no idea that this dog would go on to accomplish so much and inspire so many. Erik Eiser local photographer
Check out my content and social media feed from ShareSpring
Discover More
Get to know Ventura, and discover the best things to do around the city.
Ventura Partners With