Posted: Wednesday, Dec 28th, 2016
New Year Resolutions Happen in Ventura
by Debbie Cvijanovich featured image by Josiah Roe
2020 is upon us— time for a fresh start and new beginnings! When the clock strikes midnight, many of us commit to new goals (resolutions) ranging from breaking undesirable habits to creating appealing ones. Making resolutions is pretty darn easy. Sticking to them, however, not quite a cinch. Our seaside town of Ventura, thriving with a broad variety of opportunities, makes it possible for your goals to happen! Have you made yours? Here's a list of the most popular.
Save more, spend less
Stick to a budget. Ventura is well known for its
plentiful thrift stores
, Not just for saving money, they are ideal for digging up cool, unique treasures and coveted vintage finds. Opt to pack a lunch and enjoy it al fresco on a picnic table at
Grant Park
overlooking our town or oceanside. Save gas by riding your bike on our
scenic coastal path
.
Adopt a healthy lifestyle
Eat healthy
Visit the weekly
farmers' market
, loading up on organic and fresh produce grown locally. Hone your cooking skills by shopping at
Spicetopia
where exotic spices are guaranteed to inspire. Take the
Ventura Food Tour
and learn about the bounty our county has to offer. Opt to dine at healthy eateries such as
Nature's Grill
, Pokeland, Lassen's deli, and
Urbane Cafe
.
Less stress
Meditation and contemplation come easy in our soulful environment.
Join Ventura Pop-Up Yoga
. Let your cares melt away with the soothing effects of the ocean or hiking our hillsides (
Ventura Botanical Gardens
,
Arroyo Verde Park
, the
beachfront Promenade
).
Embrace Ventura's "laid back casual attitude".
Fitness
Join a gym. Get outdoors and move more. Pedal. Walk. Run. Get a monthly pass and lap swim at Kimball Aquatic Center.
Get active
Rent a kayak at the
Ventura Harbor
. Join a running or cycling club.
Surf
our world-class waves.
Rent a tandem bike by the Pier
. Simply
take a long beach walk
.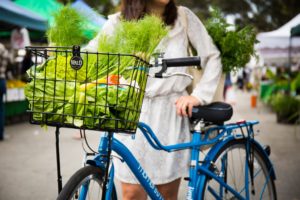 Learn something new
Be curious; learning is one of the best ways to slow aging. Ventura offers many options to exercise the noggin while having fun.
Take a class
Check out offerings at
Ventura College
, in the seasonal City of Ventura Parks & Recreation guide, and at the Adult Center. Learn a new language. Paint. Dance. The world is your oyster.
Try a new hobby
Learn to play
golf
, tennis,
paddleboard
,
surf
,
scuba
, play guitar, etc.
Reconnect with your mate
Strengthen the relationship by rekindling the
romance
. Take advantage of Ventura's
spectacular sunsets
together. Get outdoors. Laugh and play more at these cool date spots:
Ventura Harbor Comedy Club
, Improv,
Discovery bowling
. Plan a standing
date night
: visit
local wineries/breweries
, see a
movie
and enjoy our
eclectic music culture at a nightclub
.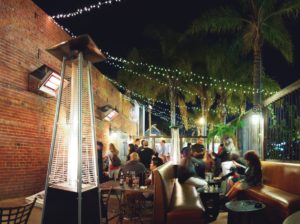 Live life to the fullest!!
The most popular of all resolutions…Make the most of EVERY moment. Live in the present. Have an optimistic attitude. Make it count. Don't put it off…do it now! Making memories and enjoying the beauty of life comes easy in sunny Ventura. Our charming town showcases nature's best gifts and outdoor fun…Every. Single. Day.
For more great stories, request our FREE inspiration guide right to your door!
Check out upcoming events!
Discover More
Get to know Ventura, and discover the best things to do around the city.
Ventura Partners With