Posted: Tuesday, Jun 14th, 2022
What Can I Do With My Dog in Ventura? 
What can you do with your dog(s) in Ventura? Plenty. And we've got the answers to your Ventura dog questions. What beaches can I walk my dog on? Can I walk with my dog on the Ventura Pier? Why wouldn't everyone have a dog?
Well, some questions don't have an answer.
But it's a hard and fast truth that your dog deserves a Ventura vacation as much as you do.
So get to it.
The more time you and your dog spend together, the more you can learn from them. Dogs don't judge. Dogs love unconditionally. Dogs live in the moment. Dogs know what matters and what is right.
Where to Play With Your Dog
But dogs also love to play (and that's right). And when it comes to play, Ventura has reams of dog-friendly options. Play at our Ventura parks. The City has two off-leash dog parks at Camino Real Park
and
Arroyo Verde Park
(dogs are allowed off-leash from 6 am to 9 am, Tuesday through Sunday). At Camino Real Park your dog can run off-leash, and visit with new dog friends, any time they want in the large fenced-in area at the far end of the park. Walk (leashed) on the beach. Stroll the
Ventura Pier
(leashed) and
watch the sunset
. Walk through Ventura's spectacular
Botanical Gardens
, where leashed dogs are welcome on Wednesdays, Fridays, and monthly free days (check the Garden website for those free days).
Got good balance and a water loving dog? You and your dog can head out on the waters of Ventura Harbor
; just rent a pedal boat, kayak, or stand up paddle board from
Ventura Boat Rentals
. Don't feel like doing all the work while your dog lolls about (not that that's unusual)? Rent an electric boat so you can both loll.
Ventura's Surfer's Point, Marina Park
,
Harbor Cove beach
,
Arroyo Verde Park
, and
Harmon Canyon
, also all welcome dogs — though please check their websites for specifics (on leash/off leash; where dogs are/aren't allowed).
And thank you for cleaning up after your loved one. And if you overnight in Ventura with your dog, Visit Ventura will provide you the goods you need – and then some – to perform that clean-up (see below).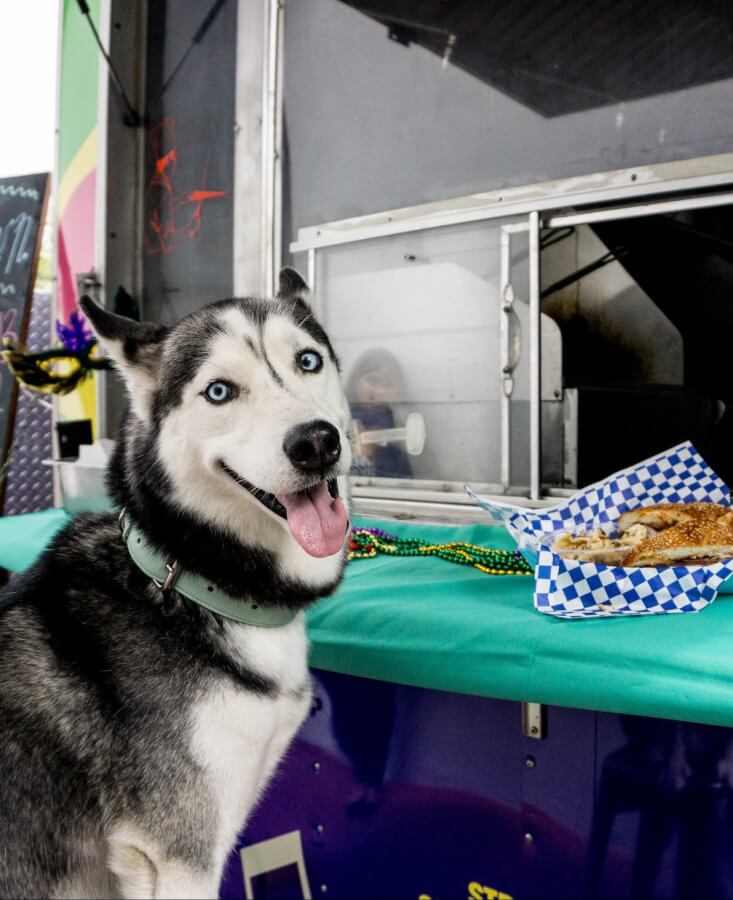 Where to Eat With Your Dog
Many restaurants downtown and at Ventura Harbor Village welcome collared companions. So do our breweries and wineries. You'll find a handy list of all of Ventura's dog-loving establishments – and map – here. Not only do many of Ventura's restaurants welcome dogs, some — including The Parlor and Barrelhouse 101 — have a menu for them. Don't expect them to share. Peirano's Market is cooking up something special too (see below).
Added plus, there are so many dog-loving stores in downtown Ventura that put out bowls and offer treats that dogs can pretty much eat and drink their way up and down our easily walkable and closed to traffic Main Street.
Where to Shop For Your Dog
Ventura has lots of fun shops that have, well, fun gifts for your dog. From Plum Gift Boutique
, to
The Wharf
, to
Kariella
, to
B on Main
, to the
805 Emporium
, to
Ventura Pet Barn
; explore them all for cute and affordable doggie gifts. Toys, dog-themed decor, doggie clothing, or maybe even, in the case of Ventura Pet Barn, a melt-your-heart cute dog. And, at the
Ventura Visitor Center
gift shop, along with dog gifts we welcome each and every dog with open arms — and a jar chock full of dog treats.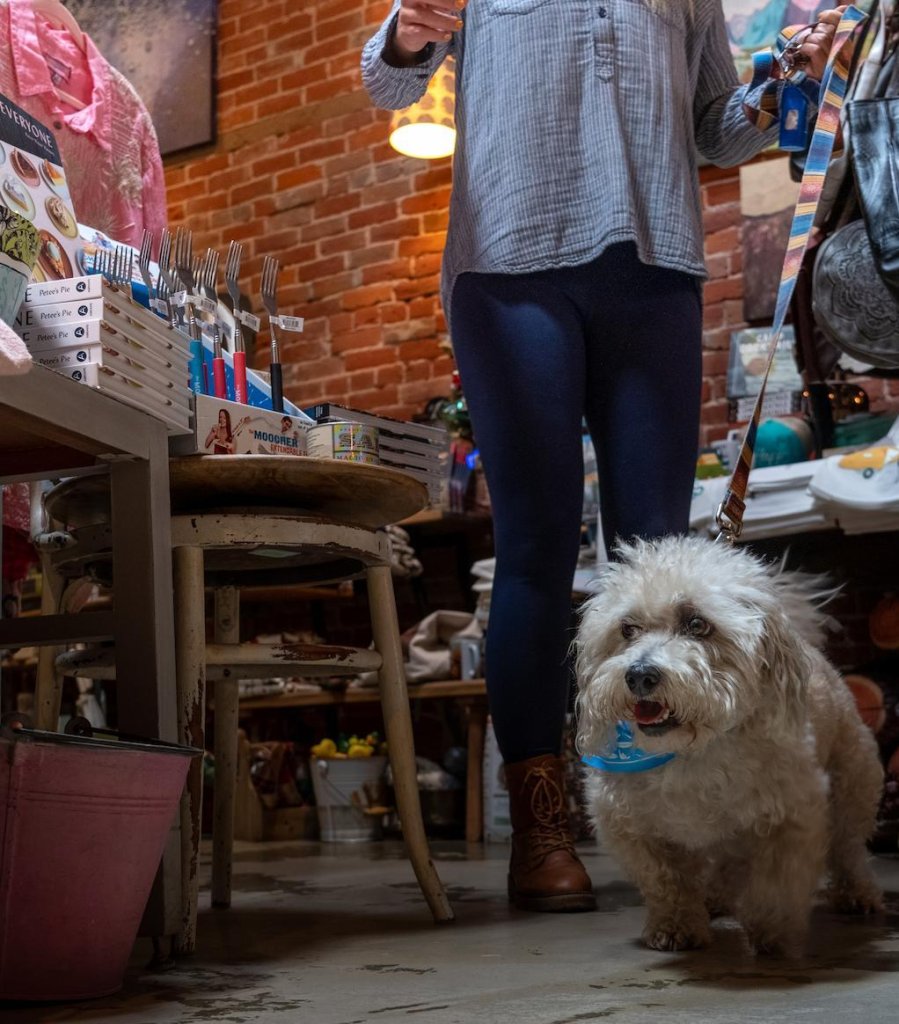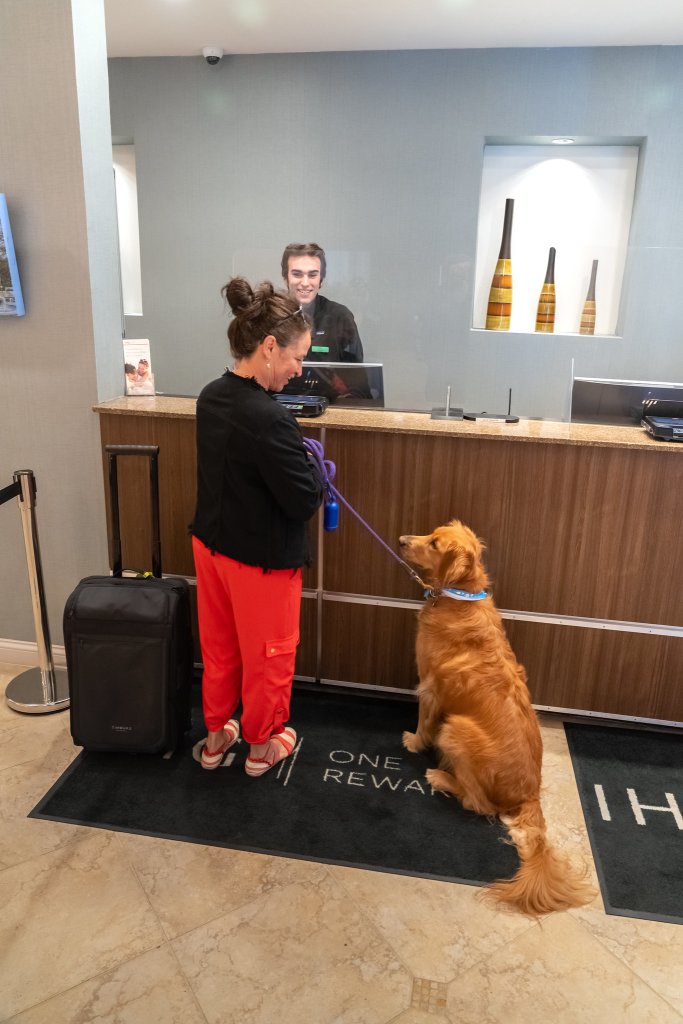 Where to Sleep With Your Dog
A host of Ventura hotels – for all budgets – allow dogs. The Crowne Plaza Ventura Beach
, the
Ventura Beach Marriott
,
The Pierpont Inn
,
Four Points by Sheraton
,
Motel 6 Ventura South
,
Motel 6 Downtown
,
Motel 6 Ventura Beach
,
Shores Inn
,
Holiday Inn Express & Suites Ventura Harbor
,
Bayshore Inn Motel
,
La Quinta Inn Ventura
, and the
Viking Motel
all welcome dogs.
Free Dog Swag for your Dog (and you) When You Stay Overnight in Ventura
And when you do overnight with your dog in Ventura, be sure to pick up a free Ventura Pooch Pouch; a fun, well, doggie bag containing (among other free treasures) a stylish and colorful doggie bandana, a tasty icing-covered dog biscuit (no you don't), a business bag, and coupons for a free puppy ice cream at Coastal
Cone and a free and tasty doggie meal at
Peirano's Market
(a choice of scrambled eggs or unseasoned chicken).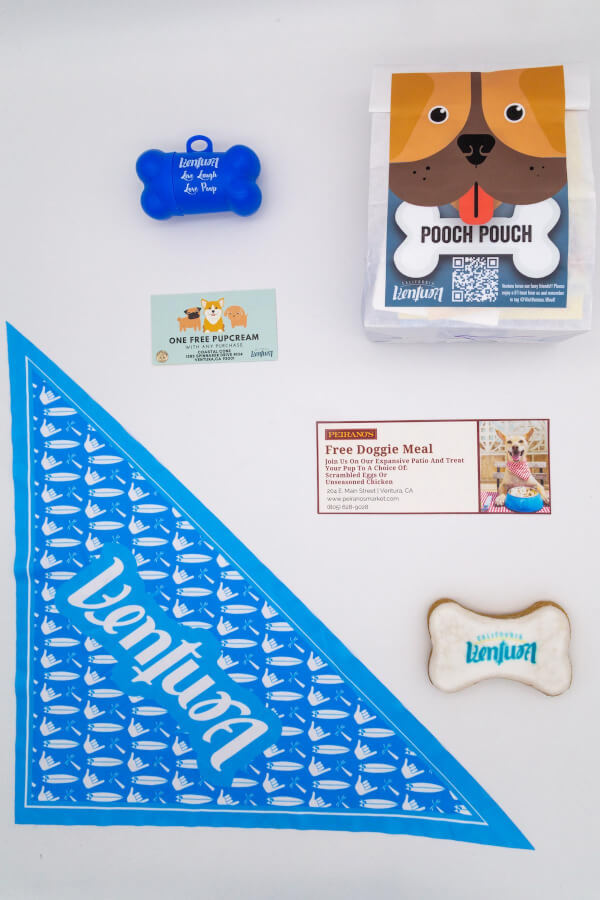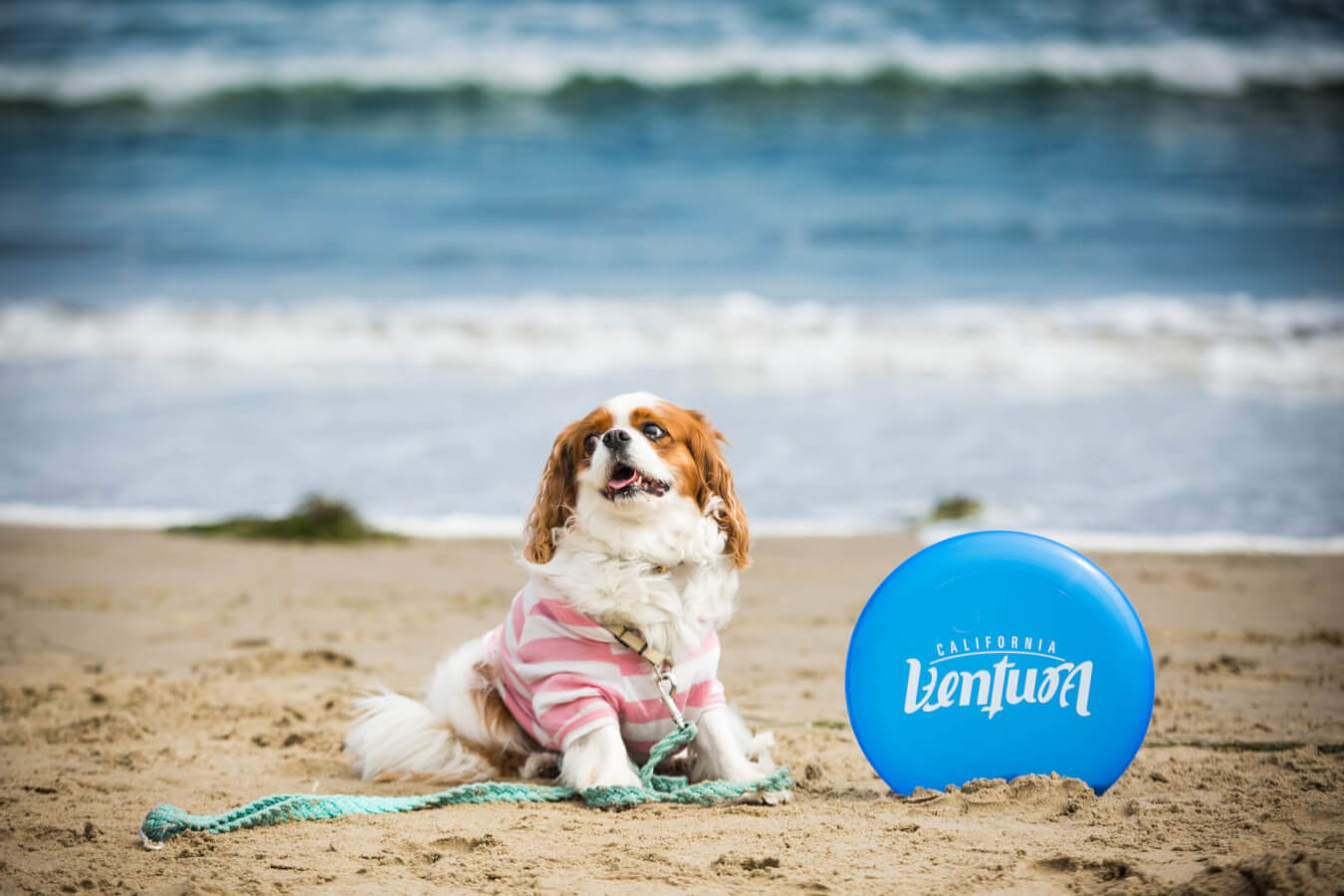 More dog questions?
What beaches can I walk my dog on? Can I walk with my dog on the Ventura Pier? Are dogs allowed on the Channel Islands? Where can my dog be off-leash? Those questions and more, answered here.
Discover More
Get to know Ventura, and discover the best things to do around the city.
Ventura Partners With