Posted: Saturday, Feb 22nd, 2020
What to do in Ventura on a Rainy Day
by Visit Ventura featured image by Steve Cattanach
Yes, in a land of roughly
300 days of sunshine a year
rain in Ventura is only slightly more common than agreement in politics. But it does rain in Ventura. When it does, see it as the locals do — the rare chance to do something a little bit different before the next bout of eternal sunshine…
Downtown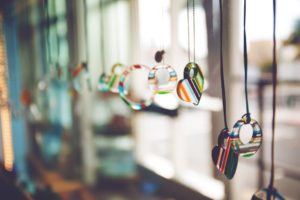 Read a good book. Stacks and stacks (and stacks) of great books — at ridiculously low prices — at Bank of Books.
Make it an art day. Enjoy the downtown arts scene at Latitudes Fine Art Gallery, Vita Arts, Fox Fine Jewelry, and others.
Make it a movie day. Catch a movie at Century 10 Downtown Theater. Comfortable recliner seats and they serve beer and wine.
Hole up at a Happy Hour(s). Yes, Ventura has great drink specials all week long — and great Happy Hour food specials (Garlic fries! Pork belly tacos! Peruvian ceviche!). Ventura has become something of a craft beer mecca, with globally recognized brewers right here in our small town. Rain ensures you won't be remiss in ignoring this facet of Ventura culture.
See a play at the Rubicon Theatre. Housed in a former church, you're never more than ten rows away from the likes of Efrem Zimbalist, Jr., Jack Lemmon and Davis Gaines (the longest-running Phantom), all of whom have graced the storied wooden stage. Professional theater at its most intimate.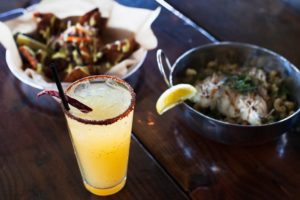 Ventura Harbor Village

Anywhere with a romantic view (but here's a good one)
Pick up picnic items (the market at
Paradise Pantry
is a fine go-to for romantic picnic items; beginning with their extensive wine and cheese selection), or take out (pretty much anywhere) and head for the hills. No better view than from atop
Grant Park
. The panorama of the Pacific Ocean and
Anacapa
and
Santa Cruz Islands
is, well, cozily romantic through a rain-streaked windshield.
Or just ignore the rain entirely…
Walk in the rain? Why the heck not? Life is short, and maybe it's been too long since you've walked in the rain. No finer rainy day walk than the
Ventura Pier
, high above the rain-spattered sea. Warm-up post-walk with hot seafood at
Beach House Fish
, conveniently located at the foot of the Pier.
For more great stories, request our FREE inspiration guide right to your door!
Check out upcoming events!
Discover More
Get to know Ventura, and discover the best things to do around the city.
Ventura Partners With