Latitudes Fine Art Gallery
401 E. Main St.
Ventura, CA, 93001
(805) 642-5257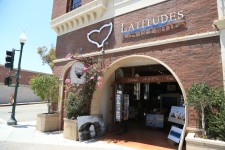 Ventura's only fine art gallery exclusively dedicated to showcasing the beauty of Ventura County and its beautiful coastline in photographs.
Latitudes Fine Art Gallery located in a beautiful 100 year old brick building on the corner of Oak and Main Streets in downtown Ventura and features the work of wildlife photographer, Steve Munch and scenic photographer, Stephanie Hogue.
The gallery carries a wide variety of images in a ll kinds of sizes and finishes. Unique and beautiful Acrylic, Wood and Canvas make up just a few of the options for a special art piece for your wall.