Posted: Tuesday, Aug 16th, 2022
Where are the Best Burgers in Ventura? Right Here.
Ventura Does America's Classic Proud
Today we address an American classic. And — happy, affordable coincidence (you can thank us after you wipe the zesty mess off your front) — Ventura is home to some of the best burgers you'll find.
And here at Visit Ventura, we are home to honest, informative answers. So, once again, we polled our local Venturans, asking them, plain and simple, to tell us their favorite burger. And, once again, they kindly came through with flying colors. Laying out Ventura's best burgers in glorious, resplendent, yummy, you-can-smell-the-sear fashion.
Yep, there were some predictable stars. But there were a lot of semi-hidden burger secrets too. A burger topped with roasted jalapenos, crispy onion strings, bacon, cheddar cheese, avocado, a fried egg, and a special sauce. Mmmmmmm. You can almost taste it. And you can find out about it, just below.
The best burgers in Ventura? Oh lordy. The list goes on and on.
Good news is, time spent sampling Ventura's burgers is time heaven spent.
A Brief Hamburger History
Like anything, you'll appreciate your burger more if you know a little something about it, starting with the fact that the hamburger possibly traces its lineage back, not to a clown, but to Hamburg, Germany. It is possible that the hamburger, as Americans know it, was invented in Seymour, Wisconsin. Note all the hedging. Truth is even hamburger scholars are uncertain about the origins of the hamburger. Folks have been eating cooked meat on bread for eons; the association with Hamburg possibly stems from a 1758 recipe for something called "Hamburg sausage." Though other hamburger historians believe the name comes from the Hamburg American Line, a cruise line that served passengers a hamburger-resembling sandwich in the mid-1800s. Proving one thing for certain. Folks will debate anything.
Ventura Does Hamburger Innovation. And Local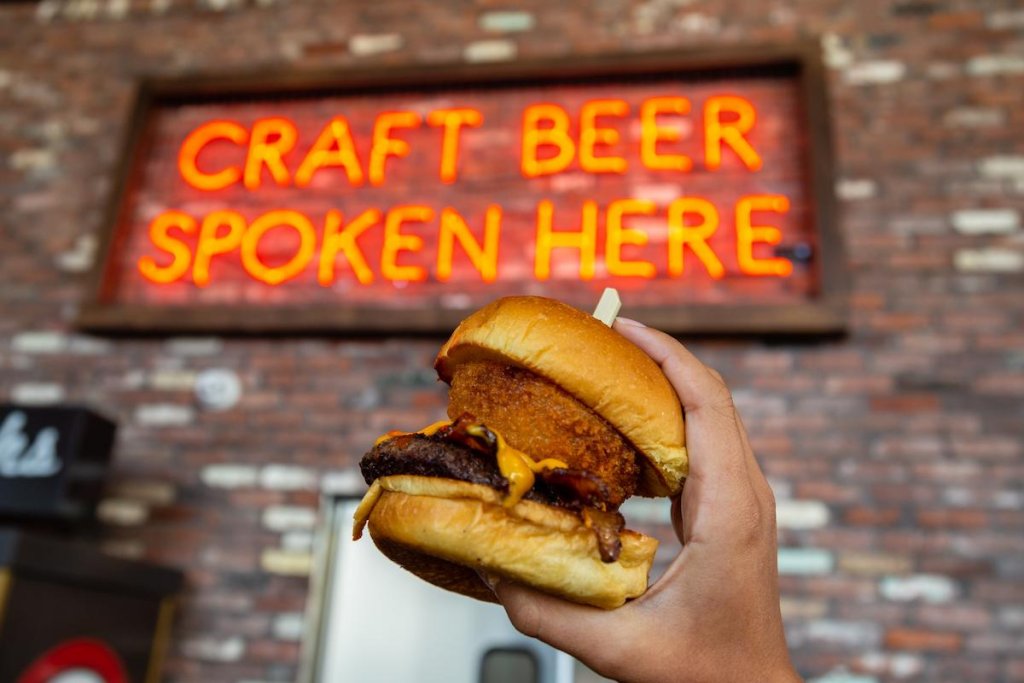 Here in Ventura, there are the obvious hamburger stars like In-N-Out. But Ventura has never trafficked in the obvious. Note that In-N-Out didn't even make the poll.
While some might be happy to eat at the big chains, say every day for the rest of their lives, the true burger lover prefers to do a tad more tasting. And, when it comes to burgers, there are plenty of tasty – and innovative – hamburgers in Ventura.
Downtown Burgers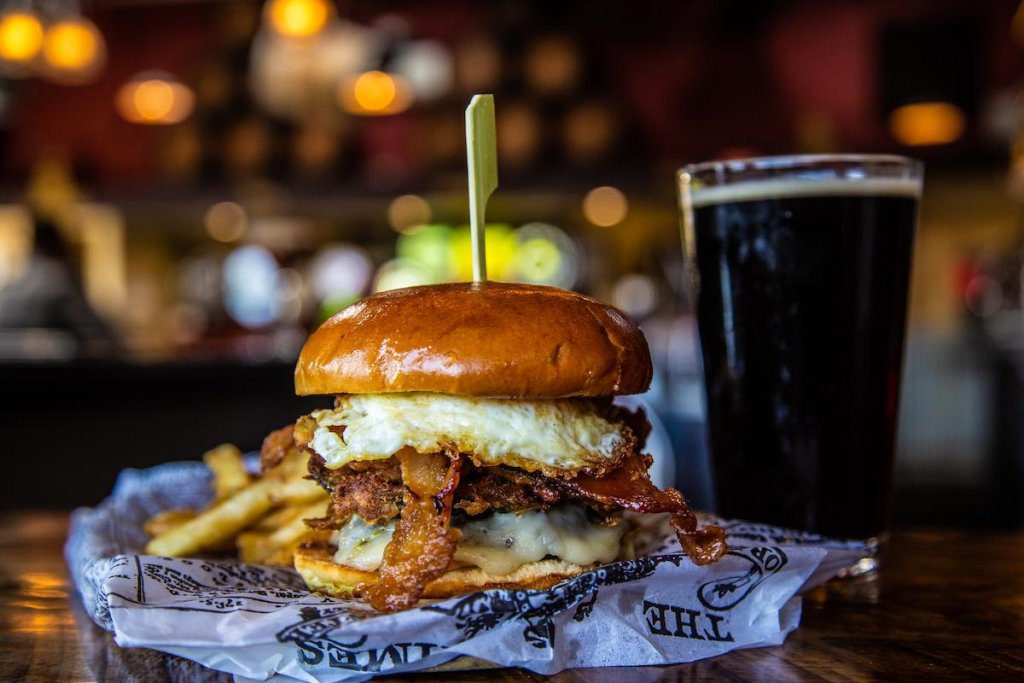 Perhaps Rumfish y Vino

's Wagyu Burger (spurn Jenny Craig and add the fried egg)? Or maybe any Paradise Pantry burger (so many options, but why not start with The Forager, topped with portobello mushrooms and caramelized shallots, and — yes again — add the roasted poblano chile)? The Bombay Bar & Grill's, well, Bombay Burger will make your day — and, should you be big enough to share, you can order it as two sliders. Finney's Crafthouse offers — oh, lordy — the Hickory Barbecue Burger (house-made barbecue) and the Impossible Burger (aptly named, because it doesn't taste like it's plant-based). The Busy Bee Cafe serves its burgers in 50's diner atmosphere some of you might recognize (any burger works – pair it with a root beer float). The Six Chowhouse Ventura serves an unbelievable Smoke Burger (including smoked bacon and smoked whiskey jam) and, just around the corner, Model Citizen has their signature Double Smash Burger, topped with exquisite aioli. Proving that you can get everything in one place – if you find the right place – Winchesters Grill & Saloon serves up a Bison Burger, an Elk Burger, and a Garden Burger. And Barrelhouse 101? Could very well be hamburger heaven. For something truly unique, try their Avenue Burger, a fifty-fifty blend of chorizo and beef lovingly ladled with three-pepper aioli. 101 beer choices to quell the heat.
Seaward Avenue Beach Burgers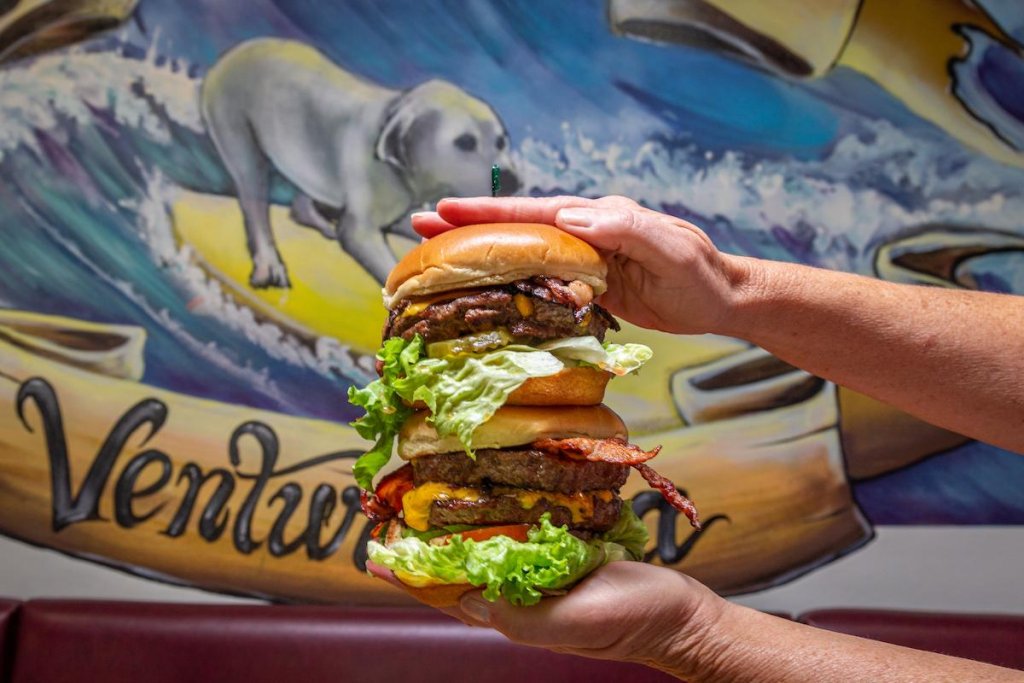 beach — serves the delectably drippy Double Royale with Cheese. And just across the street (go ahead, you can do back-to-back) Duke's Griddle N' Grill is a long-time local go-to; in part because of their burgers. You haven't lived until you've had the — cleverly named — Whole Ball of Wax.
Burgers Slightly Off the Beaten Path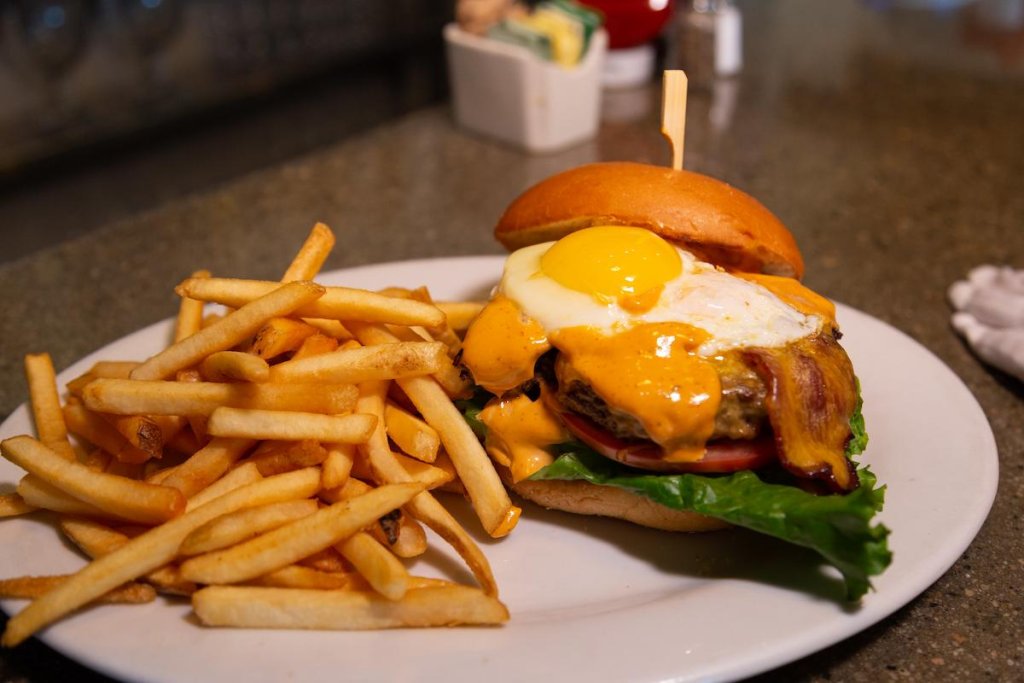 Yep, plenty of Ventura's best burgers are easily accessible right downtown, but more than a few are a little farther afield. Ten to fifteen minutes from downtown, since nothing in Ventura really qualifies as far. Art's Corner Cafe

is a long-time local favorite, with big servings and fair prices; rumor has it, their hamburger buns are the best in the world. While better known for fancier fare and a lovely date night atmosphere inside a 1930s cottage, Cafe Zack serves the delicious Kobe beef burger with bacon, grilled onions, tomato, lettuce, sun-dried tomato aioli, and your cheese choice. The Rincon Brewery Burger – roasted jalapenos, crispy onion strings, bacon, cheddar cheese, and avocado topped with a fried egg and RB's special sauce – will stop you in your tracks (and why not pair it with an equally innovative craft beer?). Burger paralysis? Eddie's Grill has a dozen delicious burger choices. And while The Cave is best known for their small plates and dizzying array of wines, it's also true that the Ventura Cave Burger is an experience you won't ever forget. And yep, you can make it a double. On the east end of town, plenty of locals are already familiar with the burgers at Two Trees Restaurant and Taps. If you aren't, introduce yourself. There's a reason their Classic Cheeseburger is one of their best sellers.
Burgers With a Bodacious View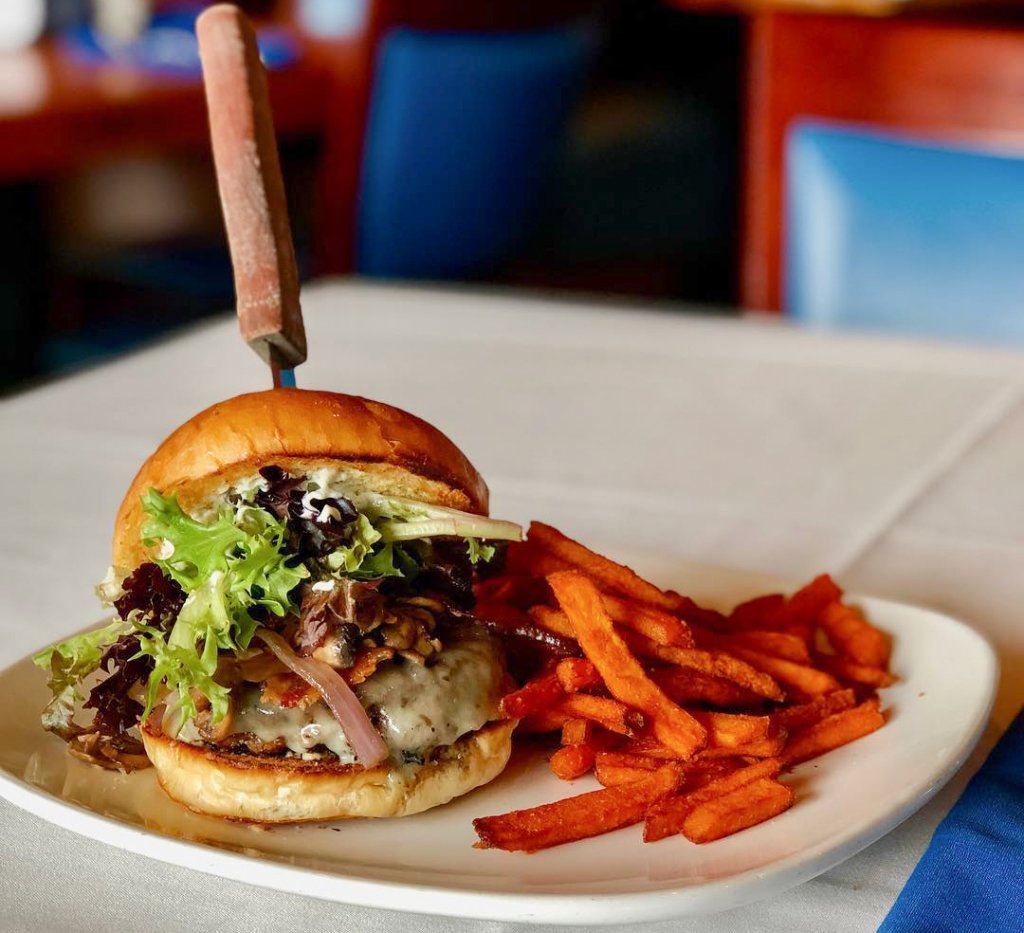 Some Ventura burgers also come with show-stopping views. The Aloha Steakhouse

and Water's Edge Restaurant are (sorry) prime examples, proving that perhaps even the greatest burger can be improved by a water's edge, sunset view. The tiny Harbor Cove Cafe, at the edge of Ventura Harbor near the end of Spinnaker Drive, has the kind of burger you remember as a kid — and it tastes even better at a sun-splashed picnic table that looks out to the boats resting in the harbor. Sure, they're only open for breakfast and lunch, but – you're an adult, you can make your own decisions – nothing wrong with a burger breakfast. Just down the water-lined walkway in Ventura Harbor Village, the Boatyard Pub serves up a delicious Charbroiled Pub Burger.

Things to Do


Family Fun

Music & Nightlife

Pet Friendly

Parking
Outdoors


Beaches & Surfing

Biking & Hiking Trails
Food & Drink


Restaurants

Outdoor Dining

Wineries, Breweries & Distilleries

Happy Hours
One Last Thought to Chew On
It has been said that a hamburger is happiness between two buns.
And there can never be too much happiness.
Discover More
Get to know Ventura, and discover the best things to do around the city.
Ventura Partners With