Posted: Wednesday, Jun 29th, 2022
Where is the Best Place to Eat Breakfast in Ventura?
Ah, breakfast. In Ventura it tastes just a bit better. After a good surf, salt still on your lips. Or maybe a run along the beach. Or a bike ride or hike on a quiet trail, rising into the sky, along with the run. Or maybe you're coming in after staying up through the dawn. That's your business, and good for you.
Whatever your prelude, no one serves up breakfast like Ventura.
What's the best place to eat breakfast in Ventura?
What's the best place to eat brunch in Ventura?
We polled our kind locals and they came up with their favorites. Maybe they're your favorites. Or, if your Ventura favorites aren't here, well let us know below.
Because everyone is on the hunt for a Ventura breakfast that will light up your morning.
And get your morning off to the finest Ventura start.
Here, in no particular order (because breakfast – like anything tasty – is highly subjective), are some of Ventura's best breakfast and brunch spots.
Pete's has been serving breakfast to Ventura since 1981. Their fresh-baked biscuits with gravy and huevos rancheros are two of dozens of reasons.
Generous portions and great eats make this a local favorite. Try the chilaquiles. Tortillas perfectly fried, egg perfectly cooked, salsa perfectly flavorful.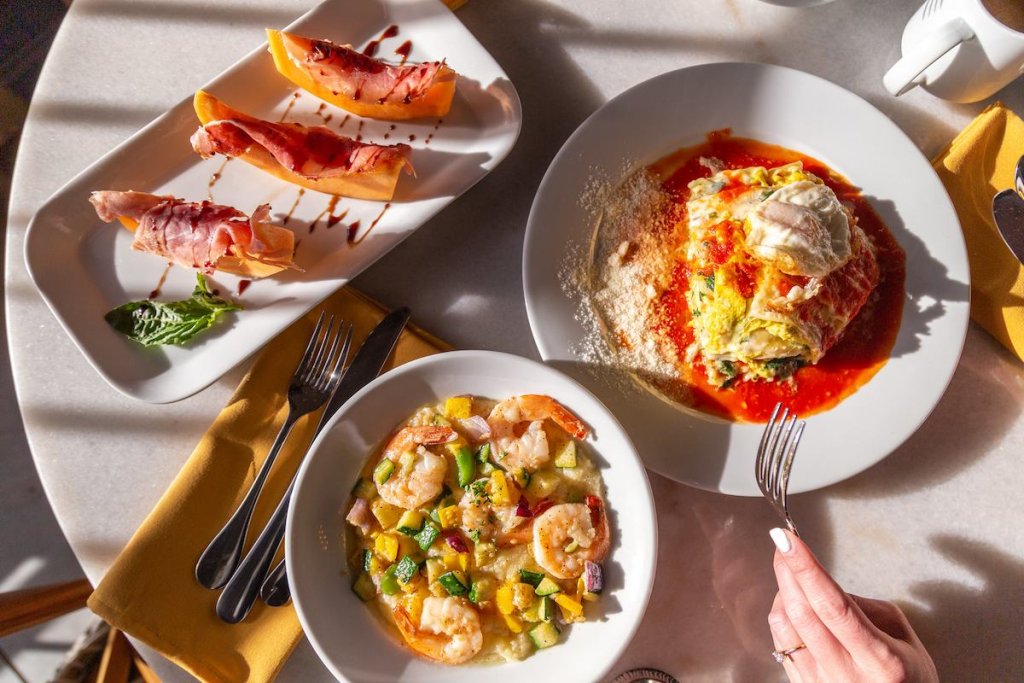 Want something you've likely never had? Order the homemade breakfast lasagna first – you won't find a tastier sauce. Eat outdoors – since it is Ventura – on their patio, shaded by happy umbrellas. And you really can't go wrong getting brunch or breakfast here.
The huevos rancheros are marked with a red star on the menu, indicating they're a specialty of the house – and you've never had huevos rancheros like this. Their shrimp and grits should have a red star too.
Their Sunday brunch (and their beignets) is a local favorite. Yes there's a wait, but it's worth it. Try the country-fried steak or the churro waffles. Generous portions might see to your breakfast for the next day.
Cafe Nouveau serves all manner of delicious breakfast options – but don't miss the maple bacon beignets. Their Sunday brunch is a deserved local favorite. Enjoy on a lovely outdoor patio.
Leave Jenny Craig at the door. Their macadamia nut-crusted french toast, chicken fried steak, and biscuits with gravy are rumored to be perfect. Cool touch, you get a free crepe with your meal.
Located near the end of Spinnaker Drive (you'll pass all the shops that comprise Ventura Harbor Village), it's just a harbor-side shack with a grassy sward pocked with picnic tables to eat in the Ventura sunshine. Great breakfast burritos and a great place for the kids to run free.
Locally owned (a Ventura theme), Danny's is a New York-style deli. Old fashioned booths, servers who know the regulars by name, and, if you're a lox lover, delicious lox, scrambled eggs & onions. With the utmost respect, our seniors know affordable. They fill the booths. Plus, whether you're an early riser or want to sleep in a bit, you can grab breakfast or brunch here at Danny's.
They keep it short, simple, and healthy. Their breakfast sandwich is to die for; paired with a hot Beacon coffee and you have the perfect start to a Ventura day. But you can always make things better. Take a loaf of their toasted banana bread home. An amazing brunch spot in Ventura that you can't go wrong with.
Not surprisingly, they do bagels. Some say the best in Ventura. Try their everything bagel or (and!) jalapeno cheese bagel and see what you think. They also pair their bagels with breakfasts. You won't friendlier folks behind any counter anywhere.
Two words. Breakfast burrito. Heaven passed through a take-out window. Not an early bird? Not to worry – breakfast burritos are served all day so you can stop in for brunch too…or even dinner. Be sure to ask for their hot sauce.
Yep, 50's diner vibe and classic americana menu and little jukeboxes at the tables. Great fun for the kids. Or the kids-at-heart. Hearty portions for the basic breakfast go tos like pancakes and eggs; mom and dad might want to try the seafood omelet.
They've been a Ventura institution for a long time. Try their Swedish pancakes, their biscuits and gravy, or their spinach mushroom jack cheese omelet, and you'll see why.
Things to Do


Pet Friendly
Outdoors


Biking & Hiking Trails
Food & Drink


Restaurants

Outdoor Dining
Just down the street from Pete's, the Golden Egg is sometimes overlooked, which is, in a word, wrong. The corned beef hash and homemade chilaquiles stun, and the portion sizes are beyond generous; even their sides (the side of fruit is a big bowl). Plus a lovely porch patio. Perfect for a romantic breakfast – or breakfast with your dog.
On the east end of town, Cafe 126 is off the tourist track, but if you're a visitor you should take advantage of that. Venturans already know about their delicious breakfast burritos, mouthwatering chicken fried steak, and one-of-a-kind hash browns.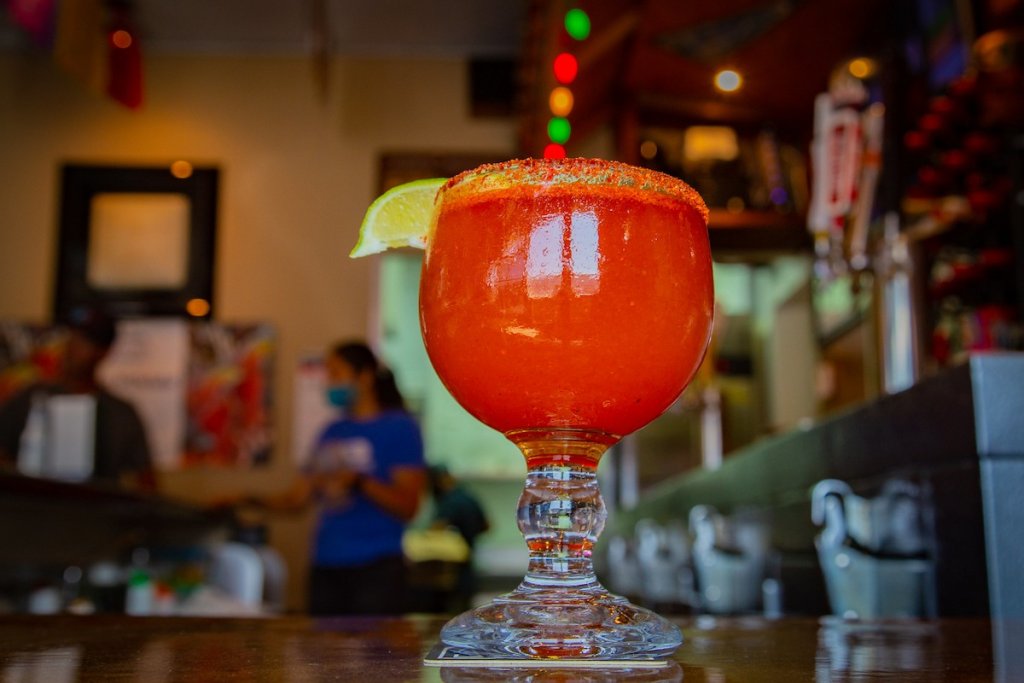 This small restaurant is easy to miss. Huevos of every kind; but try the huevos con chicharron con chile (eggs smothered with Mexican bacon chunks). Family-owned, everything is prepared with loving care. The term hidden gem is overused, but it's perfect here. Depending on your definition of happy hour, they're rumored to have some of the best micheladas anywhere.
Try the chili verde omelet, or the chorizo and eggs – seriously good chorizo – or the country eggs benedict. They'll bring you their homemade salsa, so you won't miss that. They operate on a simple timeless premise. Great food and great service.
Simply put, an old-school diner with good food and good prices. The french toast and biscuits and gravy shouldn't be missed. Oh right, and the servings are enormous. Likely, you'll have breakfast for tomorrow.
Huevos rancheros, a dozen different types of breakfast burritos – try the chili verde breakfast burrito for starters. It doesn't look like much from the outside, but restaurants should not be judged by their cover.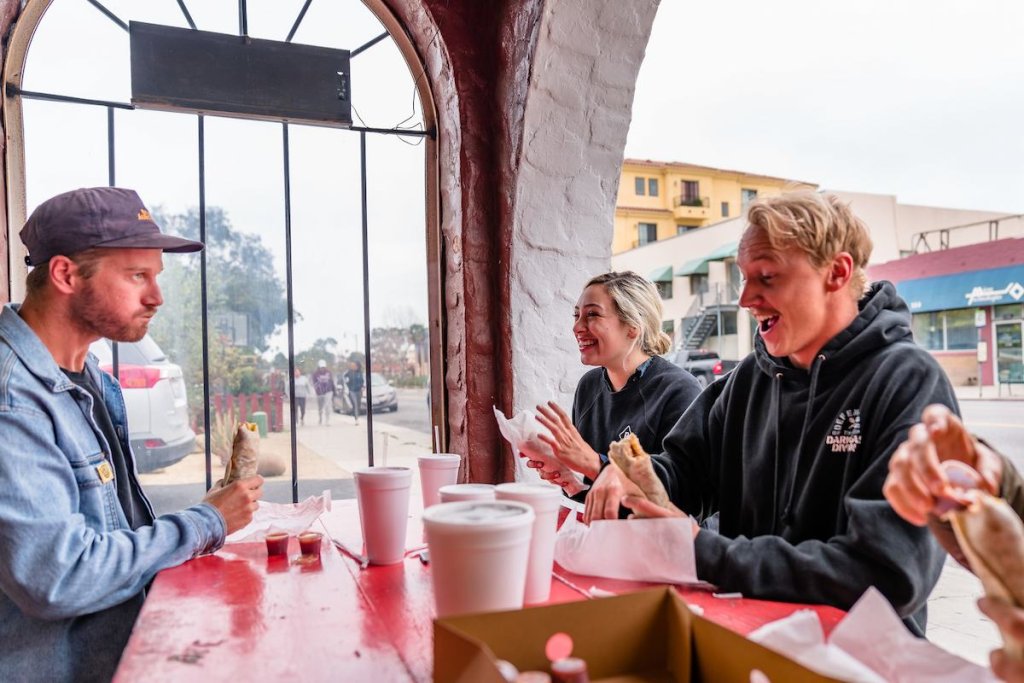 Also nondescript, also off the delicious charts. You can't go wrong with any of their breakfast burritos. Johnny's is a Ventura institution. Coolest thing, it's the perfect place to pick up breakfast, drive to the beach (five minutes), and enjoy two of the best things in the world – beach and burrito. Their salsa is otherworldly.
Best Brunch Restaurants in Ventura
That's an easy question. Almost all of these spots listed are amazing places where you can get brunch in Ventura. Golden Egg Cafe

, Immigrant Son Caffe, Pete's Breakfast House, Café Nouveau, and Allison's Country Cafe are common favorites and popular brunch spots in town. But really, you can't go wrong with any of them!
Discover More
Get to know Ventura, and discover the best things to do around the city.
Ventura Partners With