Posted: Thursday, May 24th, 2018
Family Fun Seeker Itinerary Builder: Places to Go, Things to Do, Events and City Parks
by Michele Foster
Use this itinerary builder to plan your family fun trip to Ventura, California!
San Buenaventura State Beach, Historic Pier and Promenade Areas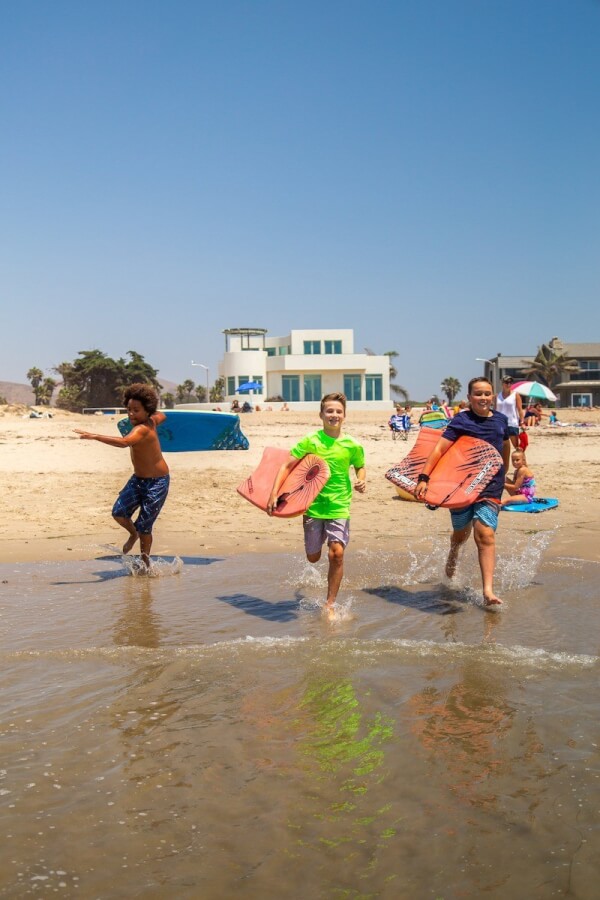 A two-mile-long stretch of wide sandy beach, offering a range of family-friendly fun, including fishing, swimming, picnicking, bicycling and volleyball, among other outdoor activities. Set back beyond the dunes are picnic tables, barbecues, restrooms, and an equipment rental shop. One of the most popular picnicking opportunities is found at The Jolly Oyster in the day-use area. Families can shuck raw, local, farm-fresh oysters and clams, as well as other fresh seafood. They also serve wine and beer for thirsty adults.
Stroll, view sea life and birds, watch a sunset and dine on Ventura's historic pier. Interested in trying a little fishing from the pier? No worries. No fishing license is required for fishing from the pier. Fishing gear can be found at Eric's Tackle Shop (2127 E. Thompson Blvd., 805-648-5665).
The beach area around the pier features a super children's playground and a Wheel Fun Rental outlet where families can rent unique bikes, surreys and much more.
The mile-long Promenade extends from the Ventura Pier and along Surfer's Point Beach to the Ventura River and Emma Wood State Beach. This is a favorite area for biking, strolling, skating, and people/surfer-watching.
At the far end of the Promenade, near the mouth of the Ventura River, is an access point for The Ventura River Parkway. The Ventura River Multi-Use Trail runs through the river estuary and Willoughby Preserve to Foster Park about 6.3 miles inland, showcasing the area's natural and industrial heritage. From Foster Park, the trail becomes the Ojai Valley Trail winding another 9 miles to the City of Ojai through wooded areas and nature preserves near the river. A detailed map of the parkway, trails, and preserves is available at the Visitors Center.
Bikes for exploring the beach area and The Ventura River Parkway can be rented at Ventura Bike Depot, or Wheel Fun Rentals.
Downtown/Historic Ventura
The Museum of Ventura County, through its collections, exhibits, educational programs, and publications, celebrates the history, art, and culture of Ventura County and the Channel Islands. Rotating exhibits and special events are often specially designed to engage young minds and promote interest in the history of the area. And, at this moment in time, admission to the museum is free. Special family-oriented events are often planned. Check with the museum for updates and details.
Ventura Botanical Gardens & Grant Park/Serra Cross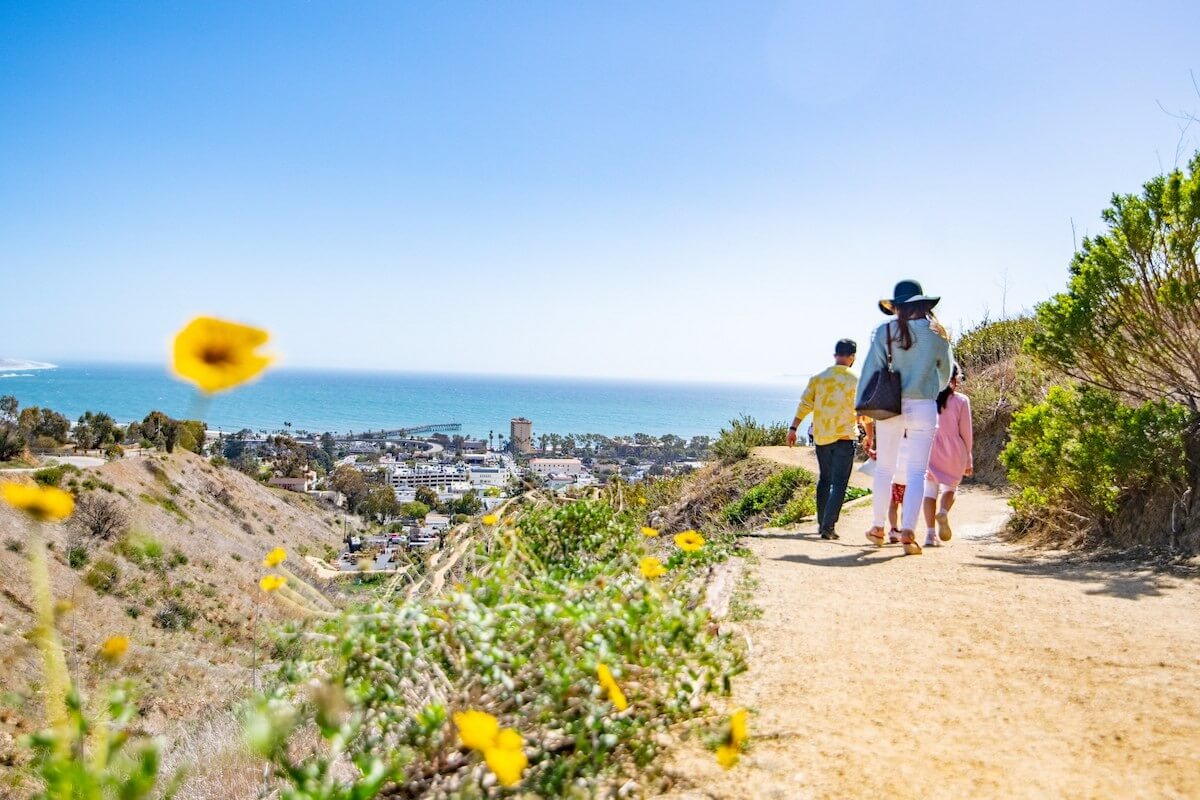 Opened to the community in October 2012, the Ventura Botanical Garden, a popular downtown hiking destination, begins behind City Hall and climbs gently for nearly a mile. It passes along a historic stonewall and has additional hand-built stone wall enhancements and viewing benches. The trail is six feet wide, with a decomposed, compacted granite surface. The first majestic viewpoint is wheelchair accessible. The trail offers remarkable views of downtown Ventura and 180° vistas of the Pacific Coastline, the Marina, Oxnard, and Mandalay Bay to the east, Surfer's Point, the Rincon to the west, and the Channel Islands. No bikes on the trail, please.
At the point where the trail meets the Grant Park Road, turn left and walk 0.3 miles along the road to reach Serra Cross or reach Serra Cross by trail by improvising a route via pathways paralleling the road. Not interested in hiking up to Serra Cross? No worries. Pack a picnic, drive up and enjoy the views. Grant Park/Serra Cross can be reached from Ferro Drive or Summit Drive, both marked with Grant Park locator signage.
*Botanical Garden/Grant Park Trailhead begins in the upper parking lot behind City Hall, 501 Poli Street, Ventura.
Downtown Historic District
Families interested in history and/or art, may enjoy a few of the attractions in the Downtown Historic District. The three listed below are rumored to be haunted, adding extra interest to kids with active imaginations.
Mission San Buenaventura
Founded on Easter Sunday, March 31, 1782, San Buenaventura Mission is the ninth and last mission consecrated by Saint Junipero Serra. Named in honor of Saint Bonaventure, it is known as the "Mission by the Sea". The Old Mission welcomes visitors from sunrise until sunset. Known for its beautiful gardens and faithfully restored artifacts the mission is always an experience to visit. Tours are available daily.
City Hall & the City Municipal Art Collection
San Buenaventura City Hall is the former Ventura County Courthouse built in 1912-13. This State of California Historical Landmark, listed on the National Register for Historic Places, is noted for its gleaming terra cotta exterior, copper sheathed dome, and elegant Italian marble foyer. Between the first and second-floor windows of City Hall are 24 whimsical, eye-catching faces. They depict mendicant priests which served as a historical reminder that the City of San Buenaventura, founded in 1782, was one of the nine original Mission towns founded by Father Junipero Serra and Franciscan friars.
Located on the first and second floors of City Hall is the Municipal Art Collection, featuring and highlighting important works of art created by area artists.  Among the collection, you will many colorful and imaginative works that will engage children's creative curiosity.
A few Downtown Ventura Family Friendly Entertainment, Shopping, and Dining Suggestions: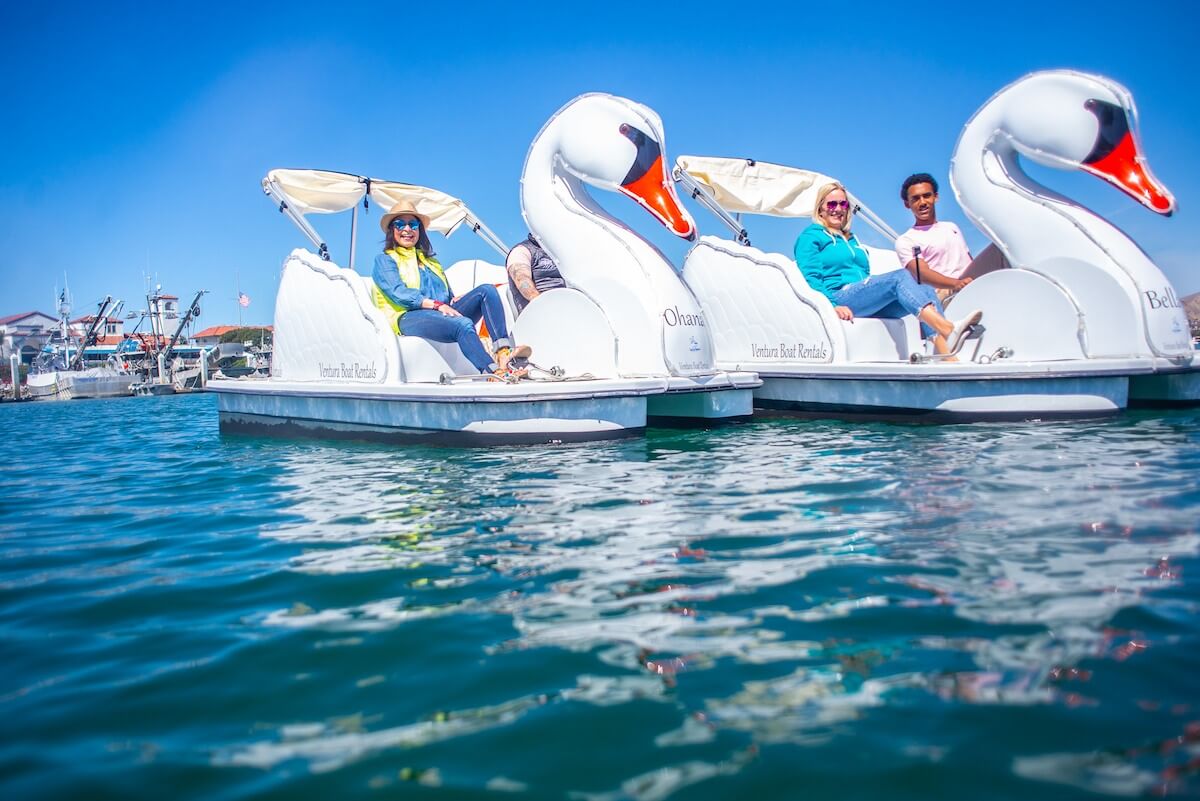 * Make a play-date and visit the playground at Plaza Park, across from the Post Office.
* Take a break from touring and catch a movie at the Century Movie Theater on Main Street.
* Watch professional racers in a variety of vehicles race around the Ventura Raceway track at the fairgrounds Saturday nights from February through November.
* Drop by Rocket Fizz Soda Pop and Candy Shop to wow the kids with an amazing variety of sweets, sodas, and other fun stuff.
* Check out Very Ventura Gift Shop for a selection of fun, colorful kids clothes and gift items.
* Feeling hungry? How about the Busy Bee Cafe for breakfast, lunch, or dinner? Whatever the time of day, the 50's diner vibe and classic Americana menu items are sure winners.
* Find your favorite ice cream flavor at Ben & Jerry's, conveniently located near the movie theater.
Ventura Harbor Village – Ventura's Seaside Playground
Set your sails to Ventura's premier oceanfront attraction – scenic and vibrant Ventura Harbor Village. Home to the Channel Islands National Park Visitor Center, as well as coastal boutiques and waterfront restaurants, an arcade and carousel, harbor cruises, tours of the Channel Islands, and a beautiful promenade. Bring the whole family to explore and enjoy a variety of shopping, dining, and seaside play. Check out their website for family-oriented special events throughout the year.
Of special interest to families while in the Harbor Village area are the following:
Channel Islands National Park Visitors Center
Learn about the islands in this child-friendly center. Look through a telescope, see a tide pool – complete with living creatures! – and view a documentary film or take a virtual visit to the islands and their surrounding waters. Free park ranger talks, weekends and holidays, 11 am and 3 pm.
Island Packers Cruises
Offering day and camping trips to the Channel Islands, as well as wildlife and whale watching cruises, and caroling harbor cruises during the holidays. Check their website to begin planning a memorable family outing to the Islands!
Harbor Cove Beach ("Mothers' Beach")
Located at the end of Spinnaker Drive, across from the Channel Islands Visitor Center
Considered Ventura's safest swimming beach, the cove is protected from strong currents by and jetty and the marina. A perfect beach for introducing the little ones to the joy of swimming in the ocean – thus, the nickname "Mothers' Beach"!
Ventura Boat Rentals
Come have some fun in the California sun! Your family's perfect resource for the rental of electric boats, kayaks, paddle boats, stand-up paddleboards, and wave runners. VBR also provides harbor tours, private charters, and holiday lights harbor cruises.
A few Ventura Harbor Village Family-Friendly Entertainment, Shopping, and Dining Suggestions:
* Rent a swan pedal boat (or a standup surfboard or a kayak) from Ventura Boat Rentals and explore the safe, still waters of Ventura Harbor.
* Find the perfect, colorful hat to protect your little ones on a sunny day at Hat's Unlimited. Or possibly a goofy hoodie, just for fun? Stop by Lost in Socks, just across the way, for superhero or mermaid socks.
* With older kids, take the whole family (and some friends) to the Ultimate Escape Room. Can you all work together to solve the room's puzzle and escape from the room in time? Challenging fun!
* If you are in the mood for a real treat, head to Coastal Cone Ice Cream – over 40 ice cream flavors, soft serve, specialty sundaes, fished-shaped waffle cones (made in-house) and – yum – world-famous Dole Whip. Coastal Cone has been a local favorite for over 35 years.
* Hungry for more than ice cream? Try The Parlor, for kids' favorites – Hot Dogs, Burgers & Shakes.
Marina Park – Seaward Avenue Beach District
This very family-friendly park has a large open grass area for playing Frisbee or just hanging out in the sun, picnic tables/grills, walking paths, and wonderful views of the marina and the Channel Islands. Added plus, there's a beach on the oceanside of park. Sailing lessons are offered through the city at Marina Park and a kayak or other small watercraft can easily be launched from the dock. Fishing is also allowed from the dock. You can get to the park by driving south on Pierpont Boulevard to the end where there is a large parking lot. And yes, you can park for free.
Other Resources and Places of Interest for Families
City of Ventura, Parks & Recreation Department Seasonal Programs
The Department of Parks, Recreation & Community Partnerships provides a variety of seasonal programs, services, and activities for city residents and adjacent communities. Included are a wide variety of classes for kids and teens. Spring and Fall MY Ventura guides feature recreation programs (swimming, sailing, soccer, gymnastics, tennis, and fitness, etc.) and art classes (music, visual arts, dance, etc.). View the current edition of My Ventura online.
Sporting Activities:
Bike Rentals:
*Ventura Bike Depot.
With an excellent selection of bicycles to choose from, including single, double, and tandem styles. Electric bikes too! Fun is in your future when you rent a bicycle from Ventura Bike Depot.
* Wheel Fun Rentals
Choose from a variety of 2-wheel bikes, from beach cruisers to Electric Bikes and specialty rides, including the 4-Wheel Surrey right on the beach. Rental locations at the Pier and Ventura State Beach Picnic Area.
Youth Surfing Lessons/Camps:
*Mary Osborne Surf
Champion longboarder and professional surfer, Mary Osborne and her elite team of surfing instructors specialize in youth, women-based classes, and summer kids surf camps.
*Surfclass.com
Offering individual lessons, group programs, and kid's surf birthday parties. Headed by wildly surf-stoked Chipper "Bro" Bell.
*Ventura Makos Surf Camp
Kids' summer surf camp focused on surfing, safety, and fun. Year-round birthday party instruction is also available.
*Ventura Surf School
Offering a summertime surf camp designed to introduce kids to the ocean in a safe and secure environment.
Youth Sailing Lessons:
*Leo Robbins Community Sailing Center
The Leo Robbins Community Sailing Center is a national award-winning sailing and kayaking school located at the edge of Marina Park, bordering beautiful Ventura Harbor. The Center also runs youth courses year-round.
Swimming:
*Ventura Aquatic Center
A state-of-the-art facility featuring a 50-meter competition pool, 25-meter recreation pool, activity pool, and two super water slides. Offering various swim camps and facilities for pool parties.
Golfing: Miniature and Other
*Golf N Stuff
Providing all-ages entertainment with miniature golf, go-karts & bumper boats.
*Olivas Links 
Offering PGA Junior Camps, welcoming kids ages 6-16 and of all ability levels to learn to play golf in a safe and supportive environment.
*San Buenaventura Golf Course
An award-winning parkland style, 18-hole golf course in Ventura, best for more experienced youth golfers.
Bowling:
*Buena Lanes
Bowling alley offering party packages, rental & family-friendly fun.
Roller Skating:
*Skating Plus
This spacious, well-lit rink is your best choice for having a memorable, fun skating experience. You won't need to get a sitter before heading to this club. Kids are more than welcome at this family-friendly establishment. birthday parties, skating lessons, a skate shop, and an arcade-friendly snack bar.
Arts & Culture Activities:
Acting Classes: Rubicon Theater
Rubicon Theatre Company offers a wide variety of acting classes for ages 5-teen, as well as summer performance camps and intensives, master classes, and amazing workshops. These programs offer students of all ages the opportunity to develop performance and personal skills in a challenging yet nurturing professional environment with top theatre artists and instructors.
Art Classes:
*Vita Art Center at Bell Arts Factory
Vita Art Center at Bell Arts Factory provides high-quality enrichment experiences in the visual arts for children, and teens. Professional artists and instructors teach classes in a wide variety of media and subject matter. To ensure personalized instruction, we limit enrollment to 10-15 students per course.
*Firefly Ceramics
Firefly Ceramics is a paint-your-own pottery studio with over 500 different pottery shapes to paint, from dolphins, hello kitty and monster truck banks to home decor. The studio also hosts school field trips, scout meeting and birthday parties. Come by with your family or plan a special event.
*Red Brick Art
Fun classes for kids 8-18. Each week students will explore a different artist, art movement or theme and learn to create their own masterpiece in relation to they have learned. Students will learn to work in a variety of mediums including Watercolors, Acrylics, Pencils, Mixed Media, Print- Making, Mosaics and Sculpture.
*Kids' Arts
A free, comprehensive arts experience for the youth of Ventura County. Join the fun each Saturday morning from 10 am to noon.
Family Fun Seasonal Events
A wide variety of events of interest to families are offered in Ventura throughout the year. Please check their websites as events — and their offerings — change.
Mermaid Month at Ventura Harbor (March)
From décor to artwork, to mermaid fashions, pottery, and gifts, Mermaid Month is packed with the joys of being a mermaid at heart! Visits with mermaids, enjoy mermaid crafts and a Mermaid Parade – these are just some of the activities planned. www.venturaharborvillage.com/event/march-is-mermaid-month-2-2
St. Patrick's Day Parade (March) – Downtown
County Ventura's own annual St. Patrick's Day Parade, celebrating over 29 years of pageantry, music, dancing and floats. https://www.venturastpatricksdayparade.com
Pooch Parade (May) – The Promenade
The Pooch Parade has been Ventura's biggest dog-themed event for over 20 years! For two decades, Ventura County has come out to walk, eat, drink, shop, and support homeless dogs while they're at it. A parade of dogs marching up the Promenade is just the beginning. A packed schedule of entertainment runs all day long! From music to magic and contests galore, it's an unforgettable experience for the whole family. https://poochparade.org
4th of July Pushem-Pullem Parade, Street Fair, and Fireworks (July)
Pushem Pullem Parade – Downtown
Children and adults and their bicycles and little red wagons are invited to dress up for the Pushem-Pullem Parade sponsored by the Ventura East Rotary Club. The parade usually assembles at Cemetery Park (Main and Crimea) and then parades down Main Street. No application or RSVP is required to participate in the parade. Just show up ready for fun!
Fireworks Show and Family Picnic – Ventura College
The Rotary Club of Ventura's Fireworks Show and Family Picnic at Ventura College is a community event — and fireworks show — not to be missed.
Ventura County Fair (August) – Fairgrounds at Seaside Park
There is something for everyone at the Ventura County Fair! From carnival rides and corn dogs, to farm animals and exhibits to concerts and good old family fun. 
Ventura Art & Street Painting Festival (September) – Harbor Village
During one weekend in September, forty street painters create vibrant works of chalk art on the sidewalks along the docks at Ventura Harbor. Watching the colorful, imaginative works come to life is fun for both children and adults. In addition, artists exhibit their fine arts and crafts in a juried art show. A vibrant weekend of art for all! 
Harvest Moon Spooktacular (October) – Downtown
Enjoy live music, games, food and shopping vendors, a haunted house, kids zone with bounce houses, and lots of fun during Downtown Ventura's Harvest Moon Spooktacular! There is even a pumpkin pie eating contest! Come dressed in your favorite costume and take part in the all-ages costume contest. Stay for the trick-or-treating throughout Downtown businesses. 
Artwalk Ventura (October) – Various Locations
If you love art, you won't want to miss ArtWalk Ventura, a totally fun, virtually free, self-guided tour of dozens of galleries, studios, pop-up venues and transformed PODS Containers in Ventura's historic Downtown and Westside Cultural District. 
Ventura County Farm Day (generally October or November) – Various Locations
Farm Day is a day when over 20 participating Ventura County farms open their doors, enabling the public to learn about agriculture firsthand. Attendees pick the locations they want to visit and drive themselves to the farms. Each farm has fun-filled activities for the entire family to enjoy. Every farm is different, but the farms feature a number of family-friendly activities such as free produce, mini-tours, agricultural book signings, and food and beverage samplings. Organized by Students for Eco-Education and Agriculture (SEEAG). The SEEAG mission is to educate children about the farm origins of their food from field to table.
Holiday Events (December)
*Holiday Tree Lighting – Downtown
The annual Downtown Ventura Holiday Tree Lighting Ceremony is generally held near the Mission & Mission Park on the first Friday in December. The event includes an interactive snow globe photo booth, local choirs, and dancers – all leading up to Santa's arrival on a firetruck. When the trees are lit, snow will fall! Bring your family for a magical evening, welcoming in the holiday season.
*Holiday Street Fair – Downtown
A magical holiday season day in Ventura kicks off with the Holiday Street Fair on Main Street. The street is lined with vendors and live entertainment. Shop artists, crafters, non-profit organizations, and commercial and food vendors. Free and open to the public, generally in the afternoon and into the evening.
(Held on the same day as the Winter Wine Walk).
*Ventura Harbor Winter Wonderland – Harbor Village
Rediscover the joy of holiday shopping while wandering through a festive holiday village at the popular Ventura Harbor's Winter Wonderland & Holiday Marketplace. Come early for fun and festivities including faux snowfall every 15 minutes, visits with Santa & Mrs. Claus, Dickenson Carolers, and more! The annual Parade of Lights follows.
*Ventura Harbor Holiday Parade of Lights – Harbor Village
Soak up some holiday cheer at the Ventura Harbor Village with shimmering lights, whirling carnival rides, boutique gift shopping, delicious dining, and more! Ventura Harbor celebrates the season with its Annual Holiday Parade of Lights. Enjoy a festive outing for the whole family with a parade of boats lit up for the holidays, harbor cruises, fireworks, and a carnival
Ventura City Parks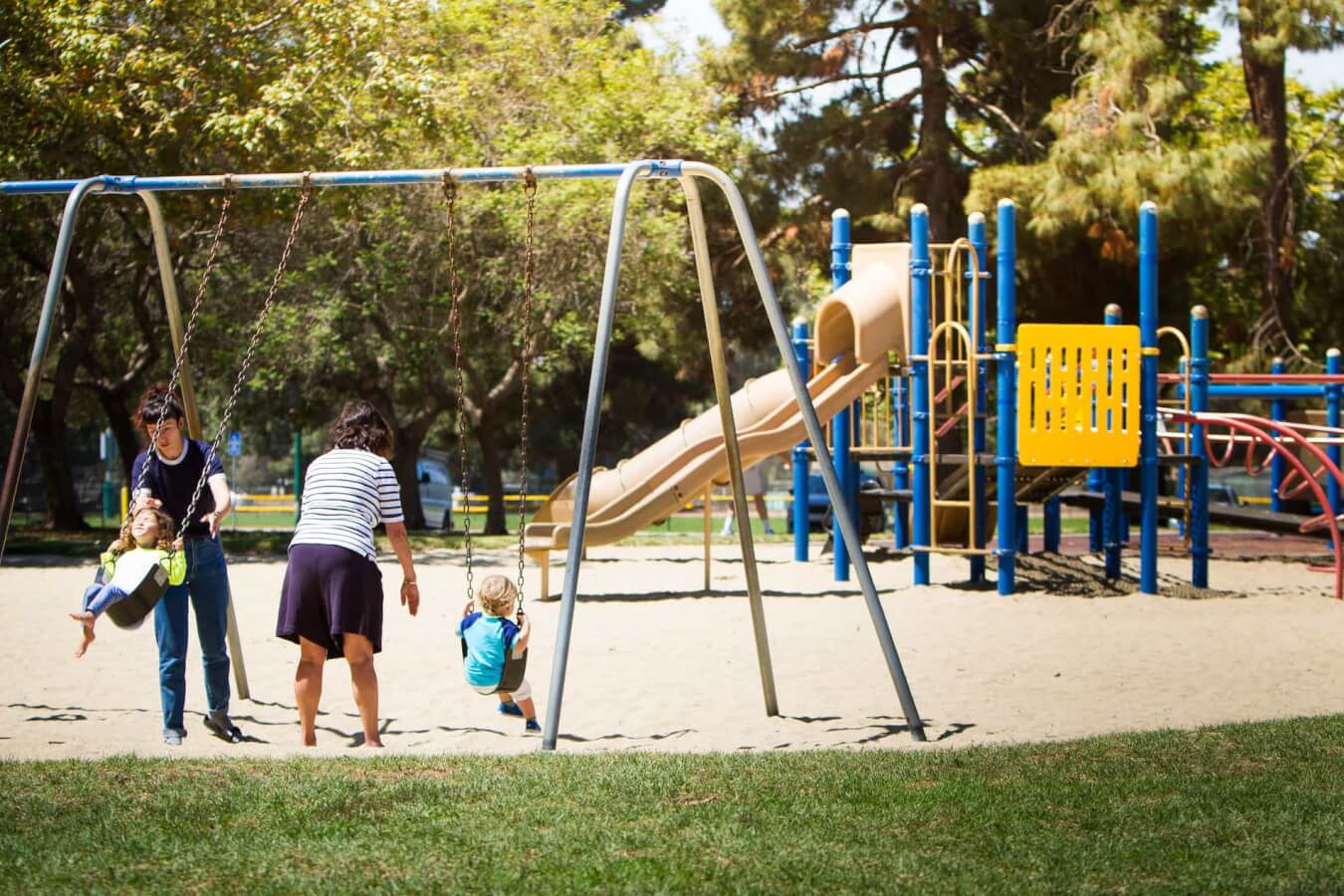 Arroyo Verde Park
132 acres, featuring 14 acres of tree-lined open grass areas, picnic/BBQ sites (including 3 group areas), nature center, fenced dog park, several miles of hiking trails, 2 children's play areas, and restrooms.
Barranca Vista Park
Nine acres include a children's play area, picnic/BBQ, horseshoe pits, basketball court, restrooms, and an indoor "Imagination Center."
Camino Real Park
38-acre complex, including 8 tennis courts, 2 softball fields, a regulation softball/baseball diamond, 2 youth baseball fields, basketball and sand volleyball courts, restrooms, snack bar buildings, a fenced dog park, and children's play areas.
Fritz Huntsinger Youth Sports Complex
2 youth softball/baseball fields, 1 regulation baseball field, 2 soccer fields, restrooms, and picnic/BBQ facilities.
Grant Park
Panoramic views of the city, Pacific Ocean, and the Channel Islands. Features picnic facilities (privately maintained).
Harry A. Lyon Park
These 11 acres provide tennis and basketball courts, regulation softball/baseball field and 2 youth baseball fields. Grassy area with restrooms and BBQ areas.
Juanamaria Park
Tennis and basketball courts, a children's play area and a wide grassy area. An excellent place for a family picnic.
Plaza Park
Home of one of the largest Moreton Bay Fig Tree in the nation (planted in 1874), gazebo, restrooms,, picnic areas.
Thille Park
Five acres with two playgrounds, several exercise stations, jogging paths, basketball courts, and a large covered group picnic gazebo.
Ventura Community Park
Three large sports fields, 1.4-mile paved trail and aquatics facility with two water slides, a recreation pool, a competition pool, and a water playground for children.
Westpark Community Center
7 acres. Offers a lighted softball/soccer field, 2 handball courts, children's play area, horseshoe pits, restrooms, and a recreational center with a gym with showers, game room, kitchen, community, and crafts rooms.
Things to Do


Family Fun

Arts, Culture & History

Pet Friendly

Hotels

Parking
Outdoors


Beaches & Surfing

Biking & Hiking Trails

Bird Watching

Golf
Discover More
Get to know Ventura, and discover the best things to do around the city.
Ventura Partners With