Posted: Tuesday, Feb 8th, 2022
Where Can I Fish in Ventura?
Featured Photo by byeonghyeonpark
Where can I fish in Ventura?
If you like to fish, you're probably always on the lookout for your next fishing spot. Keeping it short, Ventura offers some of the most exciting fishing in California. Before we tell you where to go (politely and informatively), a few Ventura fishing basics.
Eric's Tackle Shop is a great place for local fishing advice (truthfully, it's where we got a lot of this advice; thank you, Eric Huff) Eric has fished the area for some 40 years (Go to his instagram and facebook page for more great advice) .
Where can you fish in Ventura?
Here you go …
The best fishing spots in Ventura
From beach fishing, to harbor fishing and more, here are some of the many possible locations across Ventura for your next fishing trip.

Yet another reason to visit Ventura's beaches. If you're looking for the best surf fishing spots in Ventura, any beach will do. Or, as Eric practically puts it, "No particular place. There's sand everywhere." Rockfish, sea bass, halibut, calico bass, white sea bass; all are possibilities. Added plus, all of Ventura's surf fishing locations are easy to get to – and at most beaches, you can even park for free. Like most spots in California. you'll need a fishing license.
Take the family fishing at the Ventura Pier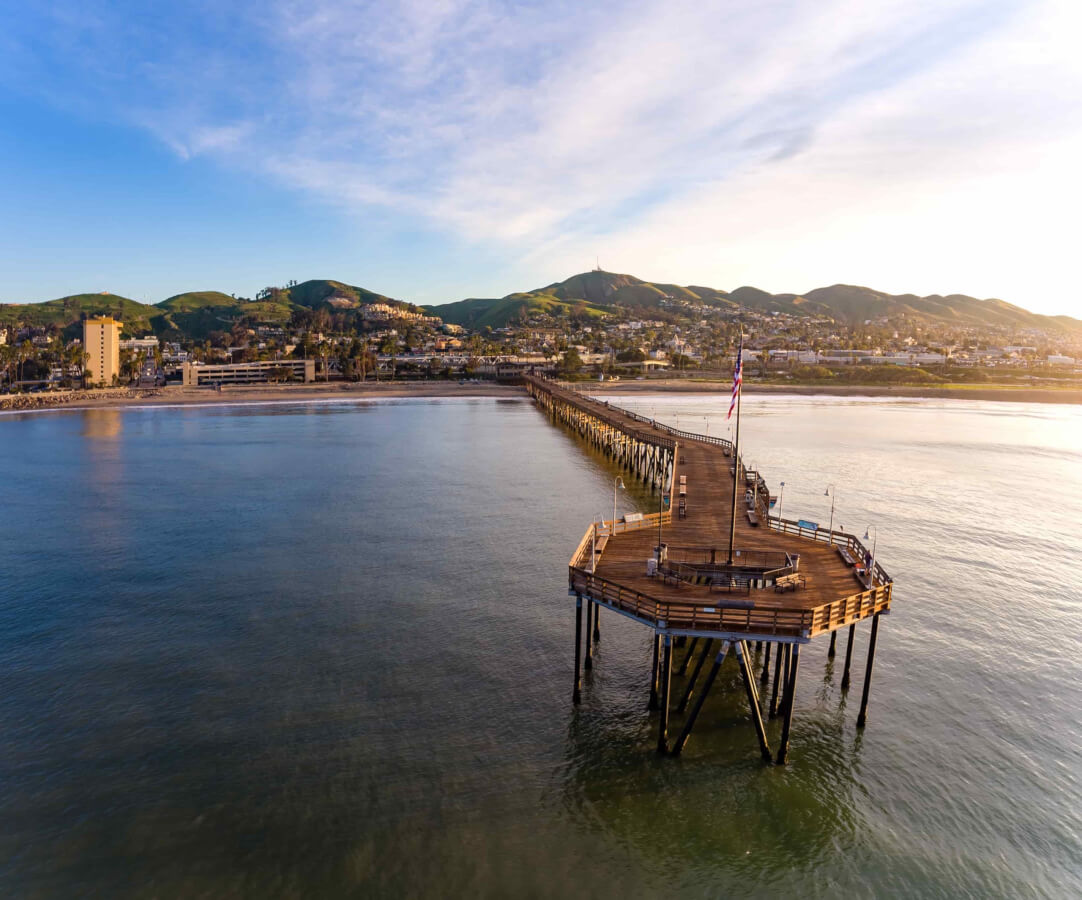 Yep, one of the only Ventura fishing spots where you don't need a fishing license. The Pier closes at 10 pm, but outside of that, it's a great place to fish for, among other things, smelt, mackerel, and tomcod. In the old days local fishermen shimmied down rope ladders to rowboats to fish the shallows around the Pier, angling for Pacific mackerel, calico bass, yellowtail, croaker, white sea bass, barred perch, Pacific halibut, shark, corbina, smelt, and even barracuda. Sorry, can't do that now. But folks still catch plenty without the acrobatics.

Raise the anchor and set sail for the Channel Islands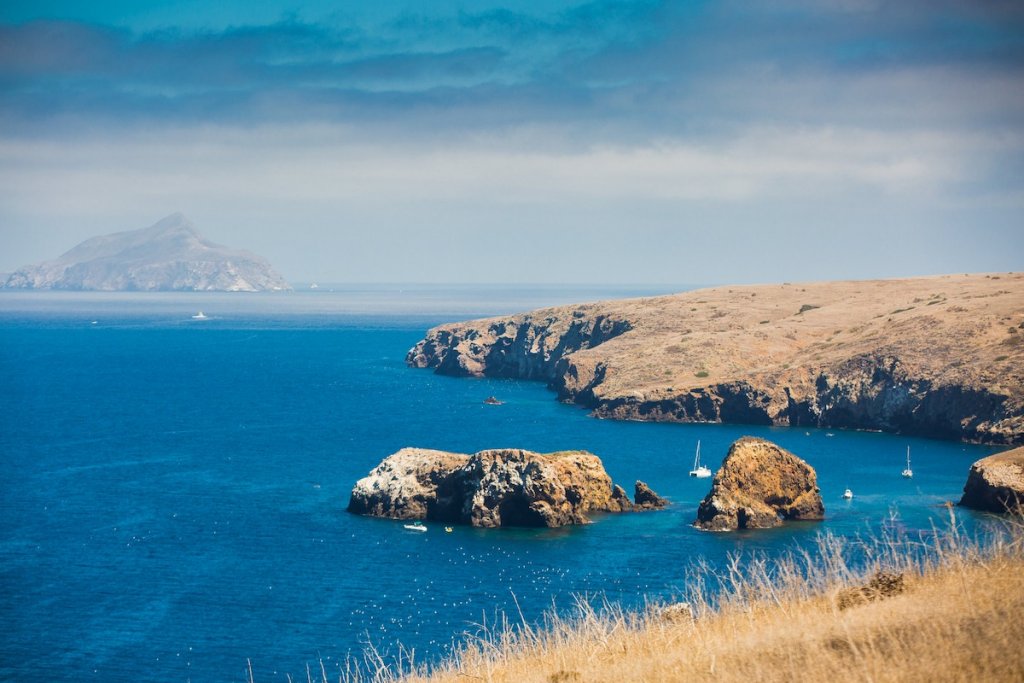 Just off Ventura, the fishing spots around the Channel Islands have actually improved in the past 20 years; added plus, around five years ago bluefin tuna began arriving in local waters. Santa Cruz, Santa Rosa, and Anacapa islands are probably the best white sea bass fishery in Southern California. Also great for halibut. Fishing for swordfish has also gotten big, but it's done by private boat only. Rockfish, whitefish, lingcod, and sheepshead fill a lot of coolers. What you catch off the islands often depends on the season. For instance, the first full moon closest to July 1 usually sees the white seabass action turn on. From spring to fall, yellowtail and calico bass fishing can be spectacular The late summer/early fall sees all the migratory predators like bluefin tuna and marlin pile up against the natural boundary formed by the islands and their associated underwater banks. It can get complicated. Just know that the Channel Islands are a terrific fishing spot near Ventura and Southern California.
Look out for Ventura fishing regulations & boundaries
Critical note. Located off the shores of Ventura, portions of the Channel Islands' waters are protected to varying degrees by no-take, partial-take, and seasonal no-entry closures. If you're fishing the islands on your own, please visit the Department of Fish & Wildlife's Marine Protected Areas (MPAs) page to brush up on the regulations and boundaries to stay legal and avoid a ticket.
It's important to know where you can and can't fish. And always fish with respect. There are folks who have been fishing out on the islands for a long, long time and they always appreciate polite consideration.
Don't have your own boat? Not a problem. If you want to fish out at the Channel Islands, Ventura Sportfishing will take you there – and rent you the equipment you need.
Reel-in freshwater bass (and more) at Lake Casitas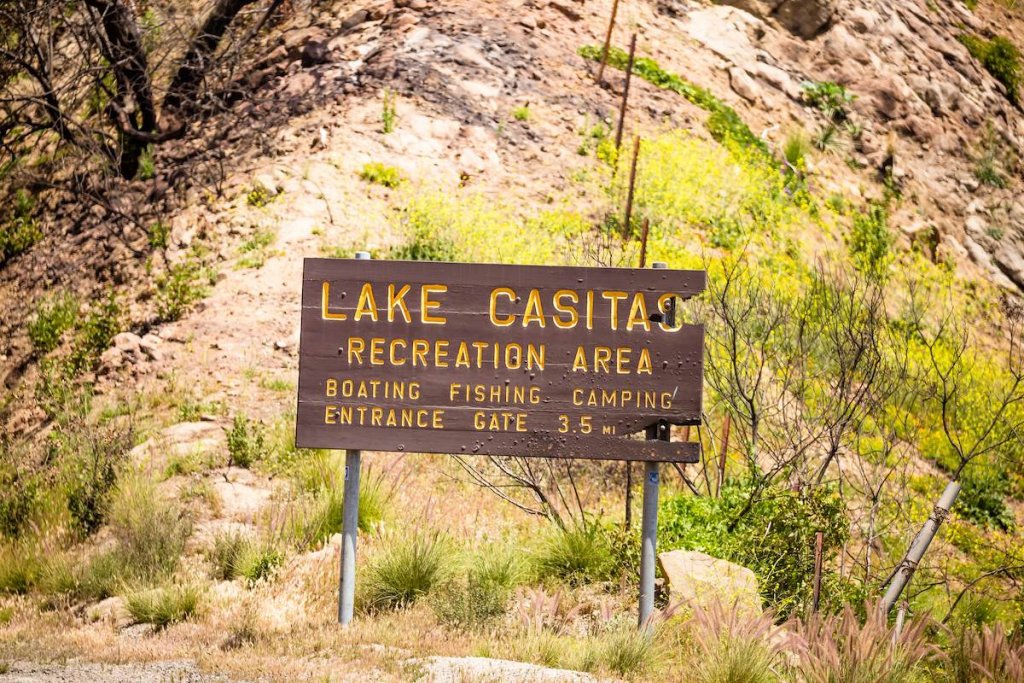 No, it's not in Ventura, but this popular fishing spot is only twenty minutes away and well worth the short drive. "At one time, Casitas and Castaic were the two biggest bass fisheries in the world," says Huff. "We had clients coming from all over the world to fish Casitas."
These days, dropping water levels and other factors have led to a slight decline, but Casitas is still a great place near Ventura where you can fish. Lake Casitas also has knowledgeable guides who can greatly enhance your odds of hooking a piscine porker. Bass, especially the big ones, are wily. As one basser puts it, "They didn't get big by being stupid." It pays to be accompanied by someone who knows their ways. Fred Klinshaw and Marc Mitrany (Ojai Angler) are both highly respected guides. Worth mentioning that Casitas is also home to smallmouth bass, rainbow trout, catfish, redear sunfish, and crappie, and plenty of anglers are satisfied with them.
A few Ventura fishing spot basics
So you've found the spot where you should fish in Ventura — what comes next? First, there's no place to really rent fishing rods because they're so cheap. If you're ready to fish, you can buy a rod and the rest of your basic setup for as little as $20 (on up to a thousand) – and that's just perfect for beginner beach or pier fishing in Ventura (not so much islands). Again, if you want to fish out at the islands, Ventura Sportfishing will take you there – and rent you the equipment you need.
Need more fishing advice?
In Ventura, Eric's Tackle Shop and Hyun's Tackle Shop have your answers.
Discover More
Get to know Ventura, and discover the best things to do around the city.
Ventura Partners With