Posted: Monday, Sep 16th, 2019
Why you need to stop by Ventura on your California Road Trip
by Visit Ventura
Featured image by Josiah Roe
California is a fairly large state especially in comparison to other places in the country or the world. Here in the Golden State of California, we have roughly 40 million people (with about 10 million of them in Los Angeles County alone) and 9 national parks (more than any other state) scattered throughout the whole state.
Learn about history while cruising along a coast with breathtaking views.
Whether you're just passing through, or spending the night, you know when you arrive in Ventura you've landed somewhere special. With an active nightlife, picture-perfect views no matter where you go, and a laid back eclectic energy, the locals will welcome you and wonder how you came across the hidden gem we call home.


Other places have ridiculously expensive drinks that will make your budget cry. Or a beach town that is just that, the beach. But Ventura is a beautiful mix of the happiest hours and the friendliest locals who will smile and greet you (especially if it's a sunny day.) Luckily for us, we are all grateful to call this slice of the California coast paradise. And we look forward to sharing it with anyone who comes by.
As you cruise along the coast with the windows down, it will be difficult to keep your eyes on the road as you pass through enchanting national parks; there's also the eager temptation to pull over on the side of the road to breathe in the ocean air. While many of us in California definitely take it for granted, it's a blessing we are grateful for on the most difficult days. So bump the music, breathe in the fresh ocean air, and check out the cows you'll pass along the way.
Most importantly, try to keep your eyes on the road!

Along the coast, there are wineries, ranches, a castle built in the 1930s, and bustling traffic-filled cities the closer you get to Southern California. But Ventura is a secret that has not been so well kept… a hidden gem between Los Angeles and Santa Barbara, just a short drive away with breathtaking coastal views. You may accidentally skip over it, but when you pull over and park in our free parking and check out the very active downtown area you'll know you've landed somewhere special and you'll realize that the rest of your life will be spent trying to come back and telling everyone you know about this beautiful chill beach town called Ventura. Whether it's a sunny day or lightly foggy, there will be a smile on the face of everyone you pass.
While we don't have a castle or loads of traffic like other places in California, we do have a themed restaurant called The Cave that, believe it or not, looks like a cave with the option to try various amounts of wine. Expensive or more affordable, you'll definitely get your money's worth in this low lit cave that will put others in the world to shame. Perfectly in theme for the month of September being California Wine Month. Cheers!
Because what other cave comes with various options as in flavors and copious varieties (in flavor & price) of wine?

Or an extremely walkable downtown area with multiple delicious restaurants to choose from (which may be the hardest part about coming here,) that is just a couple blocks away from, well, everything. Two blocks up the street from the Ventura Visitors Center is City Hall; directly behind it is the Ventura Botanical Gardens. Two blocks to the left are thrift shops where you are guaranteed to score something you won't be able to resist (in locally owned businesses that are built with love). Right there's also the San Buenaventura Mission — the city of good fortune — a name we couldn't forget if we tried considering the blessings all around us every day. Two blocks behind us are the pier and the beach where you can grab fish tacos as the sun sets and see surfers embracing their life's passion. If you feel so inclined, take a surf class and join them. There are plenty of eager schools ready to teach you how to ride the waves as our state sport thrives along Surfer's Point.
If you have a full day on your hands in Ventura, know that that time will not be spent doing anything less than incredible. Take a trip out to the Channel Islands and make friends with the island foxes who will definitely try to steal your food.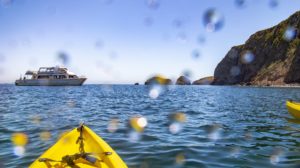 Escape to one of the least visited national parks, with the option to kayak through painted sea caves and imagine you are in another world.
Because just for the day, weekend or even the week, you are.
You are in paradise. You are in Ventura.
For more great stories, request our FREE inspiration guide right to your door!
Check out upcoming events!