Posted: Monday, Jun 13th, 2016
12 Facts you didn't know about Ventura, CA
by Chris O'Neal Featured image by Maya Sacks
Halfway between
Los Angeles and Santa Barbara lies the coastal city of Ventura. It starts at the top of the steep Ventura foothills and winds its way down to the Pacific, overlooking
Channel Islands National Park
. The city is reputed — among those in the know, that is — for its epic
surf conditions
, its nearly endless green space, and its 10,000-year history. And while other cities may have been hogging the California spotlight until now, it's high time we started talking about Ventura instead!
Here are 12 ways to start the conversation.
1. The city's actual name is San Buenaventura.
Locals call it Ventura for short, but the city's formal name, San Buenaventura, comes from
Mission San Buenaventura
, a Spanish mission established in 1782 by Father Junípero Serra. The mission still stands in the
historic downtown district
and is much loved and well-visited — especially after Father Serra was given sainthood by Pope Francis in 2015. A statue of Serra in front of
City Hall
also resides on the city's official seal, alongside the mission. And — fittingly — Buenaventura means
"good fortune"
in Spanish.
2. You don't have to go any farther than Ventura for world-class soccer.
Year-round ideal weather and easy access to Los Angeles is very attractive to players, luring both prospects and teams looking for a friendly match. Ventura's local team, the
Fusion
, became the first in the Premier Development League's history to play against international teams, including a first-of-its-kind exhibition match against an English Premier League team in 2009. Players are also being exported
from
Ventura. Over 70 players have moved on from the Fusion to professional teams in the EPL and elsewhere, including the number one Major League Soccer draft pick of 2008, Chance Myers, and Gyasi Zardes, who now plays for the LA Galaxy and the US Men's National Team.
3. In Southern California, Venturans have cornered the market on the outdoors.
Patagonia Outdoor Clothing & Gear
has its headquarters downtown, and it's a fitting corporate presence for the city. To the west is the Pacific Ocean, wherein the early morning and evening the silhouettes of
surfers can be seen catching waves
. To the north and east are Los Padres State Park and its winding
hiking trails
. The
Ventura Botanical Gardens
begin behind City Hall and climb to
Serra Cross Park
, where couples gather in the evening to watch the sunset across the sea.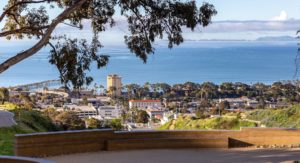 Sport sailing vessels depart from
Ventura Harbor
on a daily basis. Venturans love to fish and head out early to snag tuna, and divers go deep for the local spiny lobsters. Sea urchin caught off the Ventura coast is prized worldwide.
4. Gluten-free is a Ventura original…
Though most agriculture happens elsewhere in the county, Ventura was the first place in the world to produce lima beans outside of their native Peru, and it's from this source that "
gluten-free
" was introduced to the world. In the 1920s, a baker by the name of William Baker (who'd changed his name from William Koch) began working at a bakery in Ventura, later opening the Bill Baker Bakery in Ojai, where he perfected what he called his "wheat-less" flours, utilizing soy and lima beans from Ventura. Everything from bread to pastries was made with the flour and marketed as health food nearly 100 years before gluten-free evolved into the trend it is today.
5. …and chili peppers became a thing here.
If you've ever had an Anaheim chili pepper, you have Ventura native Emilio Ortega to thank. In the 1890s, Emilio traveled from Ventura, where his family operated the state's first commercial pepper plant — the Ortega Chili Company in downtown Ventura — to New Mexico and returned with hatch chili pepper seeds. The peppers grew so well in the Ventura soil that they became prolific and were later named "the Anaheim" after Emilio moved operations south. The original Ortega chili peppers and salsa can still be purchased today, and you can visit Emilio's home, the
Ortega Adobe
, in Ventura.
6. Ghost hunters flock to Ventura.
The city of Ventura recently celebrated its 150th anniversary…and so have many of the town's ghostly residents.
Ghost hunting excursions
are commonplace here, with popular destinations being the
Olivas Adobe
(where a mysterious lady in black has supposedly been seen for many years),
City Hall
(in which several ghosts are said to reside), and downtown's
Bella Maggiore Inn
, where a ghost named Sylvia reputedly spooks guests.
7. It's the gateway to the Channel Islands.
The Galapagos of the North is only a few miles off the Ventura coast.
Channel Islands National Park
is considered an environmental treasure and is made up of five islands — Anacapa, Santa Cruz, Santa Rosa, San Miguel, and Santa Barbara. Excursions launch from Ventura Harbor daily, with hikers on board looking to either
camp
or
snorkel
in the crystal clear waters. The island fox, an adorable mammal native to the islands, was once considered endangered but has made a remarkable recovery thanks to local conservation efforts. The California condor, also once endangered, has made a triumphant return as well. Catch a glimpse of
bald eagle hatchlings
via a live webcam on Santa Cruz Island, and watch for seals, dolphins, and even
whales
that make their way through the Santa Barbara Channel on their annual migratory paths.
8. It's ideally positioned for an epic coastal train ride.
If cars and planes are your only methods of travel, get to downtown Ventura to see what you've been missing. Trains may seem like a relic of the past, but the second you sit down in the glass-paneled observation car of the
Pacific Surfliner
and watch the ocean fly by underneath you, you may not want to hop on the 5 ever again. Ventura sits pretty much right in the middle of the route, and 10 trains serve its downtown station daily. To the north lies a stretch of coast that's widely regarded as some of the most scenic in the world; to the south sits the giant metroplex of Southern California. A journey in either direction doesn't really require much planning — the next time you're downtown to grab a quick bite to eat, the option of an after-lunch impromptu ride up or down the coast is always within reach.
9. Little Miss Sunshine actually ends in Ventura.
You wouldn't know it, but the Redondo Beach beauty pageant that becomes the crux of the 2006 Steve Carell and Greg Kinnear comedy
Little Miss Sunshine
is actually in Ventura. The city's promenade features during the film's climactic rush to make the pageant's deadline, with the local
Crowne Plaza Hotel
as the actual location the family was so eager to reach.
10. A long-lost tombstone was found off Surfers' Point.
A cemetery from the 1860s that became the final resting place for many of Ventura's founders is now known as
Cemetery Memorial Park
, popular with local residents, but its history is somewhat lost to time. Many of the buried are unknown, records destroyed and tombstones misplaced, including the tombstone of Mother Ida May Shively, buried in 1901 at what was then known as St. Mary's Cemetery. The tombstone was uncovered at
Surfers' Point
in 1993 and retrieved by Shively's 91-year-old daughter.
11. You can get a real taste of Ventura at the local distillery.
Ventura Spirits
churns out a slew of beverages using the native plants and herbs found in the nearby Los Padres National Forest and on Ventura's beaches. Try a taste of the Wilder Gin, featuring purple sage, pixie mandarin orange peel, and chuchupate — all native botanicals that can be found right here in Ventura.
12. Ventura is loaded with musicians.
If they're not on the streets busking on busy weekends, they're traveling the country performing for flocks of fans. Not only does Ventura have more musicians per capita than practically anywhere else, but there's also serious music history here as well. In 1968, John Lennon played to the surprise of a small gathering at a Ventura beach bar while studying in Ojai. And Johnny Cash is revered as a native son around these parts; every year in Ventura, the Roadshow Revival, a tribute to Cash, is put on in late June and features a salute to the Man in Black and his Ventura roots. A perfect excuse to plan a trip.
This article originally appeared on Matador Network.
Discover More
Get to know Ventura, and discover the best things to do around the city.
Ventura Partners With