Posted: Thursday, Jan 2nd, 2020
Ventura's Living History — and Soul
by Lauren Eberle featured image by Hector Vargas
You can't truly know where you're going in Ventura until you know where Ventura has been. Here's a fine explanation, courtesy of Lauren Eberle. You can also read Lauren's article, and learn lots more about our wonderful town, in our hot-off-the-presses 2020 Ventura Inspiration Guide. Order your free Inspiration Guide (with a free sticker!) or read the Guide online
here
. From the late-1700s establishment of
San Buenaventura Mission
to today's bustling
Ventura Harbor Village
, rich waters and fertile soil have attracted commerce and community to this gem of a coastal town. Those lucky enough to call Ventura home take great pride in its authentic character — it's the real deal Southern California beach town that defies time as it keeps history alive. In what ways has that picture-perfect soul stayed true? See for yourself.
San Buenaventura Mission
Founded in 1782 — the ninth Spanish mission established in California — the San Buenaventura Mission began as the literal and figurative center of the community; at its peak, in 1816, over 1,300 people lived within its walls. The city grew around it. But the mission remained, like a quiet heartbeat. It was, and is, known as the Mission by the Sea, a lovely name both simple and apt. It has been tested by floods, earthquakes, and even a threatened pirate attack. Today, the mission remains quiet, a place of peace just steps away from busy Main Street. Visitors are welcome from sunrise to sunset to explore its beautiful gardens and faithfully restored artifacts.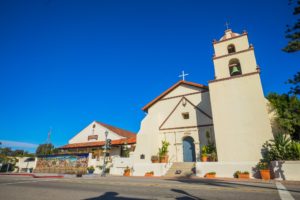 One of the city's most enduring symbols has brought locals and visitors together for generations. Ventura Pier was built beginning in 1871 by a local barge operator. Built to be a wharf, the original structure had no railings and was used primarily for unloading passengers and supplies. Over the next three decades, the steady trade passing through the wharf spurred Ventura's growth into a thriving community. But there were also storms, shipwrecks, and fires, which shifted the structure's length over time. For nearly 60 years it was even the largest wooden pier on the California coast, measuring 1,958 feet. Today, the 1,620-foot-long wooden walkway is a popular community gathering place where fishers bring in crabs and lobster and visitors take in views of surfers, the city, and the scenic Channel Islands. With history panels, a snack bar, a gift shop, craft brewery, and a seafood restaurant, the pier's appeal remains undeniable.
Downtown Ventura
The hub of the city's casually cool vibe,
Downtown Ventura
is just blocks from the beachfront. Here you'll find upscale boutiques and galleries, laid-back surf shops,
craft breweries, locally-owned wineries,
and an impressive selection of vintage and antique shops, all clustered among an eclectic mix of architecturally interesting and historically significant structures. (More than 90 percent of the
stores
and restaurants are locally owned!) But Downtown hasn't always been the center of activity. Jefferson Crane, a settler to Buenaventura who arrived in 1866, once said,
"I cannot recall more than 15 inhabited homes outside the then small town of San Buenaventura, which consisted of that portion of Main Street west of the Mission Church. Not a habitation east or southeast."
Step through our 150-year history by picking up a complimentary "Historic Walking Tour Guide" at the
Ventura Visitors Center
, located in the heart of Downtown.
Ventura Harbor Village
The Ventura Harbor was built in the early 1960s to support the area's promising fishing and squid industries. Thanks to the area's deep water and proximity to international trade centers, almost 60 years later, the port remains a valuable working harbor. Ventura Harbor is known especially as a thriving market for tuna, halibut, lobster, crab, sea cucumber, prawn, rockfish, and sea bass, as well as one of the largest offloading harbors for squid on the Pacific Coast.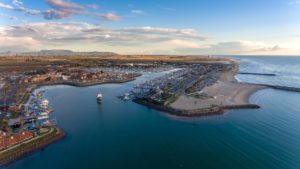 Recreational boat enthusiasts enjoy Ventura Harbor's five marinas and 1,500 boat slips, and visitors can find tours, rentals, cruises, and a public launch ramp. This is also the departure point for popular Channel Islands expeditions with Island Packers Cruises. (Don't miss the Channel Islands National Park Visitor Center!) At
Ventura Harbor Village
you'll find three dozen boutiques, galleries, restaurants, and more. The perfect place to enjoy a day beside the sun-splashed water. To learn more about Ventura's storied history, visit the
Museum of Ventura County
at 100 East Main Street.
For more great stories, request our FREE inspiration guide right to your door!
Check out upcoming events!
Discover More
Get to know Ventura, and discover the best things to do around the city.
Ventura Partners With