Posted: Thursday, Feb 6th, 2020
Six Fun Free Things to do in Ventura
by Visit Ventura
Yep, many of the best things in life are free. And many of them are right here in Ventura.
Here they are, laid out for you. For free.
But first, you need to park… for free.
There's plenty of
free parking
in downtown Ventura — over 2,900 free spots if you ever find yourself on a game show. There's free parking for two hours, four hours, and twenty-four hours, much of it in clearly marked city lots. There's also free parking in the five-level parking structure on Santa Clara Street between California and Chestnut (free all-day parking on the top floors, and free 4-hour parking on the bottom floors). Also free all-day parking in the upper City Hall visitor lot (at the very end of California Street).
Heading for the beach?
Surfer's Knoll and Harbor Cove beaches across from
Ventura Harbor
both have free parking lots (though the Surfer's Knoll lot is small). Ventura Harbor Village has reams of free parking. Across the harbor mouth,
Marina Park
, with a fun playground (see below), has lots of free parking in their lot at the end of Pierpont Boulevard. Away from the downtown, parking in the city is, well, free everywhere.
And you won't have to hunt for spots. Small town easy.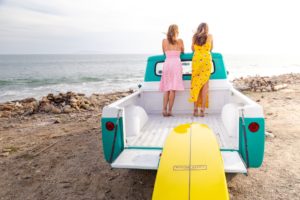 Now that you're parked…
Ventura is home to a thriving arts community — and always has been. You see it almost everywhere you turn.
Murals
in the post office on Santa Clara Street, on the sides of buildings, (check out "A Beautiful Mistake" (not-at-all) painted large and lovely on the wall of Lu Ross Academy), even on the
utility boxes
scattered about the city. Beautiful paintings adorn the walls of our
City Hall
— you can take your own self-guided tour (explanations accompany the paintings). Ventura's history also unfolds in murals around town — many of them within walking distance of each other. Start with the lovely illustrated history of Ventura right in front of the San Buenaventura Mission. Artist Michael O'Kelly's framed memorial mural depicts 150 years of Ventura history via 100-plus ceramic tiles showcasing the people, landmarks, and scenes (both old and new) that have helped make Ventura what it is today. Right across Main Street, you'll find the China Alley Mural. A short walk to the sea, on Figueroa Street, you'll find the Tortilla Flats Mural.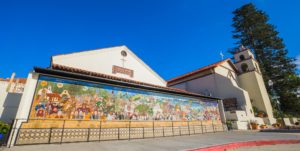 Is there a more pleasant way to wile away a lazy day? Take an ambling tour and get back to us.
And on the
First Friday
of the month, the residents of grassroots artist's space Bell Arts Factory open their doors. Come and peruse the new pieces in the gallery and see where the artists work. Yep. For free.
Keep taking a walk on the historical side…
Start by coming into the
Ventura Visitors Center
(101 South California Street) to pick up a copy of "
Ventura's Historic Walking Tour
." Then head off on foot (free and easy) to see the
historical sites
scattered around Downtown, many with architecture dating back to the turn of the century and earlier. While the historic
San Buenaventura Mission
— including the adjoining church (with original architecture) — steals a lot of the press, there are also a lot of lesser sung but no less interesting historical stops: the
Erle Stanley Gardner Building
, Ventura's first
Post Office
, and the Albinger Archaeological Museum. You can't put a price on breathing history, but this price happens to be $0.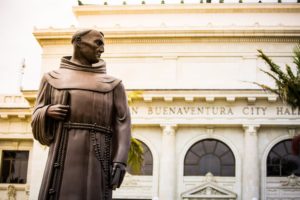 See a gem in the sea … for free…
The five islands that comprise
Channel Islands National Park
are called the Galapagos of North America with good reason — they're home to plants and animals found nowhere else on earth. Yes, you should absolutely book a trip to see the islands with
Island Packers
(not free; but well worth the price) — but first you can get a gander for free. The
Channel Islands National Park Visitor Center
(at Ventura Harbor) has free exhibits and a goose-pimpling 25-minute movie "
A Treasure in the Sea
." See if you can guess the narrator — pretty distinctive voice. Super cool for kids (and kids-at-heart), walking up the stairs to the top of the viewing tower takes you up through the ocean's water column (complete with burbling and wavering light).
Listen to live music…
Ventura is a
live music mecca
(a lot of talented musicians live here), and much of it doesn't know the word cover charge. On any given night there are usually several bars and restaurants featuring live music along (or near) Main Street. And, most of the time, entry is free. Though you are encouraged to buy a beverage or two in recognition of Ventura's burgeoning craft beer and wine scene. For a full, remarkably up-to-date calendar of live music, visit
Ventura Rocks.
Walkthrough the flowers, with the sea spread before you…
On Tuesday (and most major holidays) there's no fee to hike in the
Ventura Botanical Gardens
. High up in the hills behind City Hall (remember the free parking), if there's a more breathtaking, panoramic view of the glittering Pacific, let us know.
Play, play, play … for the kids (and the kid still hopefully in you)…
Ventura has plenty of free playgrounds.
Arroyo Verde Park
has a fun playground (and great hiking and plenty of grass to run across), making it popular with local families (and dog lovers). There's another fun playground on the beach right next to the
Ventura Pier
(
the Pier
also offers a lovely free stroll).
Marina Park
(Ah right, free parking), at the end of Pierpont Boulevard, also has a great playground — also steps from the beach.
If you go to Marina Park, be sure to check out the nearby Mermaid statue. Mythical? Maybe, maybe not?
And, of course, no playground like the beach. For the small ones, Harbor Cove Beach (at the end of Spinnaker Drive) offers safe, sheltered waters — and peace of mind for the pseudo adults.
And for a few last fun, free things…
Come by the
Visitors Center
for more inside tips — and, three last times, a free Ventura sticker and a free Inspiration Guide. If you can't come in, just order that Inspiration Guide
here
. Hundreds of tips for fun things to do — and most that aren't free are affordable.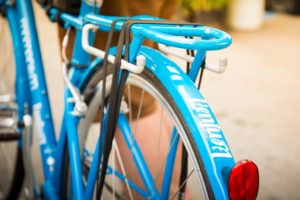 And one last freebie. A free dog treat for canine visitors. That's it for free. Except for a "Free Things Part Two" blog down the line.
For more great stories, request our FREE inspiration guide right to your door!
Check out upcoming events!
Discover More
Get to know Ventura, and discover the best things to do around the city.
Ventura Partners With