Posted: Monday, Feb 10th, 2020
What Does Visit Ventura Do?
… and how do we help Ventura?
by Visit Ventura featured image by Felix Cortez
We get asked this a lot. We're an easy, open, straightforward town.
So here are the easy, open, straightforward answers…
Who is Visit Ventura?
The
Ventura Visitors & Convention Bureau
(also known as Visit Ventura, which is a lot more user-friendly) is
eight fun-loving
, hard-working (in order of importance) folks who live in — and most important — love this town. We also have a host of
amazing volunteers
who support our
Visitor Center
and help in every way they can.
They know the town. Some of their families go back three generations.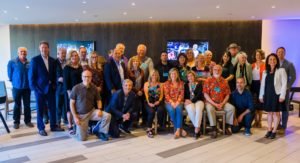 What does Visit Ventura do?
We work to bring visitors to our town. It's a simple thing. Ventura needs visitors.
Why?
The money tourists spend contributes significantly to the city's General Fund — and that fund is used to improve the quality of life for all of us so lucky to live here. On a light note, tourist dollars help pave streets and sidewalks. On a possibly life-saving note, tourist dollars help fund our Fire and Police departments.
Those of us who work here at Visit Ventura love this town for the beautiful place it is.
We don't want to see it lose its charms any more than you do. But, without tourism, our town does lose some of its charms (see below). So our job is to bring visitors to our town. And to bring them here, we need to stand out from the thousands of other towns wooing visitors. So — through photos,
videos
,
blogs
and more on social media, and
hosting global journalists
, and helping
bring major events to our town
— we work hard to show people around the world our honest story.
Here is a town of surf, sun, kaleidoscopic culture and colorful history, and the big little things that matter, like a welcoming community and feel-at-home ease.
Should our honest story appeal to them, hopefully, these visitors will come to visit. And, when it comes to visitors, we're not aiming for quantity. We're aiming for quality. In short, people who love this town for what it is — and how it is.
Why does tourism matter, and how do we help preserve the town we love?
There are reams of financial figures showing how tourism brings dollars into Ventura. Last year alone, our hotels' bed taxes (every visitor pays a ten percent tax on their hotel stay) generated over $6.4 million (the highest it's ever been).
In 2017, 2.7 million visitors spent 289 million dollars in Ventura and generated $8.4 million in local tax revenue.
But unless you're an accountant, these figures are as boring as they are forgettable. Here's the part that matters. Again, the money that visitors spend here seeps into almost everything that matters in our town; our agriculture, our fire and police, our roads, our schools.
Tourism also creates roughly 2,600 jobs in Ventura.
It is also safe to say that, without visitors, many of our locally owned businesses wouldn't be in business. You know these people. They are part of your town. Some of them are your friends. And they work very, very hard. Visitors help them make ends meet. And, from a resident's standpoint, the best thing about tourism isn't notched in a ledger.

Tourism keeps us as we are. Tourism doesn't pave over paradise. It offers paradise up for appreciation.
At Visit Ventura we reach out selectively to visitors who appreciate us for what we are. We want visitors who care about Ventura, who appreciate the beauty of Ventura, and who want to see Ventura stay the special place it is.
We don't want Big City lights, and neither do our visitors.
Or they see the Big City lights before they come here. We reach out specifically to
folks who love and appreciate Ventura's gifts
and want to keep those gifts intact.
And visitors, we don't just want your dollars.
We sincerely want you to have moments — Ventura moments — that will make you happy in the moment, and, in some instances, stay with you for the rest of your lives. It's always nice to call up happy moments. When all the adult complications of tourism are stripped away, you're left with the childish part that matters. Tourism is the business of giving people fun and pleasure. At Visit Ventura we believe there can never be enough of either one.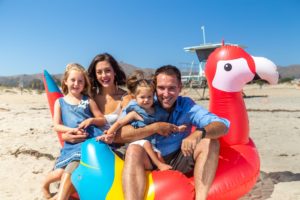 What is Ventura's brand mark?
If you look up the definition of brand mark, you'll find something like…
"visual images, elements or symbols used to identify a brand and contribute to building and maintaining its image."
Blech. And honestly, we have an entire 40-page document about our own Ventura brand mark that's just about as boring, filled with words like "
Strategic Perspectives
" and "
Positioning Process
." Brand mark itself is a dry, soulless, sales-y term.
Yes, Visit Ventura is selling Ventura to the outside world. But, more than anything, we are just telling the world the truth about a beautiful place.
Make no mistake, a lot of hard work and wildly creative thought went into creating Ventura's
brand mark
. As a result, we have an eye-catching ambigram with an important underlying message. An ambigram is a word that reads the same no matter which way you look at it.
Read it upside down or right side up and it is still Ventura
. So you see it from the perspective you choose. We've tried to carry that point a step farther. Ventura welcomes every point of view. We welcome you as you are. And so our heartfelt slogan.
"You be You."
In the end, a brand mark is just a logo (albeit a cool one) and a slogan is just a group of words. But think about how you felt the last time you received a heartfelt welcome, or someone did something kind that just made you feel good. That's the feeling we're trying to give each and every visitor. And each and every resident who comes through our
Visitor Center
doors.
Again, think child-like. Why should people be treated differently?
What is the take away in all this?
In tourism — and in life — it's easiest just to tell the truth. Sure we're in the business of marketing Ventura, but in the end, here at Visit Ventura, we're only marketing the truth. We didn't really find a brand mark. Our brand mark found us. Look at this town. Easygoing. Adventurous. Vibrant. Rich in art, music, food and stunning natural beauty, and not the least bit pretentious about any of it. A place where breezes send whispered applause through eucalyptus leaves, the sun warms the skin, and sunsets purple magnificent islands.
Heart-racing natural beauty, wrapping a town of infinite fun. Surf, sun, kaleidoscopic culture, and simple, not-so-simple pleasures like a laugh over a real deal street taco and a cold beer.
Moments easily, and perfectly, spent. We know. We've spent them. You be You. Ventura will wrap you in the rest. Visitor and resident are one-in-the-same. Ventura treats no one differently. All of us are lucky to spend moments in this place.
For more great stories, request our FREE inspiration guide right to your door!
Check out upcoming events!
Discover More
Get to know Ventura, and discover the best things to do around the city.
Ventura Partners With