Posted: Thursday, Apr 5th, 2018
What Tourism Means for Ventura
by Visit Ventura
Here at Visit Ventura, we know tourism is a complicated industry for our locals. After all, we're locals, too. We love supporting our awesome businesses, from our
wineries
to our
surf shops
, and sharing everything that's beautiful about our corner of paradise.
After all, part of what makes tourism special is how it cherishes everything that's already great about where we live, while also connecting us to the globe.
But we also know more tourism means more traction at some of our favorite spots, especially at certain times of year (looking at you,
Summer Vacation
). We want to let you know that we aren't looking for more tourists. Our goals are pretty simple over here at Visit Ventura: quality over quantity. We don't want more, we want better. While the beaches will always be busy in Summer–whether they were promoted or not–we wanted to give you an inside picture into how we market Ventura, who we market it to, and when. In essence: we want the tourists who will engage with our city as a local would.
What does that look like? How do we do it?
First, we've identified what our ideal tourist looks like, and they look a lot like someone who lives here does. Our ideal tourists love the outdoors. They are responsible. Low-impact. Active. Engaged. They love interacting positively with the people and world around them. And they love great food and drink. These types of tourists will engage Ventura sustainably, patronizing our businesses and exploring our natural spaces in a way that brings out the best of our town, without overly impacting it. We market to cyclists. To
hikers
. To
foodies
. To like-minded people in our local state, and across state barriers, who are ready to hit the pavement, hike a trail, or hop on a bike. We market to people who will tour our breweries, who want to taste our seafood, who love to shop locally.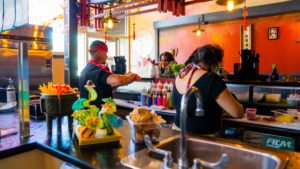 We're also marketing Ventura in off-seasons. We want people here when summer break ends (and before it begins), when our beaches are the clearest. We want visitors here mid-week, and for longer, more meaningful stays. We want them to walk a little farther and dig a little deeper. We already know how great our weather is in Spring, Autumn, and Winter, and we want visitors to know that, too. We want them to look, think, and visit like a local.
So don't fret, Ventura. We hear you. And we've also learned from the best.
Tourism is an incredible local industry for the way it engages and energizes a community, connects us to the globe, keeps our businesses flourishing, and prioritizes our natural spaces. And while Summer will always be a busy time, we are actively working to attract the kinds of tourism (and tourists) that will engage with Ventura the same way we do: with a sense of adventure, appreciation, and respect.
For more great stories, request our FREE inspiration guide right to your door!
Check out upcoming events!
Discover More
Get to know Ventura, and discover the best things to do around the city.
Ventura Partners With