Posted: Tuesday, Aug 22nd, 2023
The Throw Down Cornhole Festival – What You Need to Know
The world's largest cornhole tournament is coming back to Ventura. You read that right. The world's largest cornhole tournament. Here in Ventura. People from all across the globe come to test their throwing skills and win it big. Hosted by beloved Spencer Makenzie's, the Throw Down brings 1, 280 teams from all across the world to battle it out for over $300,000 in cash payout. Each year, this three-day tournament seems to get bigger and better. This year certainly doesn't disappoint.
When is the Throw Down Cornhole Tournament?
The Throw Down is an action-packed three-day event from Friday, August 25–Sunday, August 27 at the Ventura County Fairgrounds.
This year, the festival will feature a car show on Saturday, August 26. Classic cars from the 60s to 80s will line up Saturday night — bright lights and C10s, blazers, broncos, and more will add to the festivities.
Will There Be Music at the Throw Down Cornhole Festival?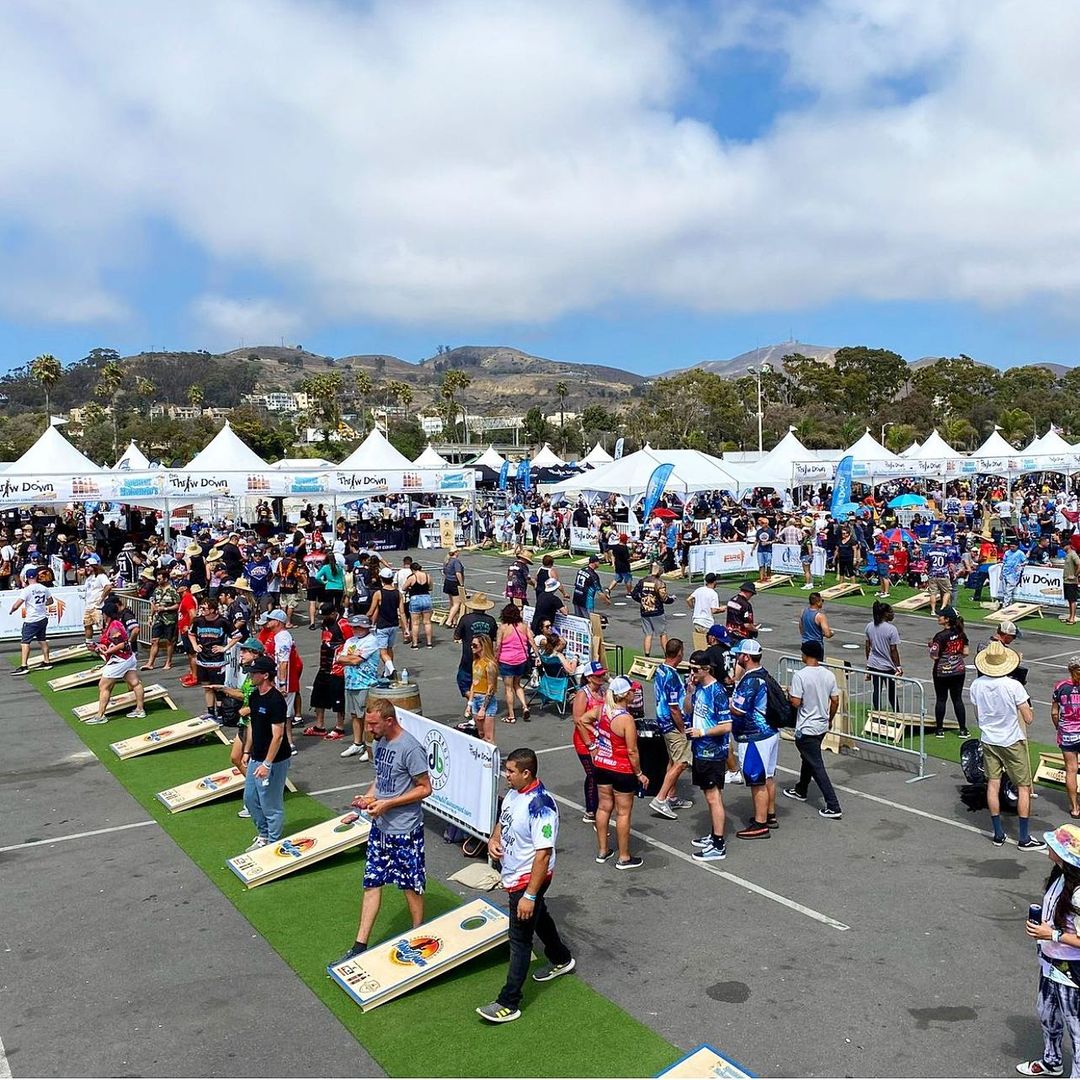 It wouldn't be a festival without live music. Music, beer, and the ocean breeze? Past musical guests include surf guitar legend Dick Dale and rapper Chuck D. of Public Enemy. Local musicians have also stepped on the stage in previous tournaments. Don't miss out!
What Is Cornhole? Some Fun Facts
You've probably found yourself in someone's backyard throwing a bean bag around. Yes, cornhole is a glorified backyard sport but the Throw Down takes it to a different level. With much higher stakes than your neighborhood beating you.
The capital of cornhole (yes, it's a thing)? The one and only Cincinnati, Ohio where the American Cornhole Association was founded in 2003. The association was the first in its class, distinguishing the casual backyard rookie players from the professional and elite ones who may partake in a tournament like the Throw Down Cornhole Festival.
And really, at the elite level, true strategy is involved. Players might toss an airmail throw (directly through the hole). Or a slide throw (hitting the board below the hole and sliding the bag into the hole). Or a push throw (used to push another bag into the hole). Or a block throw, blocking the opponent from easily placing their bag in the hole. Blocking can force slide/push players to use their throws to knock their bags into the hole while hopefully also leaving their bags outside of the hole. That can take away the slide/push player's biggest strength. Truly.
Discover More
Get to know Ventura, and discover the best things to do around the city.
Ventura Partners With