Posted: Monday, May 23rd, 2022
The Cool Breeze Bike Ride(s) May Be the Coolest Ride You Ever Pedaled
Popsicles, cool ocean breezes, and five rides designed with nothing but fun – and cool – in mind. When it comes to bike rides, no ride out cools the aptly named Cool Breeze Century Ride. For starters, the Cool Breeze rides – five altogether – will be held on Saturday, August 19th in and around Ventura, a small beach town of surfy ease, swept by, yep, cool ocean breezes.
The Cool Basics
But it's the ride itself that defines cool. First, organizers realize that a 100-mile bike ride isn't for everybody – so they're actually offering five rides; ranging from 30 miles up to 125 miles. Each route sticks beside the cool breeze Pacific Ocean for as long as possible, and each ride is designed so that you'll likely enjoy a downwind ride on the way home. And a final touch of cool; sweet, icy-cold popsicles waiting for you along the route.
Mmmmmmmmmmmm…
Your Cool Breeze Ride Menu
Double Metric Century (125 miles) & Hilly Century (100 miles) Suggested 6:30 am start time
Hardcore, are you? What… you like to climb? Well, here you go. Your reward? Alongside a sense of accomplishment, a cool ocean breeze that never felt so good!
Hilly Century (100 miles) Suggested 6:30 am start time
"I'll take the Double Metric climb, hold the miles please!" If this is your thinking, the Hilly Century is the route for you.
Classic Century (100 miles) Suggested 6:30 am to 7 am start time
Ready for the route that put the Cool Breeze Century Ride on the map? If this is your first organized century, you're in for a unique adventure and treat.
Metric Century (60 miles) Suggested 7 am start time
The "I'm not up for a century today, but don't bore me either" route. You'll get a little challenge and still enjoy the magnificent scenery and breezy ocean views.
Mini Metric (30 miles) Suggested 8 am to 9 am start time
Just a fun coastal cruise alongside the Pacific Ocean – and, yep, there's a popsicle waiting for you along the route. Inside tip: Don't start too early, or you'll get to the popsicle handout before the popsicles.
The Bulleted Basics
All routes start and end at Mission Park in downtown Ventura.
Registration check-in is at the Museum of Ventura County Pavilion, adjacent to Mission Park. Registration check-in takes place Friday evening, August 18th, from 6 pm to 7:30 pm, or Saturday morning, August 19th, from 6 am to 9 am.
Each ride has a suggested start time, but, additionally cool, you can start whenever you like. Just plan to finish by 5 pm before ride support leaves the courses.
Yummmmmmm. The after-ride meal and celebration is at Mission Park adjacent to the Museum of Ventura County, from 11:30 am to 5 pm. The after–ride buffet is hosted by Peirano's. No one does fresher, healthier, or tastier, better. The buffet is included in the entry fee. There's also cold beer and a DJ. See if you can still dance.
A Final Cool Thought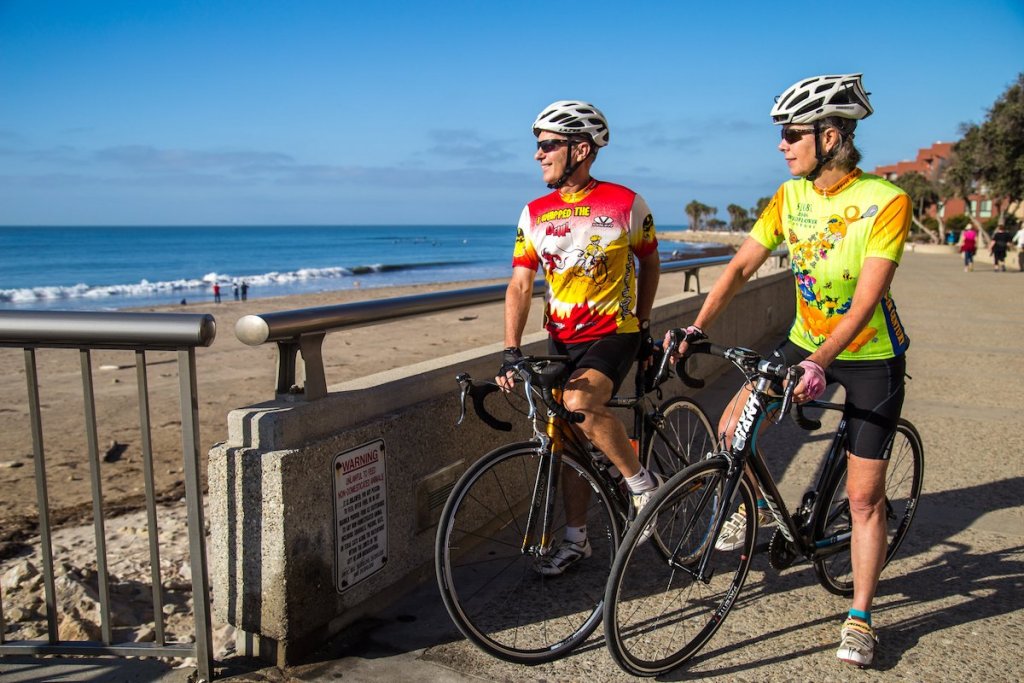 Yes, the ride is cool, but Ventura is warm and welcoming.
Why not make a Ventura weekend of it? Ventura has everything you need to celebrate your accomplishment; from sunny, sprawlable beaches, to icy cold craft beer, to a small, easily walkable downtown lined with unique stores and restaurants.
Note. All require very little use of your legs.
Outdoors


Biking & Hiking Trails
Discover More
Get to know Ventura, and discover the best things to do around the city.
Ventura Partners With