Posted: Tuesday, Feb 21st, 2023
Supporting our Local Shops: Black-Owned Businesses in Ventura
In celebration of Black History Month this February, we're spotlighting and featuring our Black-Owned businesses right here in Ventura. Each business is unique in its own right and truly vital to the Ventura community. And at Visit Ventura, we love to support our local businesses that Ventura visitors will enjoy and give a shout-out to those when we can.
Like every business, no matter the ownership, these four businesses need YOUR support. When you walk through the doors of these local shops you're supporting Ventura local.
Caribbean Haven
Owner Hutton first opened Caribbean Haven

in 2017 when he found there was a gap in the food culture in Ventura: there was little Caribbean-inspired food in town. Born in Guyana, a country in South America, Hutton explained that really, the society and economy of Guyana are more closely related to the Caribbean islands. With that connection coupled with the Caribbean friends he grew up with in New York, Hutton learned all he knew about Caribbean food all through his youth.

From table numbers that serve as a fun fact sheet on different Caribbean islands to beverages imported from Jamaica and other islands, Caribbean Haven is about authentic as you can get.
Birkenstock Footprints Of Ventura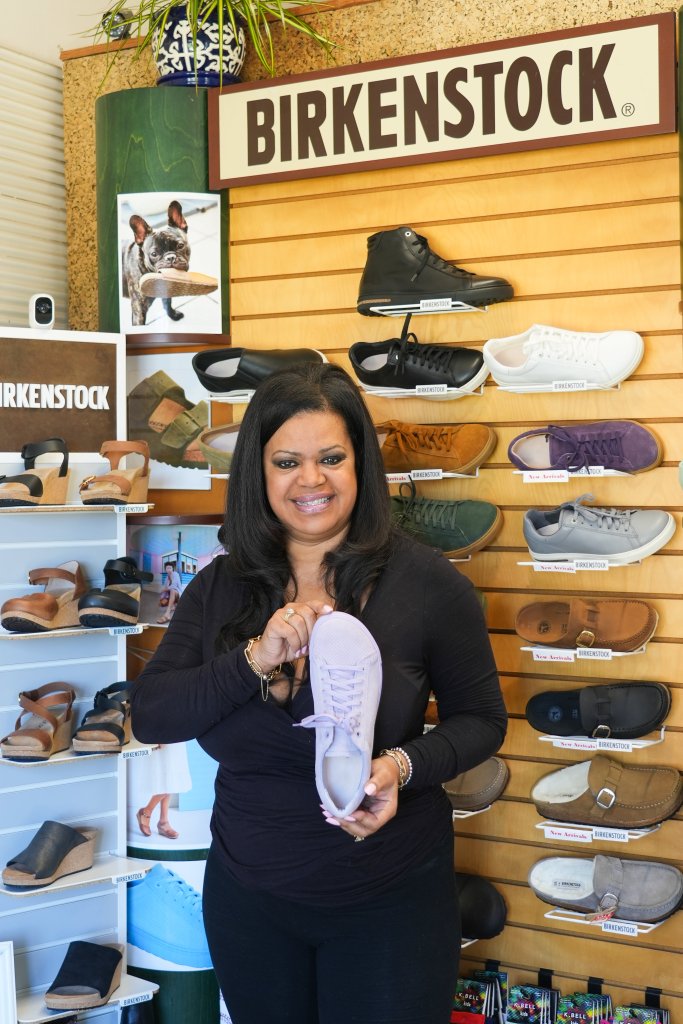 JoAnne Hadley has been a Birkenstock lover way before she bought Birkenstock Footprints in Ventura

. In fact, after her back surgery, JoAnne turned to Birkenstocks to help alleviate pain and make standing around all day more manageable. With a background in retail and a lucky roll of the dice, when the opportunity presented itself to become the new owner of Birkenstock Footprints of Ventura in 1997, JoAnne said it was a no-brainer.

Over the nearly two decades since JoAnne has owned and operated the store, she said the popularity of Birkenstocks has grown exponentially. The orthopedic value of the shoes alongside the practical use by medical workers who love the nonstick and waterproof aspects of Birkenstocks has driven demand up. And JoAnne isn't complaining!
Missy's Cupcakes
Filled with a childhood of baking, Missy's Cupcakes

was born out of a love for cupcakes. No formal training, just lessons from her mother, supported Missy's drive to bake. Though the cupcake and donut shop opened in Ventura four years ago, owner Missy has been baking cupcakes at her home for a long time before that.

With 30 total flavors (usually 14-16 flavors a day available), the variety of cupcake flavors is astounding. From Dulce de Latte to Pancakes 'n' Bacon, you'll be able to find a cupcake that fits your vibe.
Barrel 33
When it comes to a personal and intimate wine-tasting experience, Parfait, owner of Barrel

33 excels. Originally from France, Parfait moved to Ventura about eight years ago with a goal: to provide a relaxing environment for his customers after a long day. And when the opportunity to become Barrel 33's new owner presented itself Parfait said it seemed like fate: 33 is his favorite number.

With an extensive wine list and delicious appetizers and food to pair with it, Barrel 33 is clearly a hidden gem. You can expect to taste incredible wine, often served by Parfait himself, in an atmosphere like none other (dog-friendly outdoor patio!).

Barrel 33 is located at 1067 E. Thompson Blvd in Ventura.

Things to Do


Ventura Shopping

Music & Nightlife

Pet Friendly
Outdoors


Biking & Hiking Trails
Food & Drink


Restaurants

Outdoor Dining

Wineries, Breweries & Distilleries
Discover More
Get to know Ventura, and discover the best things to do around the city.
Ventura Partners With