Posted: Tuesday, Mar 7th, 2023
Self-Care Weekend Getaway in Ventura
Hero Image by Josiah Roe
A "YOU" Weekend in Ventura starts here…
It's time to refresh and rejuvenate. There's always a good time to press pause on the hustle and bustle of life and enjoy the little things. Ventura does small moments, slow life, and quiet sunset beach walks better than anywhere else. So if you find that you need a weekend getaway, Ventura should be your go-to choice. Especially if you think a self-care weekend with warm California sunshine and a fresh ocean breeze is a necessity for your "you weekend."
And we can help you plan your self-care weekend getaway in Ventura. Read on to explore all the self-care, spoil-yourself-without-guilt spots in Ventura. All the shopping, beauty/spas, restaurants, and outdoor activities we have here in town will have you wishing your self-care weekend would last for more than a few days.
Breathe in and Out…Active and Outdoor Self-Care Activities in Ventura
Sometimes there's nothing better than unplugging your phone and heading out into the unknown. Lucky for you, outdoor dreamscapes are key to Ventura's vibe. Take a nature walk through the Ventura Botanical Gardens

for million-dollar views of the city below and the Pacific Ocean beyond. For a true coastal beach town vibe, walk along the beach (we recommend starting at Ventura State Beach) to search for sea glass. But if you're looking for the ultimate place to enjoy raw nature, you have to make the day trip to the Channel Islands National Park (dubbed the Galapagos of North America). Enjoy peace and quiet as you walk along naturally preserved hiking trails.

Don't overlook the yoga opportunities in Ventura either. Venture Well and Grassroots Yoga are local favorites to recenter and refresh during taught yoga lessons and other wellness classes.
Retail Therapy: Must-do Shopping in Ventura to Pamper Yourself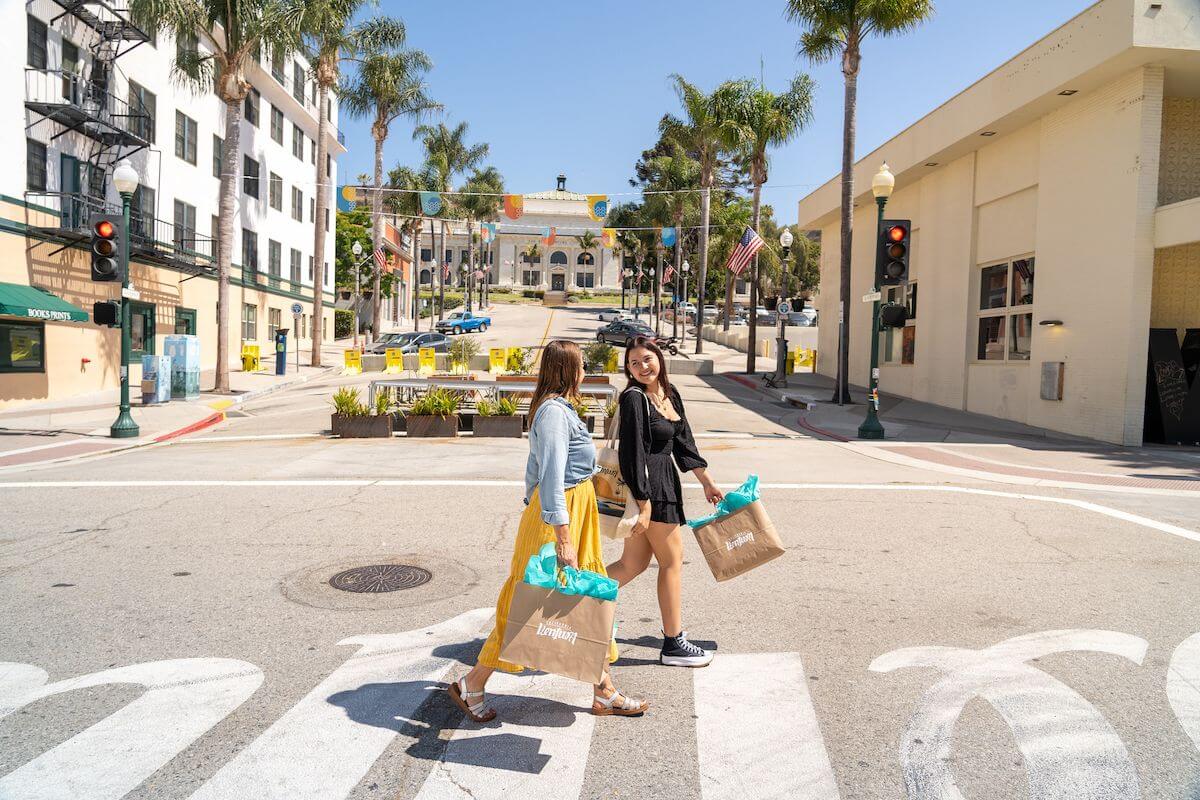 The good news? Ventura has plenty of local boutiques and stores perfect for an afternoon of wandering through shelves of stocked goods. The best news? You can do a little retail therapy in Ventura without breaking the bank — we're known for our great thrift stores up and down Main Street. Find hidden gems at lower prices in any of our thrift stores: Buffalo Exchange

, Coalition Thrift Store, SPARC Second Chance Store, Goodwill, and Caan Thrift Store.

If you're looking for jewelry, you have to make a stop at Betty Belts

(any self-proclaimed local Venturan probably has a piece from here in their jewelry box). Hop into the world of permanent jewelry: Aniyah Permanent Jewelry offers custom dainty bracelets, anklets, necklaces, and other pieces.

Other super custom and personalized shopping and retail experiences? Make your own custom candle at Dusk Ventura where you can pick your own scents; create your own perfume at the Refill Shoppe

; and book a custom hat fitting with the Salt Ranch where you can pick out your own hat that is reminiscent of Old California.
Sips and Snacks: Restaurants in Ventura
A glass of wine, a sweet taste of cake, the first bite of fresh salad…yum. Imagine all of that with beautiful views of the ocean or the feel of the ocean breeze on your face. Some great choices when you want to indulge in the sweeter and more delicious things in life: Barrel 33

, Rumfish y Vino, and Paradise Pantry, just to name a few. When you just want a quick bite to eat with a stellar view? Beach House Tacos is a classic spot for fish tacos right on the historic Ventura Pier.
Relax and Rejuvenate: Spa/Beauty
How could it be a self-care weekend without a trip to the spa? Pampering yourself never hurt anyone. Ventura has plenty of friendly spas and beauty spots that'll make you feel brand new. Coastal Skin Care Day Spa,

Sugar Junkie, and Skin Magician offer a variety of massages and facials with custom and personalized services as well. For freshly painted toes on the sandy shores, head over to Frenchies Modern Nail Care at the Ventura Harbor Village.

Things to Do


Family Fun

Ventura Shopping

Music & Nightlife

Pet Friendly

Hotels
Outdoors


Beaches & Surfing

Biking & Hiking Trails

Bird Watching
Food & Drink


Restaurants

Outdoor Dining

Wineries, Breweries & Distilleries

Happy Hours
Discover More
Get to know Ventura, and discover the best things to do around the city.
Ventura Partners With