Posted: Thursday, Jun 23rd, 2016
Find your fashion niche at Kariella
by Amara Bessa
"Playing dress-up begins at age five and never truly ends." – Kate Spade
I remember being a little girl in Ojai, watching my mom get dressed in the morning thinking I couldn't wait to look like her one day. The elegance in which she wore her clothes, applied her makeup and thoughtfully selected her jewelry and shoes for the day seemed just so effortless. She always looked so beautiful, radiant, confident – like a breath of fresh air to greet me good morning.
I think like most women my passion for clothing started at a very young age. An impressionable little fashionista I was already molding my career path at the ripe age of 7 when I started sewing my own dress-up clothes in order to achieve the refined look my mom wore so well. I always wanted to look my best, well because, why not? We all strive to put our best foot forward and I was no different except for the fact that it was my number one priority even as a young child.
At that moment, at age 7, I knew what I was meant to do.
I was a very decisive child, an old soul some said, and I had a keen eye for style accompanied by impeccable taste beyond my years. I had become the girl who had the closet that everyone wanted to raid! The Carrie Bradshaw of little old Ventura if you will. My destiny was already set in motion – I was destined to dress women, highlight their inner beauty by showing them they could look fabulous inside and out, radiate confidence, and just like my mom, be effortlessly chic.
Fashion is an outward expression of who we are.
For some, it shows our refined modesty or our eclectic carefree attitude and others our pursuit to stand out in the crowd. It's the ability to say this is who I am without really saying a word. It is a timeless art form as styles come in, go out, and most often, come back again. It doesn't discriminate.
Everyone can be fashionable, but it does take a little finesse to find your niche -the point at which you say "yes this is me, I feel amazing in this!"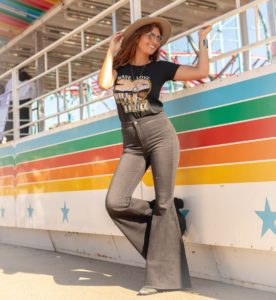 Are you the woman who longs to utter those words from her mouth? Maybe you've lost your fashion identity? Maybe you had a style that no longer feels current but you don't know where to begin? Or maybe you've gone through body changes and you're not sure what works for you anymore?
There is good news!
I did, as predicted, stay on my destined path to dress women and back in 2010, I opened a little shop called
Kariella
, named after my daughter. I hand select every brand and item that comes into the shop. A little bit of everything from yummy soft basic tees made in California to beautiful flowy dresses straight from the beaches of Australia.
Every item has to meet my personal inspection; Does it feel amazing? Is it of good quality? Is it unique but still wearable? Is it flattering on multiple figures? Would I want it in my closet?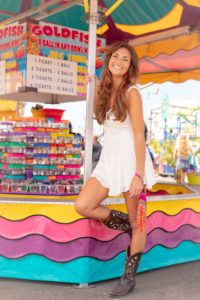 After they pass inspection, I present you with the best of the best, the tried and true, the bold and the beautiful! It's like fashion heaven with a personal stylist on hand to help guide you along. But don't just take my word for it, we would love for you to stop in and say hi. You can check us out in hip downtown Ventura in the
El Jardin Courtyard
(you know that charming little Spanish-style gem in the heart of downtown, near California Street). We can't wait to meet you, get to know you, and assist you in becoming effortlessly chic in Ventura, California.
Discover More
Get to know Ventura, and discover the best things to do around the city.
Ventura Partners With