Posted: Tuesday, Jan 25th, 2022
Where Can You Get Great Seafood in Ventura?
Ventura and seafood are inseparable. Like sunrise and sunset. Like love and Paris. Like Buzz and Woody. And Ventura and seafood are connected by one delicious word. Fresh. And that word makes all the difference. In most of Ventura's restaurants, the seafood comes right out of the sea and right off the boat. Mix in talented and innovative chefs who take that uber-fresh seafood and turn it into something otherworldly and, well, welcome to Ventura.
Added plus, otherworldly can be simple and affordable (see below). And yes, most of Ventura's restaurants have outdoor seating, some of them (The Jolly Oyster) in a big, beautiful, and safe way. And yes, not a whole lot of fancy. Even at our more upscale seafood places, Ventura does casual and family-friendly. At our simpler seafood restaurants, there's, quite literally, room for the kids to run.
Picking Ventura's favorite seafood restaurants is a paralyzing chore. So we asked our fellow Venturans on social media what their favorite seafood spots are in Ventura and here are the results: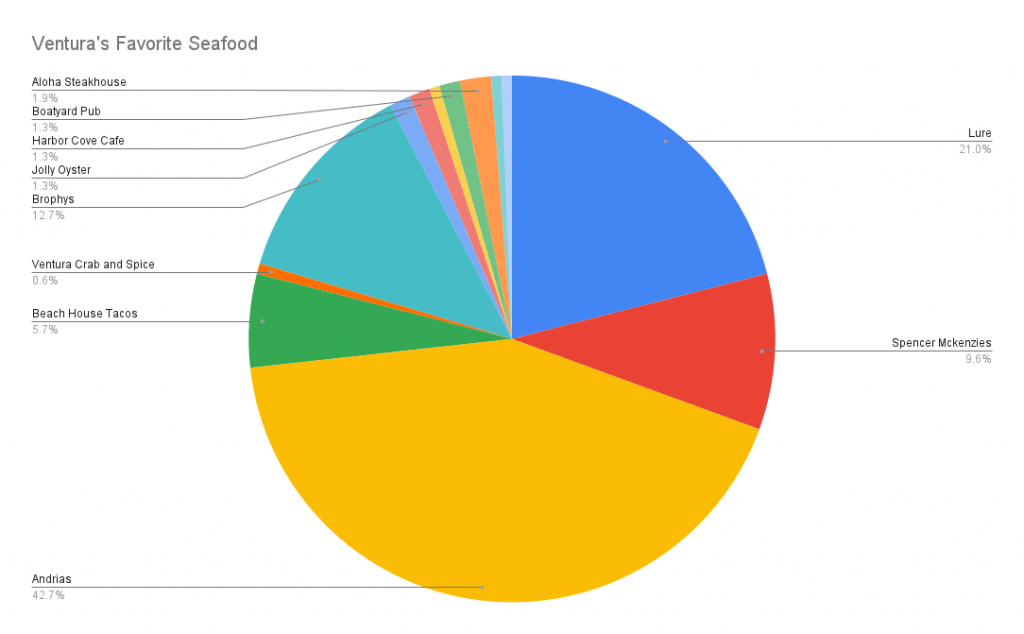 Below, some of Ventura's favorite seafood restaurants. If you know them, lucky you. If you don't know them, lucky you. You've got your delicious work cut out for you.
One last word. In Ventura, we care deeply about our oceans. When you sit down to eat, please try to order sustainably. The Monterey Bay Aquarium and the Blue Ocean Institute have great guides on how to eat seafood sustainably.
Thank you. As the oceans go, so we go.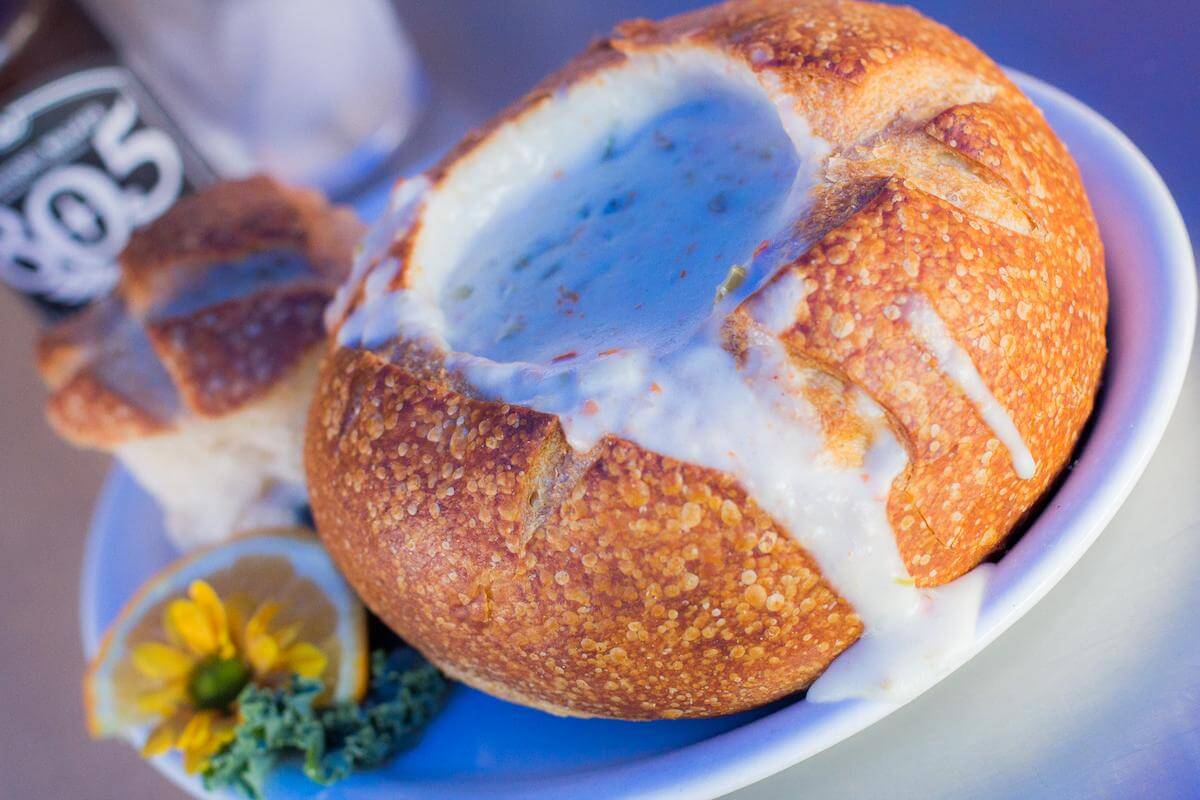 A longtime Ventura favorite. Seafood right off the boat — courtesy of commercial fishing boats a few docks away (there's also an attached seafood market) — Andria's sits on the water at Ventura Harbor Village. Hot, heaping portions of, well, everything. The classic go-to remains clam chowder, made from scratch daily, in a sourdough bread bowl. Post-meal, wander Ventura Harbor Village. If by some miracle you've got room, there's no better (or more imaginative) ice cream than Coastal Cone & Parlor.
Yes, they do their best to serve locally caught – and sustainable – seafood. And a heavenly raw bar featuring oysters, oysters, oysters. No, it's not seafood, but don't skip their key lime pie. After a great meal, wander Ventura's pleasantly walkable downtown with unique shops and, depending on the night of the week, often live music.
Talk about ridiculous seafood largesse in Ventura. Brophy Brothers, in Ventura Harbor Village, is right across the parking lot from Andria's. Again, the freshest seafood – plus, if you ask for a seat on the second floor indoor patio, you get a lovely view of Ventura Harbor and the mountains beyond. Looking to eat delicious and a little light? Three words. Sesame Salmon Salad.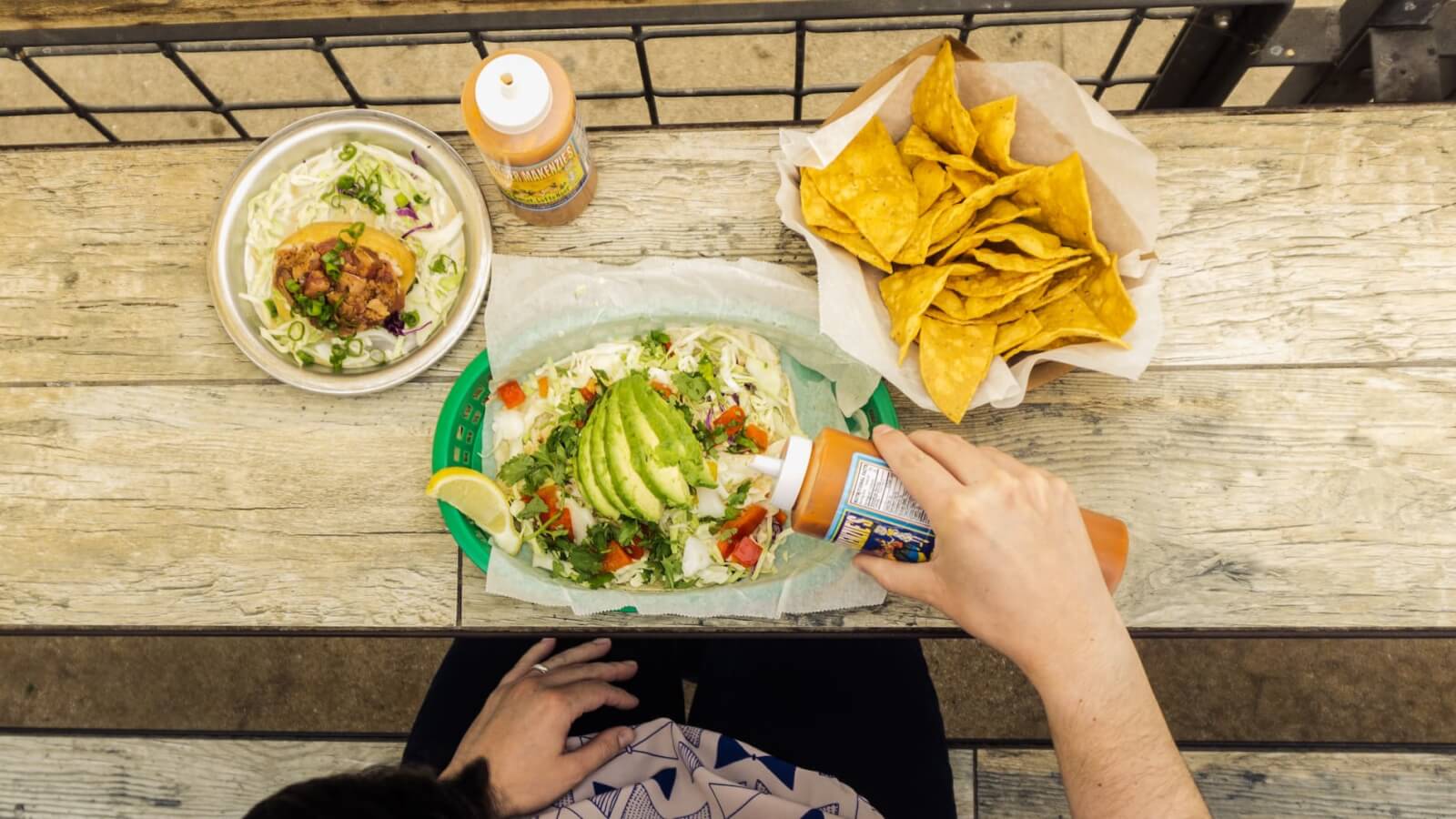 A local favorite; affordable, quick for takeout, with a fun counter inside (and tables outside) where locals line up for all that's right with seafood. Fish & Chips, Ceviche, Homemade Clam Chowder, Grilled Ahi Salad, Parmesan Hard Shell Tacos, Ahi Pockets, yep. But they're famous for their fish tacos, served grilled or tempura-style with cabbage, cilantro, bell peppers, and Spencer's signature sauce.

Beach House Tacos serves tasty, affordable tacos in a no-frills picnic table atmosphere on the Ventura Pier. Great place to have a taco and then walk to the end of the pier for the sunset. You'll pass MadeWest Brewing Company

, also on the pier. Begging the question, thirsty anyone?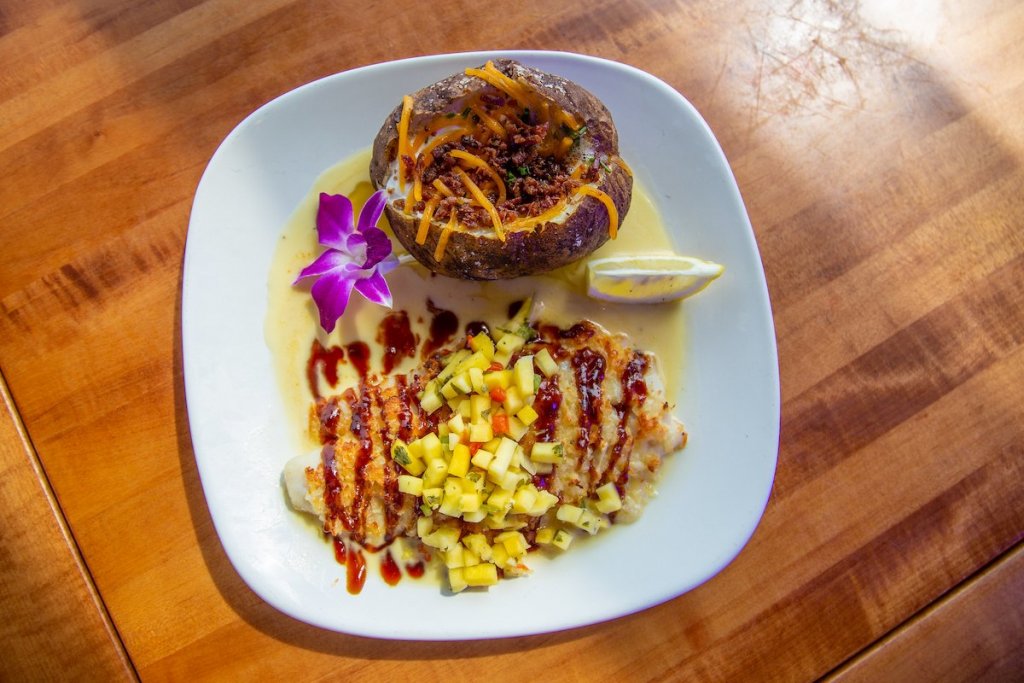 Yes, they do steaks – but they also do mouthwatering seafood. Try the seared ahi with ginger-soy butter. Their Aloha Platter appetizer – a collection that includes a shrimp cocktail, coconut-seasoned shrimp, calamari, and black and blue crustini — should be hanging in the Getty. They're right on Ventura's beachfront promenade, making it a fine place to watch the sunset over the Pacific.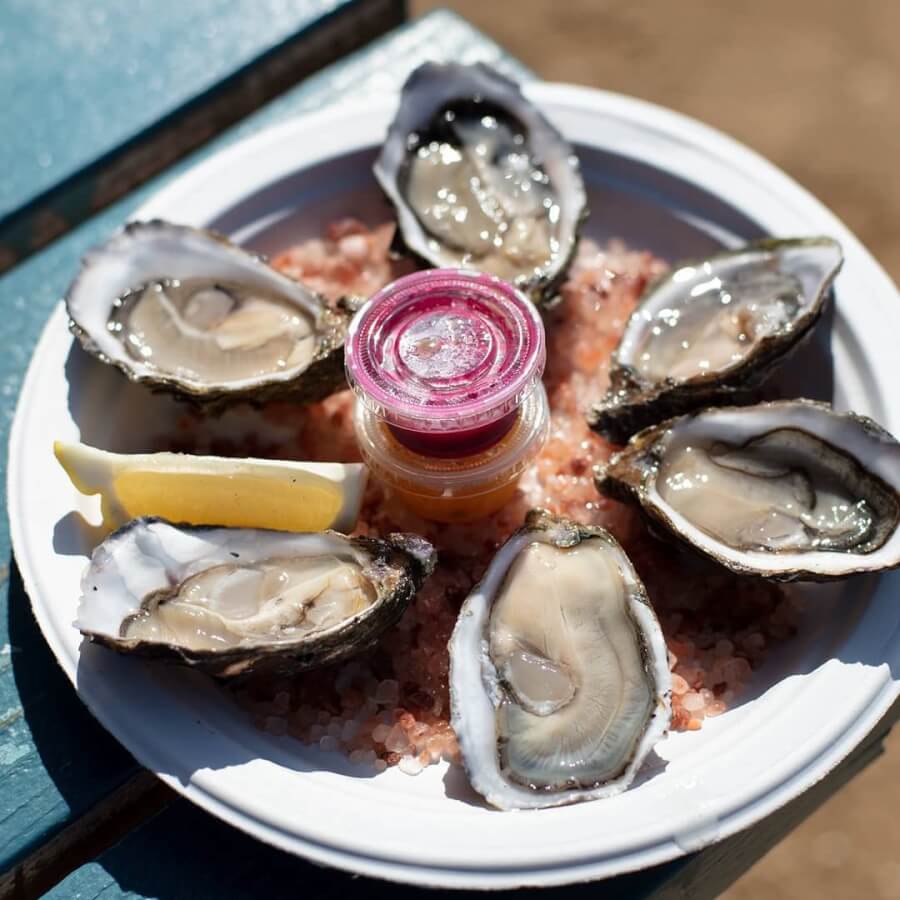 This one kind of outfit epitomizes Ventura — low key, flannel, and salt blown. Operating out of trailers parked in San Buenaventura State Beach Park, The Jolly Oyster sells fresh, sustainably grown oysters and clams still in the shell, and you can eat them, dripping fingers and all, right there on picnic tables in the sunshine, the ocean just over the dunes. Shuck your own or order from the prepared menu. Try the grilled oysters served Jolly style (white wine, parmesan, and thyme).
Tucked at the water's edge in Ventura Harbor Village, the Pub has great seafood and an equally friendly, casual atmosphere. Try their grilled sea scallops, halibut fish and chips, or clam chowder. Better yet, bring enough friends so you can share all three. Inside tip: great Micheladas.
Simple things are good things. The Harbor Cove Cafe is located near the end of Spinnaker Drive (you'll pass all the shops that comprise Ventura Harbor Village). It's just a harbor-side shack with a grassy sward pocked with picnic tables to eat in the sunshine (a great place for the kids to run). They just do breakfast (great breakfast burritos) and lunch, but lunch can be their (deservedly) popular cod and chips. Order the grilled Mahi just for the homemade chipotle tartar sauce.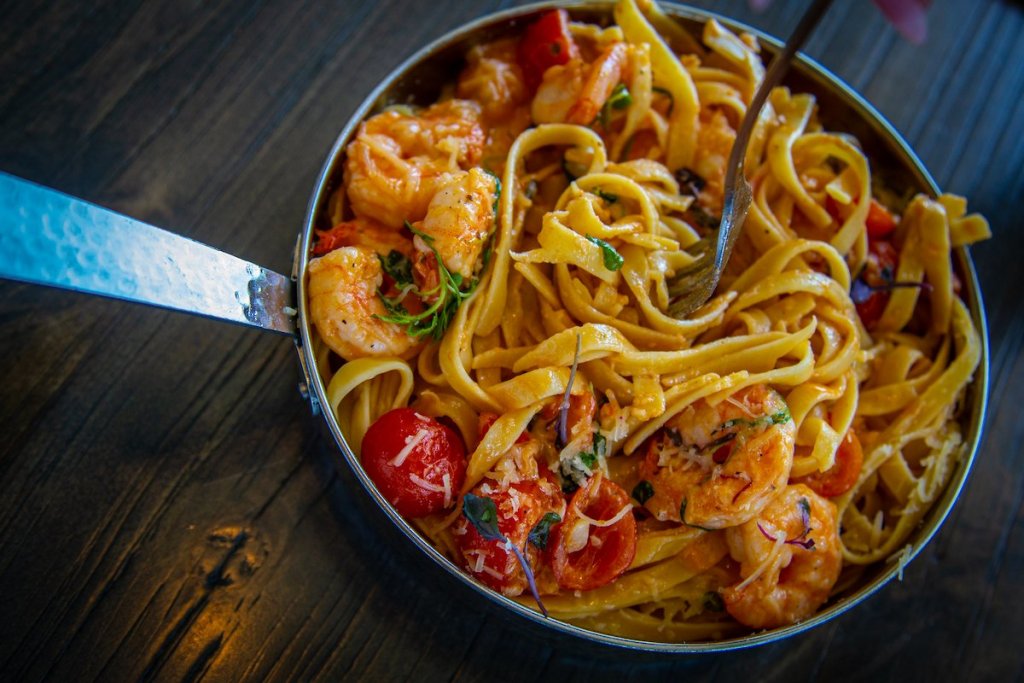 Aptly named, Water's Edge Restaurant serves nicely presented seafood dishes with a lovely sunset and harbor view. They make it a point to source their ingredients locally. Try the chorizo crab cakes. Great clam chowder too. A really nice selection of small plates and wines as well.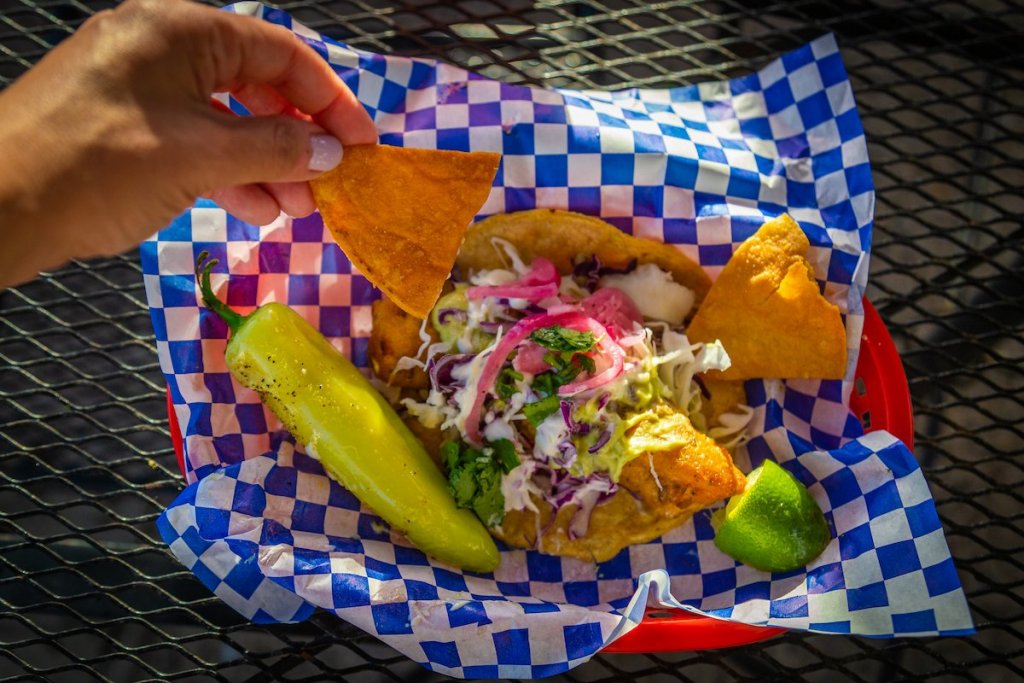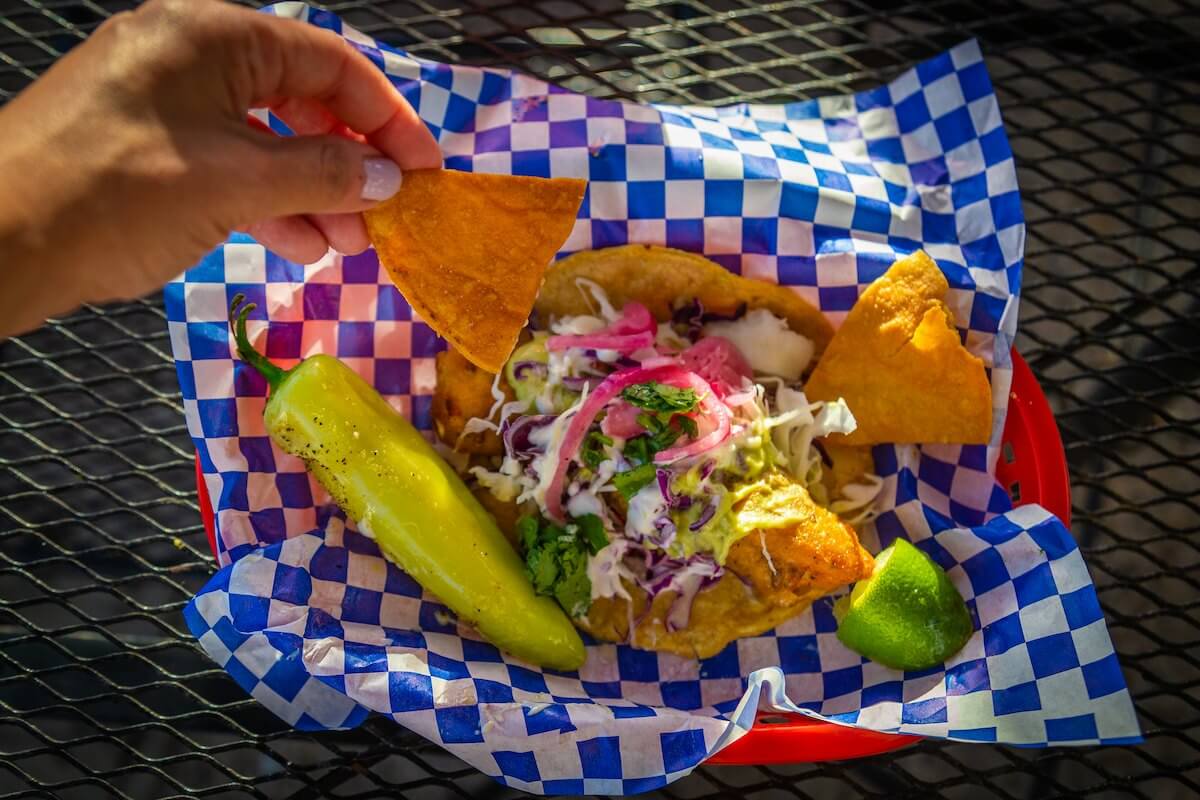 A bit of an under-the-radar secret. Located in Ventura Harbor Village, Baja Surf N Taco uses farm-to-table ingredients – and, yep, the freshest seafood. They're family-owned, and their recipes, and attention to detail, show it. Try the Ensenada-style battered or marinated grilled halibut or delicious seafood burritos. Inside tip: don't neglect their handcrafted Agua frescas. Made with locally grown fruit.
Located downtown, just off pedestrian-friendly Main Street (34 North Palm Street), at Rumfish y Vino you can sit on the lovely patio and indulge in all manner of seafood Central American style: conch fritters, yellowtail tacos, Peruvian ceviche, sea bass with lobster-coconut sauce and, yum, Caribbean fish stew. A little romance? The patio has a nighttime outdoor fireplace.
Located in midtown Ventura (4732 Telephone Road), it's nothing fancy – just affordable and tasty seafood. Try the fried calamari, the oysters, or the mussels in coconut curry sauce. Whispered aside – don't miss the garlic noodles.
Discover More
Get to know Ventura, and discover the best things to do around the city.
Ventura Partners With