Posted: Monday, Sep 2nd, 2019
Six (More) of Ventura's Best Off the Beaten Track Restaurants
by Visit Ventura Featured image by Josiah Roe
We've done this once before, but it bears repeating — otherwise, you might miss out… No one doesn't want you to snatch their table at their favorite spot. Rewarding travel is about exploring hidden corners. Here's what you get when you venture outside the norm. Lost, maybe. But eventually the satisfaction of a special find, and possibly the chance to hobnob with locals who appreciate your extra effort, and the delicious chutney dribbling from your loopy grin.
Casual and tasty, they offer dishes from Nepal, India, and Tibet. Curries, vegan and vegetarian entrees, even Tikka Masala pizza. Don't miss the Samosa appetizer (a crispy pastry wrapped about mildly spiced potatoes and peas, accompanied by homemade mint and tamarind chutneys). If you're not so familiar with South Asian cuisine, their helpful servers offer, well, helpful direction. There's also a
dog-friendly
patio.
View this post on Instagram
Stephen's Market and Grill
Greek and Mediterranean food, in generous portions, served via a bakery, market and sit-down deli. Gyros, kebobs, moussaka, lip-smacking sauces, and homemade baklava with just the right amount of crisp. And Greek family-owned. Plus, easy parking in the adjacent lot.
Diets are overrated — do not miss the almond croissant. It's not just about the fresh-baked goods either — the Caprese sandwich is delicious. It's a little expensive, but worth the expense. And the French have always had the right idea. Locals come here to just talk and spend time together. It's called lingering.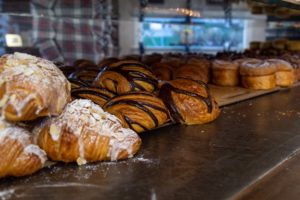 Ferraro's has been a local favorite for a long, long time because the Ferraro family has cared about quality for an equally long time. It's old school; attentive service, Frank Sinatra on the sound system, and attentive chefs. Umpteen can't miss dishes; Sam's (after the owner/founder) Mostaccioli and the Salmon Piccata are two of them.
Two Trees Restaurant and Taps
Killer burgers for starters. Add in tasty seafood enchiladas, a renowned chile verde omelet, and friendly servers. Oh. And a fun selection of local beers. Adventuring alone? Pull up a seat at the bar and order a chorizo burger and your favorite cold beverage. Their Sunday brunch (and their beignets) is a local favorite. Yes, there's a wait, but it's worth it.
View this post on Instagram
It sure isn't a secret, but if you're visiting Ventura for the first time, Pete's might be new (and good) news to you. Pete's has been serving breakfast to Ventura since 1981. When the original owner, Pete Ransom, sold his place to Peter and Lyndsay Timpson in 2003, the three agreed to keep Ransom's recipes and let no employee go. It's that kind of place. Everything's good, but you would be remiss to neglect the fresh-baked biscuits with gravy.
For more great stories, request our FREE inspiration guide right to your door!
Check out upcoming events!
Discover More
Get to know Ventura, and discover the best things to do around the city.
Ventura Partners With