Posted: Friday, Aug 7th, 2020
How Do Things Currently Stand in Ventura With COVID-19?
by Visit Ventura
COVID-19 has altered our landscape; a global situation that stretches far beyond tourism and our town of Ventura. First and foremost, our hearts go out to those affected — and our heartfelt gratitude goes out to all those working so hard to address this unprecedented challenge. The brightest minds in the world are working on this. Proving yet again that, in the worst of times, the best of humanity rises.
Here in Ventura, we are trying to emulate the actions of our front line heroes, adjusting to changes with innovation and creation (and a little bit of perspiration).
All of this can be overwhelming — and ever-changing — so before we move on to the facts, we'll address the equally important matter of the heart. We know that all of us — from the Visit Ventura team, to our local residents, to our treasured visitors — we are all just trying to do the next right thing. And that it isn't always easy. So please be kind to each other — and wear a mask.
We are all in this together and together is always better.
Here's how things currently stand as of today, Friday, August 7th. If we don't answer your questions here, please call us at the Ventura Visitors Center (805-641-1400 or email ) and we will be happy to help you. If no one is in to answer your call, we will return your call as soon as we get your message.
Are hotels and short-term rentals open?
Yes. Please call the hotels directly for information. Already have future bookings? Please confirm those bookings directly with the service provider.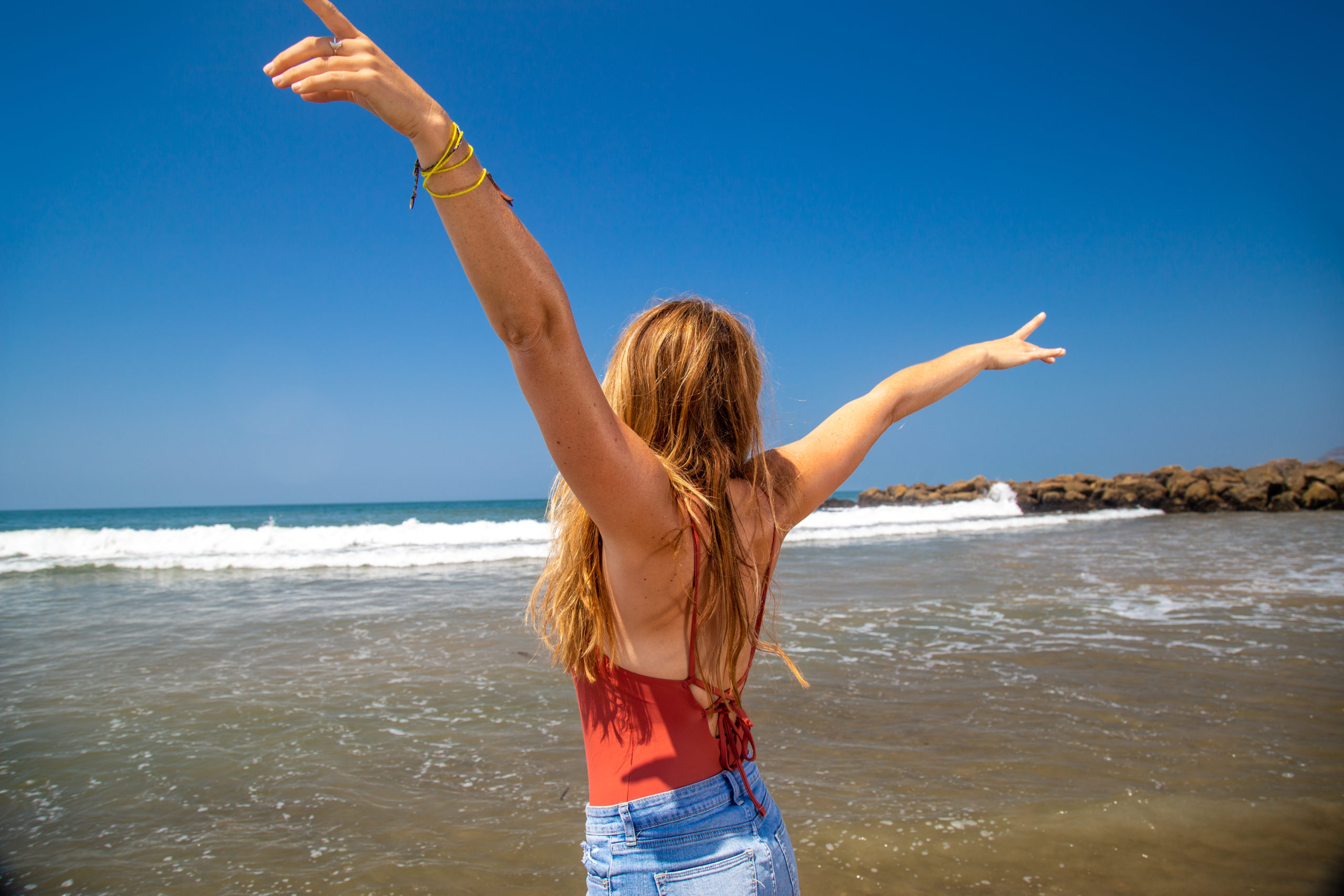 Are the beaches open?
Yes. Ventura's beaches are open for active and passive use; you can sit and sunbathe as long as you keep a safe physical distance of six feet. Congregating in large groups outside of your immediate household is not allowed. Neither are group activities such as volleyball, football, and soccer.
Are parks open?
Yes. Ventura's parks are open for active and passive use; you can sit and picnic as long as you keep a safe physical distance of six feet. Congregating in large groups outside of your immediate household is not allowed. Neither are group activities such as volleyball, football, and soccer.
Are public restrooms and parking lots at parks and beaches open?
Yes.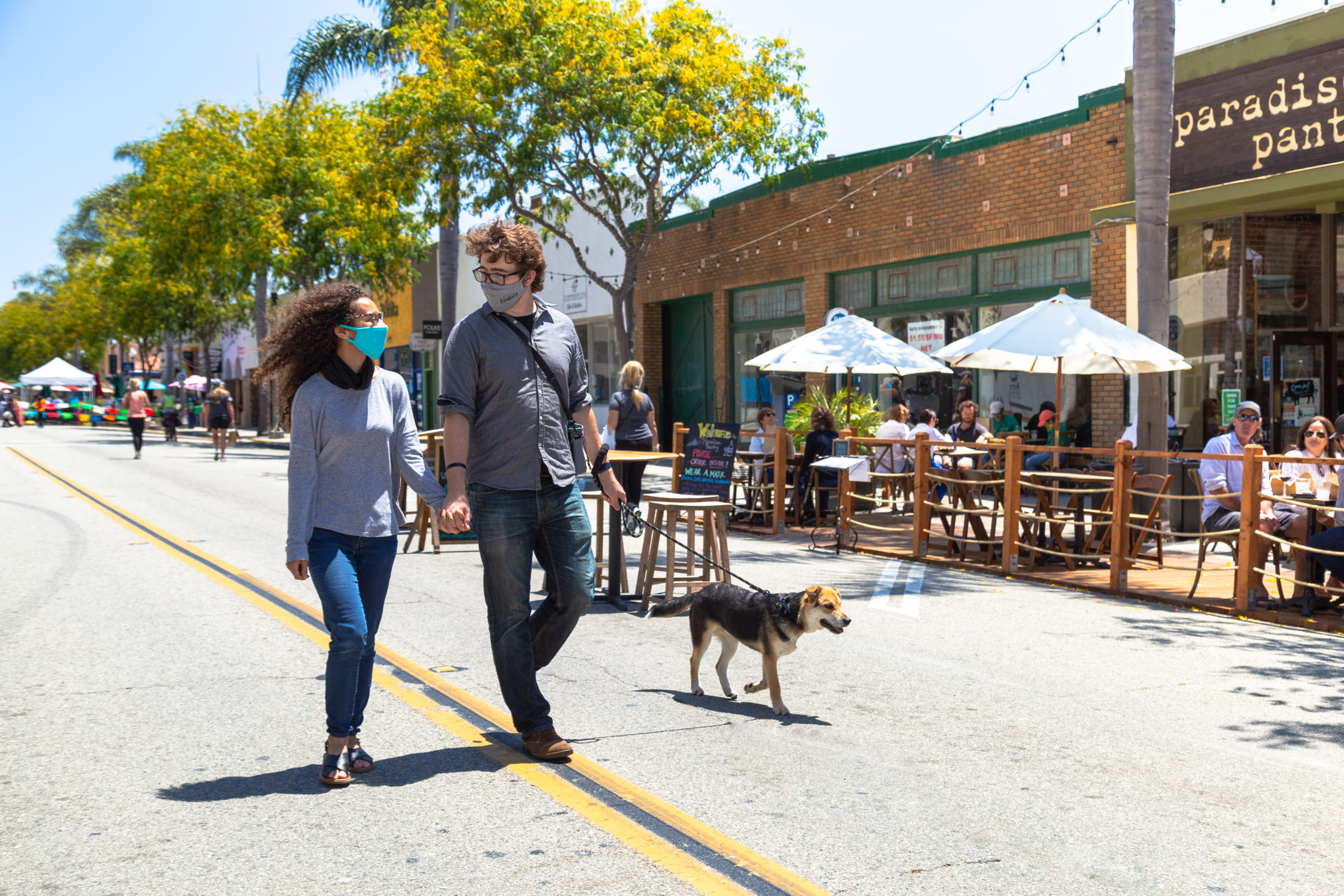 Are restaurants open?
Due to California Governor Gavin Newsom's most recent orders, Ventura restaurants cannot offer in-restaurant dining. However many restaurants are offering outdoor dining, as well as delivery service and take out. Please check the individual restaurant websites to see how they are handling the most recent changes. Please see more on outdoor dining below (under new and exciting news:)).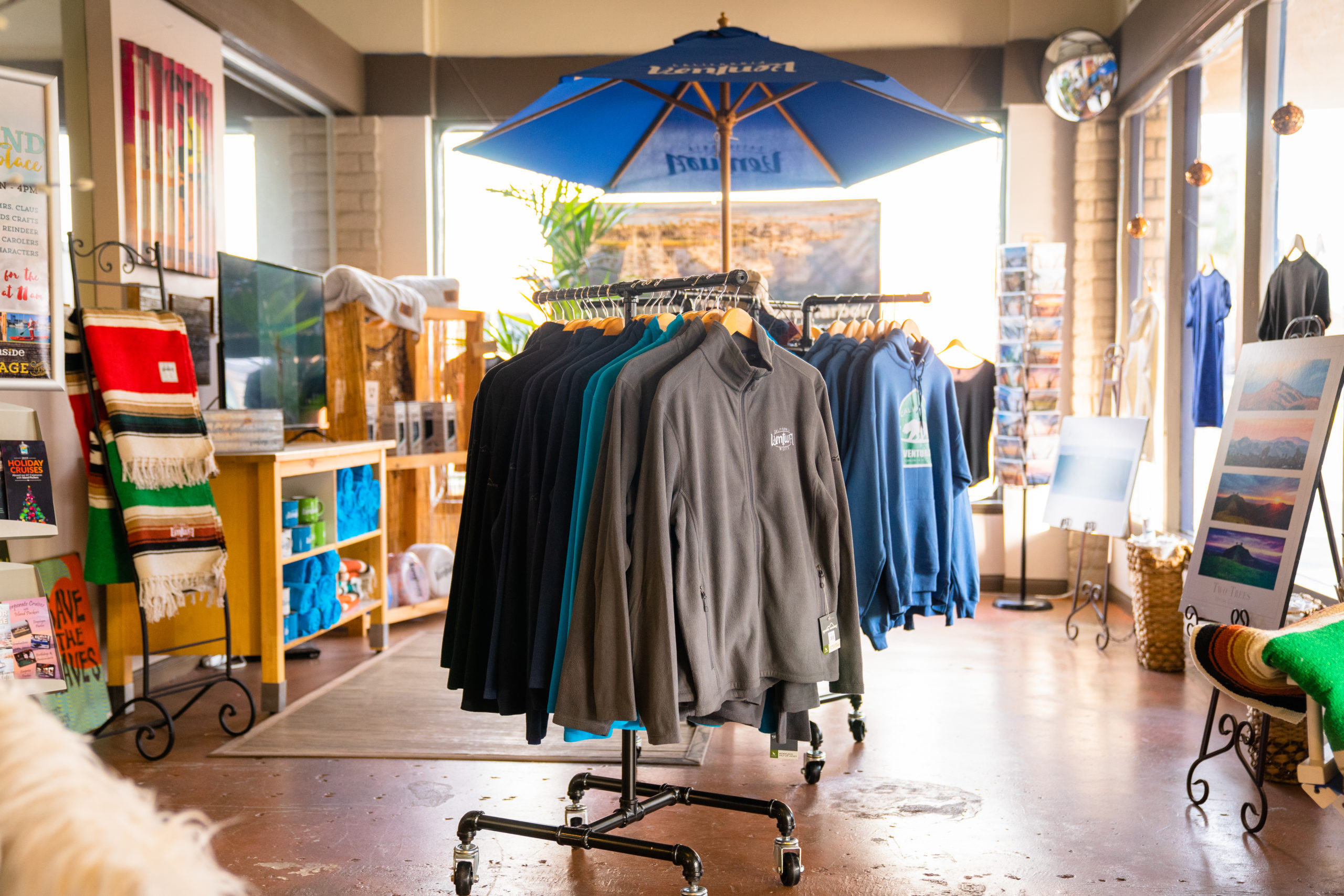 Are retail stores open?
Yes, most Ventura retailers are now open for in-store shopping; while also offering curbside pickup and online sales. More happy news, our own Ventura Visitors Center is now open Wednesday through Sunday from 10 am to 3 pm. We are closed to the public, for the moment, on Mondays and Tuesdays. But our online store is open 24/7 — and we are offering curbside purchase pickup, Wednesday through Sunday, again from 10 am to 3 pm. Have questions? Please call us at 805-641-1400!
Please click here for more info on Downtown Ventura businesses.
Please click here for information on Ventura Harbor Village businesses.
Are bars and wineries open?
Our bars, wineries, and tasting rooms are currently closed for indoor operations, but they are allowed to operate outdoors and many are. Many also offer takeout. Again, please consult their websites for information.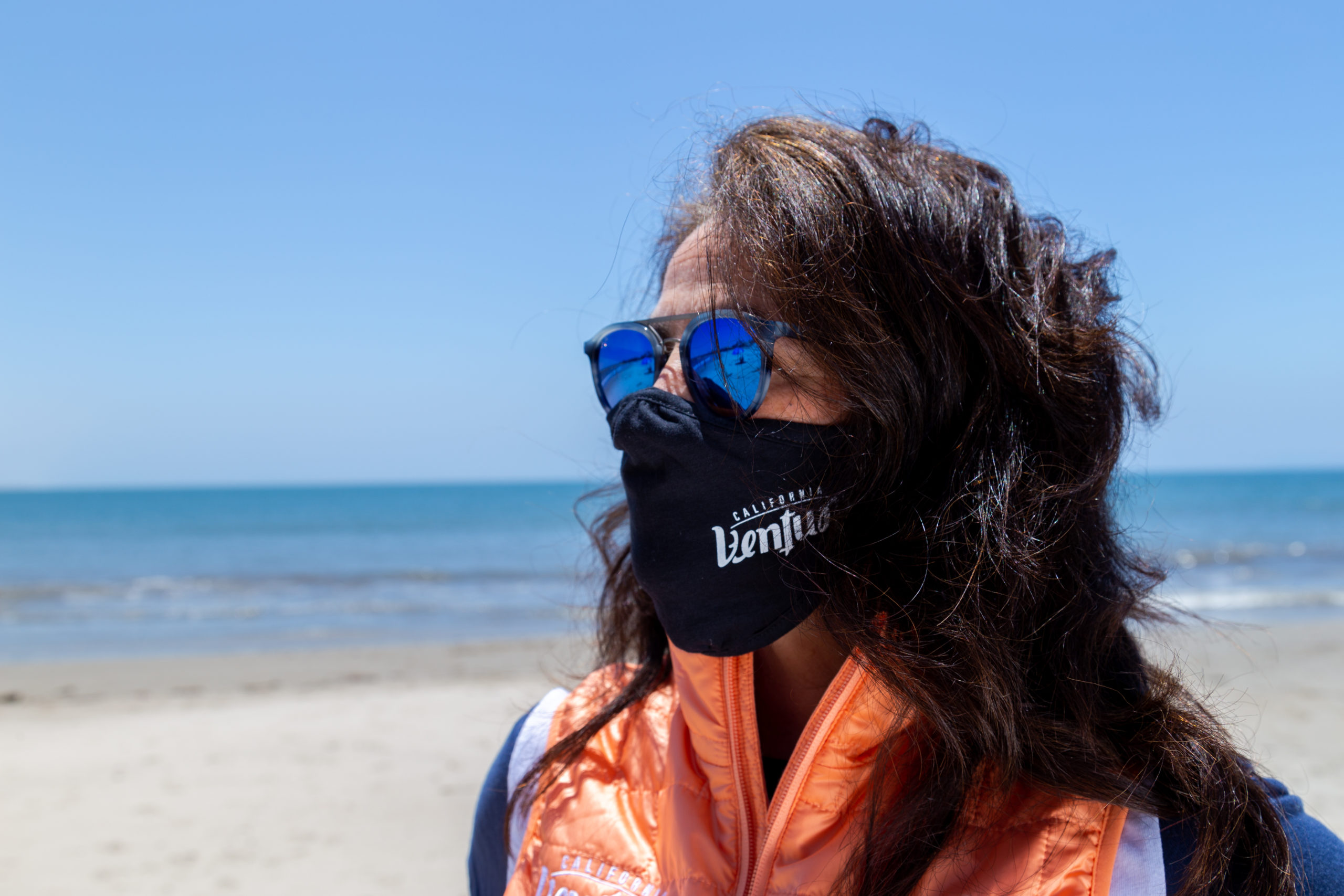 Do I have to wear a mask in Ventura?
Yes, please. In accordance with California Governor Gavin Newsom's state-wide mandate, masks must now be worn while in all public indoor spaces. They must also be worn outdoors when social distancing of six feet isn't possible. So on Ventura's beaches, you can take off your mask once you get settled on the beach — as long as you're at least six feet from others. Thank you for understanding — and caring about others.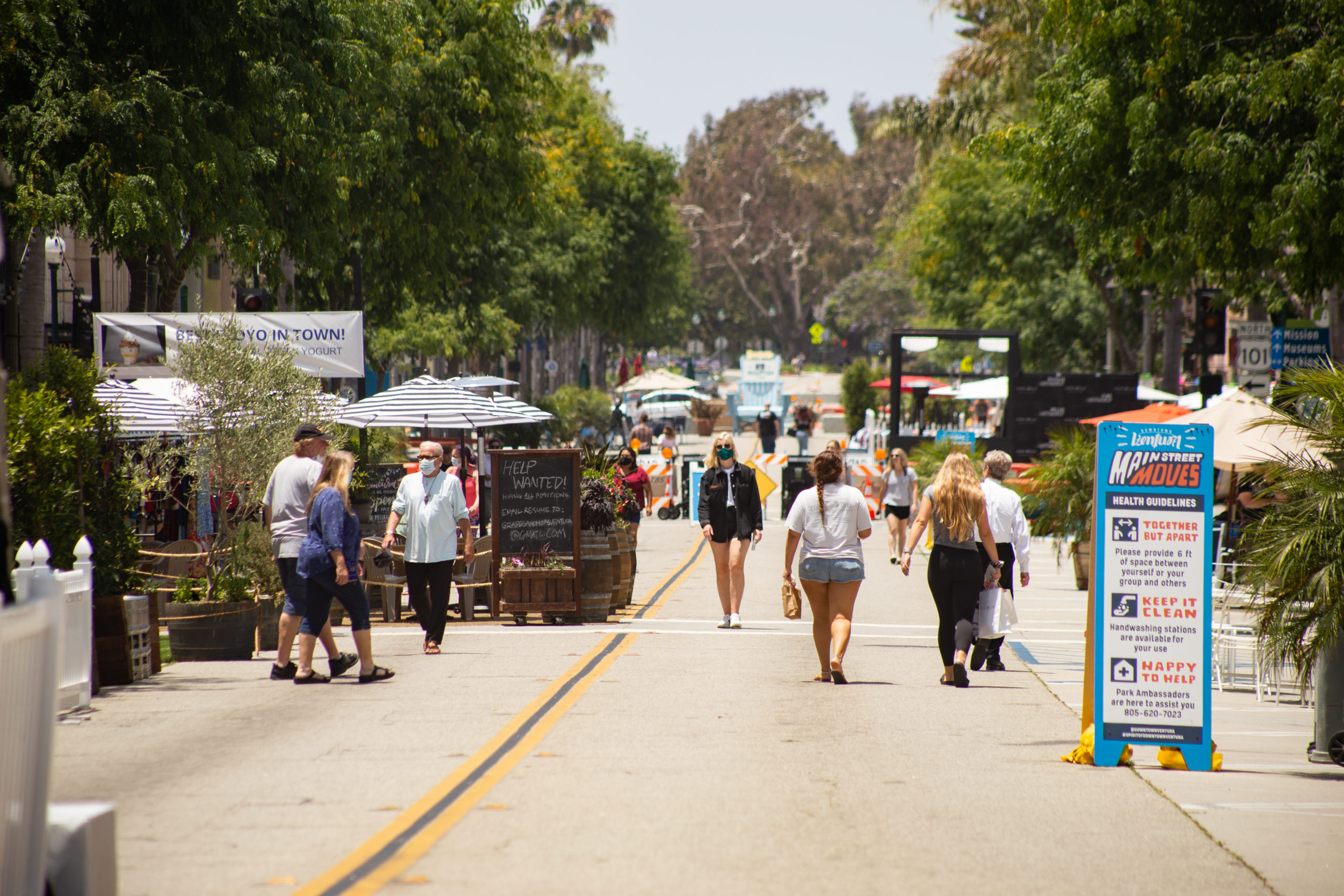 Any new and exciting news?
You bet. Ventura has adapted to the challenges of COVID-19 with creativity. We recently closed five blocks of Ventura's downtown Main Street to traffic, making an easily walk-able downtown more walk-able still. Along the five-block stretch (from the San Buenaventura Mission to Fir Street), restaurants are offering outdoor seating, retailers are moving their wares out on to the sidewalks, and you can stroll down the middle of the street (allowing for social distancing). There are also tables with umbrellas and chairs in the closed-off area (which our kind city workers will keep clean). Think Europe — by the sea.
Are campgrounds and RV Parks open?
Yes.
Are barbershops, hair and nail salons, and massage therapy businesses open?
Barbershops, hair and nail salons, and massage therapy establishments are open for outdoor services only.
Are museums, gyms, movie theaters and family entertainment centers (bowling, miniature golf, batting cages) open?
No. They are all closed at the moment per Governor Newsom's most recent mandates.

Can I go to Channel Islands National Park?
Yes, Island Packers is running trips to the Channel Islands. Island Packers is currently offering trips to Santa Cruz, Santa Rosa and Anacapa Islands (day trips and camping), as well as three-hour island wildlife trips and six-hour whale watching trips (and it's Blue Whale Season!). Yes, some things are different. For one thing, there will be limited space on the boats — 40% capacity to allow for social distancing. For another, everything could change (they are accepting reservations, but with that caveat. Please see their website or call 805-642-1393 for additional important information).
What else is still closed?
Playgrounds remain closed.
How can I learn more about Ventura?
Please go to our website for more information. You can also use our hotels page to search for midweek hotel discounts. If you come to Ventura midweek, you won't need the web to see that it's uncrowded.
How can I read more about Ventura?
Shopping, dining, hiking, beach-going, beer-quaffing, wine-tasting, and all manner of fun in the sun is what Ventura does best. And you can learn about much of that fun in our Ventura Inspiration Guide. Please order our FREE 2020 Ventura Inspiration Guide here. Or take a look at our virtual guide… here.