Posted: Tuesday, Aug 15th, 2023
What's New in Ventura? Events and Businesses to Check Out in August 2023
In Ventura, there always seems to be something new going on. Whether it is a new event coming to town or a new store, Ventura is the perfect place for adventurers looking for an unexpected and unique path to follow. And to no one's surprise, we love to keep you up to date on what's new in Ventura. This August, we welcome two new businesses in town. And we've added some events to look forward to this month as well.
Read on to learn more about our new neighbors and which events to put on your calendars this August!
Freedom Coffee
Elevate your beachfront experience with Freedom Coffee! Conveniently located at the end of California Street on the Ventura Promenade, Freedom Coffe serves a carefully cultivated selection of high-quality coffee and treats. Co-founder Andy Kirkwood explains that Freedom Coffee believes in connecting with people, enriching the community, caring for the planet, supporting positive mental health, and enjoying the present moment with a great cup of coffee. What better way to do that than right by the beach?
Grab a cup of locally roasted coffee along with snacks and a selection of ice-cold beverages and ice creams. Freedom Coffee also offers vegan and gluten-free options, and even has treats for your furry friends! Their must-try signature drinks include Hawaiian Mocha, California Latte, and Hibiscus Iced Tea. Coffee is always better at the beach so come "stop and smell the coffee" on the boardwalk today.
Daylight and Moon Cafe
Daylight And Moon Cafe is coming soon to Ventura! Located in Midtown Ventura, Daylight and Moon Cafe is excited to serve not just deliciously roasted coffee but also beer, toast, and good vibes. The cafe's coffee is locally roasted and made with organic ingredients. Local beers and wines will also be offered at the cafe along with sweet and savory toasts. Fun new food recipes will be featured frequently — you never know what delicious treat you might get at Daylight and Moon Cafe! Bring your friends and stay for a while!
The aptly named Cool Breeze Century ride is actually five rides, giving everyone an option. There's the Classic Century (100 miles, with just the right amount of hills, and a whole lot of cool ocean), the Hilly Century (yep, more hills), the Double Century (yes, there are hills and twice the distance, but still cool and reasonable), the Metric Century (fairly flat and a bit short of 100 miles) and the Mini (just a fun 30-mile jaunt, mostly beside the ocean). A delicious Peirano's after–ride buffet is included in the entry fee. Click here for more information!
Spencer Makenzie's Throwdown Festival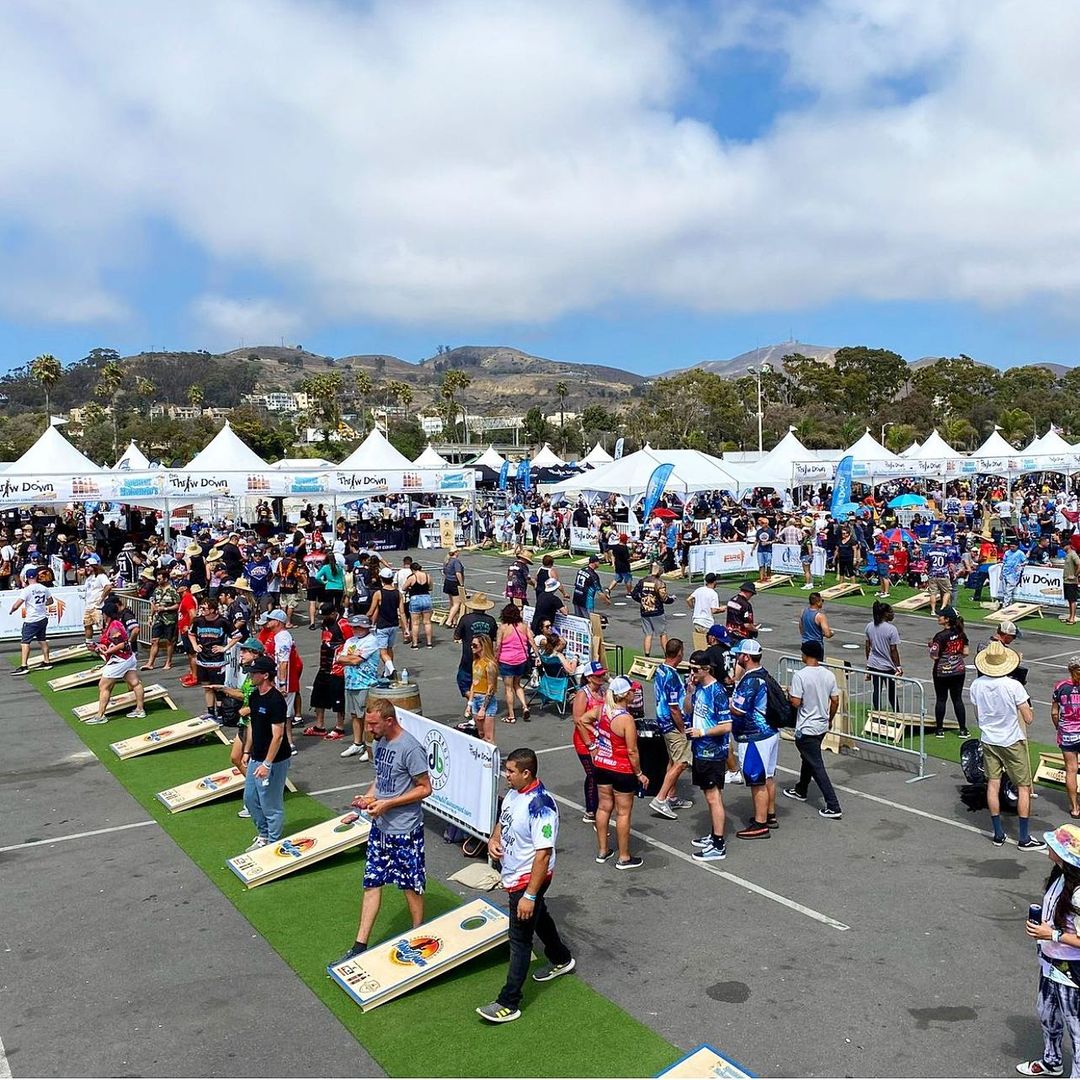 You can't miss the largest cornhole festival in the world! That's right, you read it. The largest cornhole festival in the entire world is right here at the Ventura County Fairgrounds. 1,280 teams battle for over $300,000 in cash payouts each year. Sign up yourself or watch the tournament as a spectator. You can expect great food, live music, and other games during this popular summer event. Plus, enjoy a new addition to the weekend lineup: a car show on Saturday, highlighting vehicles from the late 1950s to 1980s. Click here for more information or to sign up for the tournament!
Ventura Land Trust Wild and Scenic Film Festival
Don't miss this year's Wilds & Scenic Film Festival, hosted by the Ventura Land Trust. The organization's largest annual event to raise funds to protect and conserve Ventura County's open spaces inspires environmental activism and a love for nature through film. The film festival shares an urgent call to action, encouraging festival-goers to learn more about what they can do to save our threatened planet. Tickets are on sale now.
Outdoors


Beaches & Surfing
Food & Drink


Restaurants
Discover More
Get to know Ventura, and discover the best things to do around the city.
Ventura Partners With