Posted: Friday, Jun 4th, 2021
On National Doughnut Day, Ventura Celebrates the Doughnut
by Visit Ventura
Ah, the doughnut. Humble ring of fried dough. Round (well not always, witness the glorious gift that is the bear claw) and perhaps turning us a wee bit rounder (Buddha advises we all have a little tummy). You can smear peanut butter on it. You can dunk it. You can spill it down your front because it tastes just as good eaten off your shirt. National Doughnut Day (June 4th) — here in
Ventura
and across the nation — hearkens back to a 1938 event created by The Salvation Army in Chicago to honor Salvation Army members who served doughnuts to soldiers during World War 1. And yes, if you'd like to contribute to a worthwhile cause, in some cities and towns (why not Ventura?), National Doughnut Day remains a fundraiser for
The Salvation Army
. A second interesting historical footnote, the Dutch are credited with first bringing the fried pastry to America. They brought them before the Revolutionary War and called them "olykoeks." This translates to "oily cakes." You might see the early marketing problem, but it is a problem no more. It's estimated that well over 10 billion doughnuts are made in the U.S. each year. And some of the best are made right here in Ventura. National Doughnut Day also raises a last obvious question. Who in their right mind would celebrate the doughnut on just a single day? Perhaps this is why there are other slightly less trumpeted doughnut days, ranging from National Cream-Filled Doughnut Day (September 14th), to Buy a Doughnut Day (October 30th), to National Jelly-Filled Doughnut Day — happily just four days from now (June 8th). Get your Doughnut on. There's no better place than Ventura…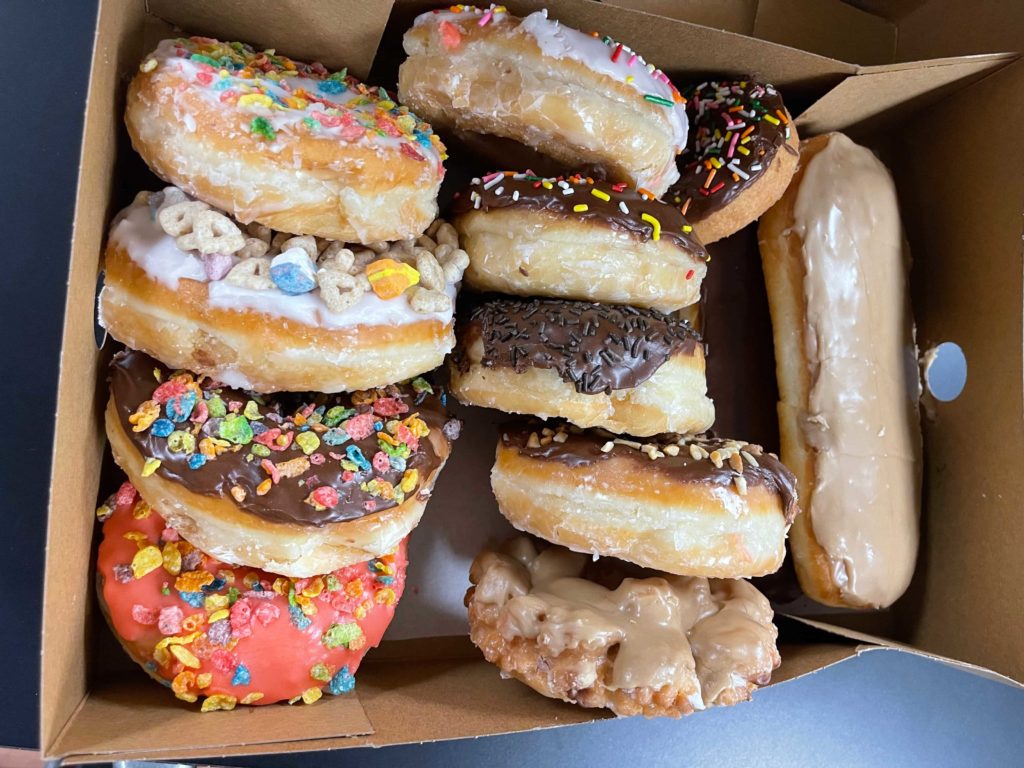 Terrific doughnuts, fair prices, and friendly owners who won't question your order of two dozen bear claws.
KD Village Donuts
Amazing doughnuts. Rumor is they also have some of the best croissants in Ventura.
Fresh coffee, fantastic donuts. If you can resist temptation, make the two-minute drive and eat them at the beach.
On Ventura Avenue, the best little donut stand you may have never heard of.
View this post on Instagram
Great donuts. You might also want to try their apple fritters and green tea boba.
You won't find more variety.
View this post on Instagram
You won't find delicious vegan doughnuts everywhere, but you will find them here. They have a huge vegan doughnut selection. And you better walk out with a cupcake (or three) as well.
Great variety, great taste — and take home the ham/cheese/jalapeno croissant for later. Some say there's a reason they are called Master's. And yes, we realize we have spelled "doughnuts" "donuts", or maybe vice versa. For the fussy grammarians,, there's reason. The official dictionary spelling is "doughnut." But it is also true that the Americanized spelling — "donut" — has been around since the late 19th century. Though it lingered in obscurity for almost 100 years until a Massachusetts-based chain started taking off. That would be "Dunkin' Donuts." The doughnut, food even for thought.
Discover More
Get to know Ventura, and discover the best things to do around the city.
Ventura Partners With