Posted: Thursday, Mar 12th, 2020
Made in Ventura with Steve Walden's Surfboards
by Visit Ventura
In the right hands, shaping a surfboard is art, an alchemy of NASA engineering and Sistine Chapel genius. That artist would be Steve Walden.
Walden has been shaping surfboards
for nearly 60 years. Hard work, talent, and an unabashed love for surfing have earned
Walden global recognitio
n. Not that he cares much. Walden is as understated and modest as his home town. But Walden is also Ventura proud. And so the
"Made In" logo
on this beautiful 9-foot longboard — and Walden's participation in
Visit Ventura's "Made In" program
. The "Made In" program works simply. Visit Ventura teams up with business partners whose distinctive products are made in Ventura. Our
Ventura ambigram
(Upside down or right-side up, it represents a town committed to community) goes on some of their products. Product and ambigram go home with our visitors, rightly reminding those visitors how special we are. And perhaps reminding them that they should return. But at its heart,
"Made In"
is really a show of pride, and a message of collective support for a very special town. Walden sees things clearly and simply.
"With the whole "Made In Ventura" campaign," he says, "I thought, 'Why don't we do something that supports that?'"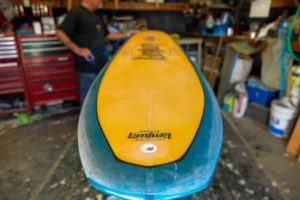 And so the beautiful longboard that now hangs — proudly — in the
Ventura Visitors Center
window (and it's for sale!) But really, it's not about promotion. It's about loving what you do — and if you are very lucky, where you do it. Watching Walden shape is an exercise in joy. He doesn't have to dress up. His tennis shoes are severely spotted. His hands move smoothly and certainly over the surface of the board; its perfectly smoothed edges a perfect contrast to Walden's bumpy, work-hardened hands. Walden works beneath a ramshackle tin-roof in a cramped, tool-jumbled room that looks like Lowes, only a whole lot more used.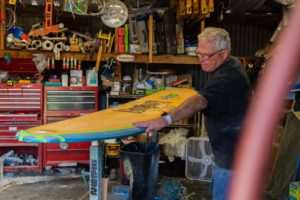 Steve Walden has found his place. And he has found it in a very rare town. Walden looks up from the board. He's not a big smiler, but he's a genuine smiler.
"I really enjoy this."
Isn't it nice to accept nothing less than happiness? If you proudly work/play in Ventura, quite possibly, you understand …
For more great stories, request our FREE inspiration guide right to your door!
Check out upcoming events!
Discover More
Get to know Ventura, and discover the best things to do around the city.
Ventura Partners With