Posted: Monday, Feb 17th, 2020
What's New in Ventura?
by Visit Ventura
There's plenty that's new in Ventura. From Aerial Yoga to craft beer happily, happily rooted, fun in Ventura is being elevated to new heights. And why not? Fun is what we do.
Immigrant Son Caffe opened in January, and it's aptly named; family permeates everything they do. The best traditions in Italian-American cooking have been passed down from generation to generation. For now, they serve breakfast and brunch (eventually they plan to extend those hours into dinner). Don't miss the homemade pizzelles (in honor of Nonna). And maybe start with the Bacon Flight appetizer. Yes, bacon comes in smoked applewood, jalapeño, pancetta, parmesan and garlic, and honey sesame flavors. Also tasty fun, they can whip up your latte with the image resting easily on top. Co-owner Alessandro Tromba calls their special latte machine the "
Ripple Maker
." Using a smart device app, you upload your own image, and presto, that image sits atop your latte. Check out their FB page for some fun examples.
Ventura's newest yoga studio – and tea lounge (more in a moment) — is owned by local entrepreneur Kristen O'Briant, who created her studio with the community in mind. Hence Aum Vibe's boutique tea bar and lounge, with offerings that include 23 loose-leaf varieties, 4 different chai blends, Matcha and golden mylk, and the chance to visit in a relaxed atmosphere. Yep, there's also yoga — over 40 classes, at all levels and in many styles of yoga (Prana, Power, Aerial and on). Happy plus, they offer classes for visitors at affordable prices (currently, three out-of-towner classes for $33).
Transmission Brewing opened at the beginning of the year to great reviews (and, with over a dozen craft breweries, Ventura knows beer). Try their Downshift Pilsner — crisp, light and pleasantly hoppy. Looking for something different? Their Tom Collins Hard Seltzer has all the flavors of your favorite cocktail in a 4.7% fizzy Seltzer. Added fun, a new Topper's Pizza also opened right next door. From inside the brewery, you can walk into the Toppers. If there's a better combo than pizza and beer, well… The inside is expansive, there are outdoor patios, and, in Ventura-style, they're dog-friendly.
Topa Topa Brewing Company is no newcomer to the Ventura craft beer scene or Ventura style. They believe in thinking big but staying special and small; they've been brewing big (award-winning beers) and serving happy at their East Thompson Boulevard (104 East Thompson) location for a long time. But now they've opened a more expansive (yes bigger, but only in the physical sense) brewery on Colt Street, that also has outdoor seating and places for the kids to play. Same great beer — from their Chief Peak IPA to their Flatlands Saison — live music, and food trucks.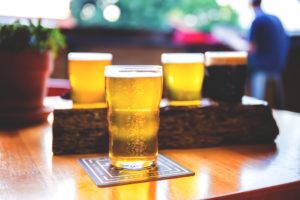 MiDici opened in December, and, along with delicious wood-fired pizza, they deliver a sense of fun. You go through the line and pick your ingredients, and their certified pizzaiolos (pizza makers) cook your pizza in the open, center-stage kitchen. Neapolitan pizza goes back 300-plus years, and they've honed the recipe to somehow produce chewy-crisp dough. Wines selected by a sommelier and, yes, craft beers picked by a beer chef (sorry, they filled the job).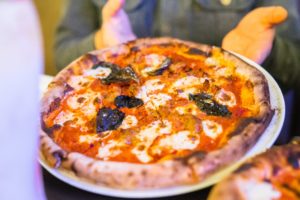 Top This Chocolate opened in October at the already family-friendly Ventura Harbor. Keeping family-friendly in mind, here you build your own chocolate bar. Choose your chocolate, pick your toppings (over fifty), decide whether you want it in a bar, a square or a heart, and maybe even have it imprinted with the name of someone sweet (sorry). Founder Shana Elson has a sense of fun — and it permeates the place.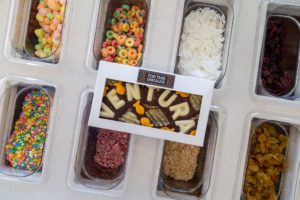 Also opened in October, and also located at lovely Ventura Harbor, owner Katie Adams opened her bath and body boutique inspired by her baby daughter Lei's need for safe, natural skincare products. Making good use of California's cornucopia of native fresh ingredients, Katie's products are healthy for your skin, environmentally safe, and cruelty-free, with no harmful ingredients. Plenty of innovative creations, from handmade donut bath bombs to cupcake soaps.
For more great stories, request our FREE inspiration guide right to your door!
Check out upcoming events!
Discover More
Get to know Ventura, and discover the best things to do around the city.
Ventura Partners With