Posted: Friday, Jul 3rd, 2020
On Feel Good Friday, Meet Ventura's Carson Peterson. It Feels Good.
For several weeks now we've been supporting local with "Feel Good Fridays," a chance for all of us to get out and help our local businesses. But on this Feel Good Friday, we're taking a different tack.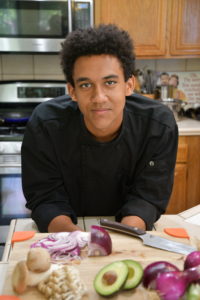 Meet Ventura hometown hero Carson Peterson. Yep, he's a hometown hero because his progress through the cooking ranks has been, well, nothing short of heroic. Carson started helping his Nonna cook when he was four. At eight, he became her sous-chef. At 13, he saw an ad for a Top Chef Junior casting call on Facebook. He had a basketball game the same day. He decided that if the game ended on time, he would audition. It did and he did. It was his first cooking audition ever. He was called to the second round; a cooking demo where he had to prepare a dish using a bag filled with mystery ingredients. He was called to the third round; a boot camp where he completed challenges in the test kitchen. He was one of twelve selected — six boys and six girls, ages ten to thirteen — from across the country. Meet Carson Peterson, Top Chef Junior Contestant. But, more important, he's a hero because he always gives credit to others (his Nona, his mother and father, his little sister Cara who, he claims, is a better cook than him). And he gives to others. Just this Father's Day, Carson and his dad Calvin hosted a special live stream Father's Day and Juneteenth Commemoration on the video streaming site Symposium, the father-son duo discussing the history of Juneteenth as Carson cooked up his famous "Not Yo Mama's Burger." Money raised by the live stream benefited the Big Brothers and Big Sisters of Ventura County and Southern Nevada. And now Carson is even giving to you (read to the end). Like any genuine hero, Carson realizes he stands on the shoulders of others. "I wouldn't be where I'm at in my career if it wasn't for my family, and that includes my father," says Carson. "He is a strong black man and an incredible role model who has always encouraged me to reach for my goals no matter what." So here's to Feel Good Friday. Because people like Carson, well they just make you feel good. And if you're a teen (or a teen in your heart), here, courtesy of Carson, are a handful of fun Ventura things to do …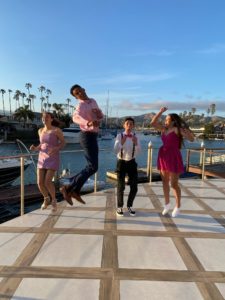 One of the things my friends and I love to do is go hiking at Arroyo Verde. Not only is this a place where I train with Casitas Rowing (great running hills), but my friends and I go up into the trails all the time and we even picnic once in a while. After we hike we usually walk down to the Ventura Pier where some of my friends love to go surfing up at Surfers Point. We also love to hang out at Beach House Tacos for a bite to eat.
Anytime I go out, I usually end up downtown. All the girls like to go thrifting at the many thrift stores downtown, while the boys hang out and watch the skating right outside the Visit Ventura headquarters.
A lot of my friends live in the Ventura Keys so we go to the Harbor a lot to kayak and paddleboard. We even fish off the kayaks around Marina Park.
One of the best places to have a picnic lunch with family or friends is up by the Cross, where you can see the most beautiful view in Ventura. You've got the ocean directly ahead, and on one side you can see Ventura's awesome farming culture, and on the other, you can see downtown Ventura's beautiful architecture.
My favorite place to go swimming is at Schoolhouse Beach right behind Pierpont Elementary School. You're bound to see someone you know there — it's the hotspot for all the school kids in Ventura.
At Ventura Harbor, I love to go get ice cream at Coastal Cone and then go visit the arcade right next to it.
And if you can't cook quite like Carson, well he's happy to help you out too. Here's his recipe for Pasta Aglio E Olio ("Perfect for anyone!") — so you can cook up a dinner treat for your own heroes. Pasta Aglio E Olio 1 pound of dried pasta (spaghetti or linguine works best) 1/2 cup of olive oil 8 garlic cloves sliced thin or finely chopped 1/4 cup fresh parsley roughly chopped (plus extra for garnish) 1/2 cup cherry tomatoes sliced in half lengthwise Crushed red pepper flakes (to taste) 3/4 cup grated parmesan (plus extra for garnish) Bring a pot of water to a boil and cook pasta using manufacturer's instructions for al dente pasta. While the pasta is cooking in a medium sized saute pan on medium heat, add your olive oil. After about a minute, or until the oil has heated up, add your sliced garlic cloves, crushed red pepper flakes, and sliced tomatoes. If you're not a fan of spicy food, it's totally ok to omit the chili flakes. For most people, four good dashes will do the trick. Using a rubber or wooden spatula stir the ingredients around until the garlic just barely starts to get color. Take the pan off the heat until about a minute before the pasta is done cooking. If your pasta has about a minute left, go ahead and put your saute pan with garlic, oil, chili flakes, and cherry tomatoes back on medium heat. When the pasta is done cooking, use tongs to lift the pasta into the saute pan directly from the water. Excess pasta water is a plus here. It helps to create a sauce out of our olive oil mixture. After the pasta is in, add your parmesan and parsley. Using your tongs, stir the mixture, coating all the noodles over medium heat for about 5 minutes. For a fancy plating technique to impress anyone, you can use a large pitchfork or salad tossing fork to wrap the pasta serving around on. After this, you can move the fork and turn it straight up and down onto your plate, letting the pasta fall down into a beautiful restaurant-quality presentation. Garnish with some more parsley and parmesan and enjoy your delicious meal!
Discover More
Get to know Ventura, and discover the best things to do around the city.
Ventura Partners With