Posted: Thursday, Oct 29th, 2015
El Nino brings a new array of fish to Ventura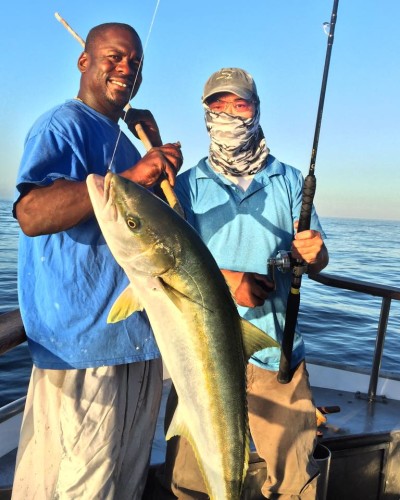 It's definitely not your typical fishing year, and that's an understatement! Following a strong fishing season last year, exotics are the topic at hand. El Nino brings warmer waters into our area, matched with plenty of bait fish such as sardines, anchovies, mackerel squid, yellowtail, and even the tuna crab (also known as red crab). Just a quick factoid on Yellowtail: they get called tuna when they're actually from the amber jack family -Yellowfin are actually the tuna, and both are game fish. They are a prize trophy catch that fight hard and are great to eat, mostly as sushi such as sashimi. Both are being caught right now with boats leaving Ventura harbor daily. The warm water also gets Bonito and other prized local game fish, like the Calico Bass, or Kelp Bass which are more good eats! One negative thing about the warm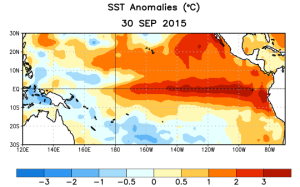 water is that it can kill the kelp and destroy Calico Bass fishing as it did last time we had El Nino conditions. Nature will take its course, there is nothing we can do about it, except get in on all of the hot local action. If you've never done it, you can rent a rod, buy the set up and gear at Ventura Sportfishing Landing. The captains and crews will set you up to catch a fish of a lifetime. If you have any questions, call the landing at 805-676-3474.
Predictions say that El Nino has not fully peaked yet and more exotic fish are on the way. A dozen Marlin have been hooked with only a couple making it to the deck of the boat. Possibly Wahoo and Dorado (also known as Mahi Mahi) may be coming up as well. A few other landings have been reporting them mixed in with some Blue Fin Tuna.
I highly recommend taking a fishing trip. Get a buddy, call the landing, make a reservation, and "LET'S GO"!
Note: Guests 16 years of age and older need a fi
shing
 license unless on a pier.
          No license needed for anyone fishing on a pier.
Some important items to have: sunscreen, sun glasses, hat, pliers, small towel for your hands.
Fish
and Wildlife Rules and Regulation Booklet is very helpful to have on hand.
Only keep what you plan to eat.
Practice 'CPR': Catch Photograph and Release