Posted: Thursday, Jan 9th, 2020
Best Vegetarian and Vegan Restaurants in Ventura
most underrated beach town in America
. And frankly, that's why we love it. Tucked between the
L.A. bustle and Santa Barbara glitz
, Ventura's undiscovered energy makes this coastal burg even more special. It's pedestrian-friendly,
temperate year-round
, and right on the beach. Despite recent growth, it's kept the
small-town fee
l.
Unlike its sister town, uber-hip Ojai, Ventura doesn't especially tout its vegan offerings. But those sunsets and ocean breezes were calling, so a friend and I set out together for a two-day "
vegan vacation
" in Ventura. Could we make it work? Bottom line: teasing out vegan venues took a bit of digging here.
But what we discovered was well worth the hunt!
Foodies can find great vegan options here. So we wanted to share the juice!
Vegan Eats…
Our first vegan dinner made the entire trip worthwhile:
(Don't be confused by yet another "
Rice by Mama
" just to the west — that one is so popular it's hard to get into on a Saturday night, but Rice 2 isn't far away!) You'll find many vegan options to choose from. We dug into Mussamun and Panang Curries. Be sure to try their delicious, nutty "red rice."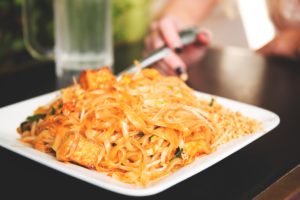 If you decide to stay at the Bella Maggiore Inn, as we fortunately did, the Busy Bee Cafe, is a must for breakfast.
It's literally right around the corner from the Bella Maggiore (For the in-crowd, there's even a closer entrance off the alley!). The Busy Bee is a Ventura classic — not to be missed, if only for the decor. Think iconic red-and-white tiles, old-fashioned jukeboxes at each table, and waitresses with coin-changers at their waists. The menu is pure down-home American. But with a little ingenuity, you can create vegan options that work. I started with an order of their hearty whole-wheat toast, slathered it with a side of sliced fresh avocado, and topped those wedges off with Busy Bee's tasty homemade pico de gallo.
Bee-utiful!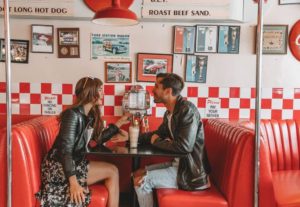 For lunch, we found our way to Himalaya, a restaurant boasting Nepalese, Indian, and Tibetan food.
Tucked into a shopping center at the corner of Ventura Avenue (just north of Main), Himalaya is a find. Vegetarians will be delighted to discover a whole page of vegetarian options on the menu, and vegan options are helpfully flagged. And the food was amazing! We started with a shared order of Tadka dal (yellow lentils with Indian spices/vegan) and splurged on a house favorite, Saag naan (traditional naan bread stuffed with spinach dip — a non-vegan naan variation, as it included sour cream, but so good!) Be sure to try an order of their wonderful vegan Samosas  – little towers of a deep-fried potato/pea mixture, accompanied by two sauces: tamarind (red) and mint (green and a little spicy). While you're relaxing, browse the shelves of traditional crafts from Nepal, Tibet, and India, including figurines and artisan-made clothing.
Vegan options include a creatively veggie-filled vegetarian chili (including corn, carrots, and black olives) and sweet cornbread: just ask them to hold the usual cheese. My travel partner ordered the "
Old Town
" salad (brown rice, tomato, guacamole, and carrots): again, just ask them to leave off the feta cheese to make it vegan.
Our third morning opened with breakfast at Harvest Cafe.
We were surprised to find no dedicated parking lot, but there's plenty of street parking a short walk away. The Harvest Cafe proudly displays its "
Ocean-friendly
" rating, and it's certified as a "
Ventura Green Business.
" And their menu is completely gluten-free. I opted for the "
Golden Protein Porridge Bowl
": oats, quinoa, buckwheat groats, coconut, banana, raisins, and nut butter, flavored with turmeric and cinnamon. Delightfully sweet to the tongue despite no added sugar. My companion chose the "
Cashew Yogurt Bow
l":  house-made granola and yogurt, topped with a delightful fresh fig!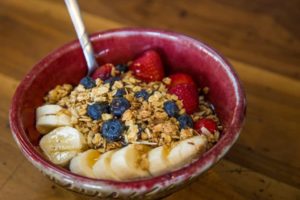 Cafe Zack was an experience so unique it deserved its own write-up! The menu is upscale Italian crossed with a farm-to-table foodie. They'll happily adjust anything on the menu for food preferences, and vegan options were easy to find. We ordered a delightfully light tomato soup, laden with floating bread cubes and topped with ribbons of fresh basil. For the main course we split a tostada salad topped with a mixture of grilled vegetables, all presented on a (homemade) baked whole wheat tostada. And don't forget to try their passion fruit iced tea!
Our farewell-to-Ventura dinner was a lower-Main Street find:
The decor is a blend of colorful folk art (think Frida Kahlo) mixed with an Old Mexico flair. The tortilla chips were thick, hearty deep-fried wedges. Be prepared: the homemade salsa is super-fiery but excellent! Vegan options are limited here, but the black bean-and-rice soup makes a wonderful meatless meal in itself. Vegetarians and pescatarians will find many more choices. In addition to the bean soup, the vegetarian in our party tried a cheese-and-veggie quesadilla, which came sizzled to perfection on a grill, blessedly light and free of extra oil. The perfect cap to a perfect visit.
To read more check out the full article here. 
For more great stories, request our FREE inspiration guide right to your door!
Check out upcoming events!
Discover More
Get to know Ventura, and discover the best things to do around the city.
Ventura Partners With