Posted: Thursday, Mar 30th, 2017
VINTAGE DREAMS
photo by Lucas Dorward
If you're lucky, you have already seen some beautiful vintage cars chugging along in downtown Ventura. There are some specific places in Ventura that will take you back in time. You will feel like you stepped into the TARDIS and woke up in a different decade. I adore antique shops and I would love to share my favorite spots that will bring your vintage dreams to life.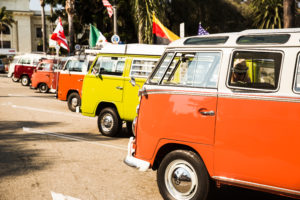 Lavender Blue
Rob and Mary Livingstone opened a lovely antique store in 1997 called
Lavender Blue
. Mary has since continued to take beautiful antique pieces and upcycle them to something completely magnificent. This is always a must visit whenever I am in Downtown Ventura. It's exciting to see the new pieces she has in the store, from vintage style clothes to breathtaking pieces of furniture. Mary not only sells repurposed items but has several different workshops so you too can get your creative juices flowing. You could sign up to learn how to paint with milk paint, solder charms or work with leather.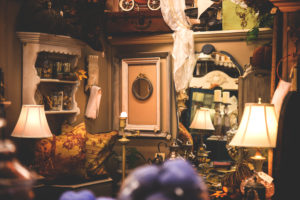 Tattered Door
Can't get enough of antiques? Right next door to Lavender Blue, you will come across another lovely vintage store called
Tattered Door
. This store has so many odds and ends for a shabby chic decor. I usually make it a point to check out all the vintage jewelry pieces. I once bought a pretty ring handmade in Ventura from Tattered Door. It was made with a heart shaped pebble that had been found along the beach in Ventura. There are many treasures to be found here.
Busy Bee Cafe- Diner
After all that shopping, you'll be craving a bite to eat and I know just the place. Sticking to the vintage theme,
Busy Bee cafe
is where it's at. As soon as you step into this restaurant, you will notice the 50's decor all around you. Jukeboxes at every table, black and white checkered tiles as well as waiters dressed up in vintage style uniforms. The food is truly divine and the atmosphere really makes you feel like you stepped back in time. This is a great restaurant for families and even those of you who just want to catch up with a couple of friends, the ambiance is perfect.
I hope to see you soon, exploring all the charming vintage spots and finding hidden treasures in beautiful Ventura.
Discover More
Get to know Ventura, and discover the best things to do around the city.
Ventura Partners With