Posted: Monday, Oct 1st, 2018
Upcoming Events in Downtown Ventura: October 2018
by Kacie Goff
Don't get spooked this October! Downtown Ventura has an incredible lineup of events for you.
The goblins, ghouls, and witches are making their way out of hiding to grace the fronts of homes and the aisles of stores. And you know what that means – it must be October! We've got good news. You don't have to wait until the end of the month for the festivities to pick up. Downtown Ventura has some great ways you can fill the entire 31 days of October with fun. Here are the events you shouldn't miss in October 2018.
Ventura Marathon (October 20-21)
View this post on Instagram
The
Ventura Marathon
has a little something for everybody. If you're a serious racer trying to PR, it's got you covered. It's a fast downhill course and a Boston Marathon qualifier. If you're in it for the social element, you'll love it, too. The day kicks off with a Belgian waffle breakfast and ends with craft brews and live music in the beer garden. If you've been training for the marathon for a while and can't wait for that sense of accomplishment that comes with crossing the finish line, you're in luck. You'll get a medal and have great photos from the event to help you remember the day. Plus, you don't have to run 26 miles to get involved! There's also a half marathon, a 5k, a downtown mile, and a kids' run. If you've been looking for an excuse to lace up those sneakers and get moving, this is it! Whatever distance you want to run (or walk), don't forget to register.
Halloween Spooktacular (October 27)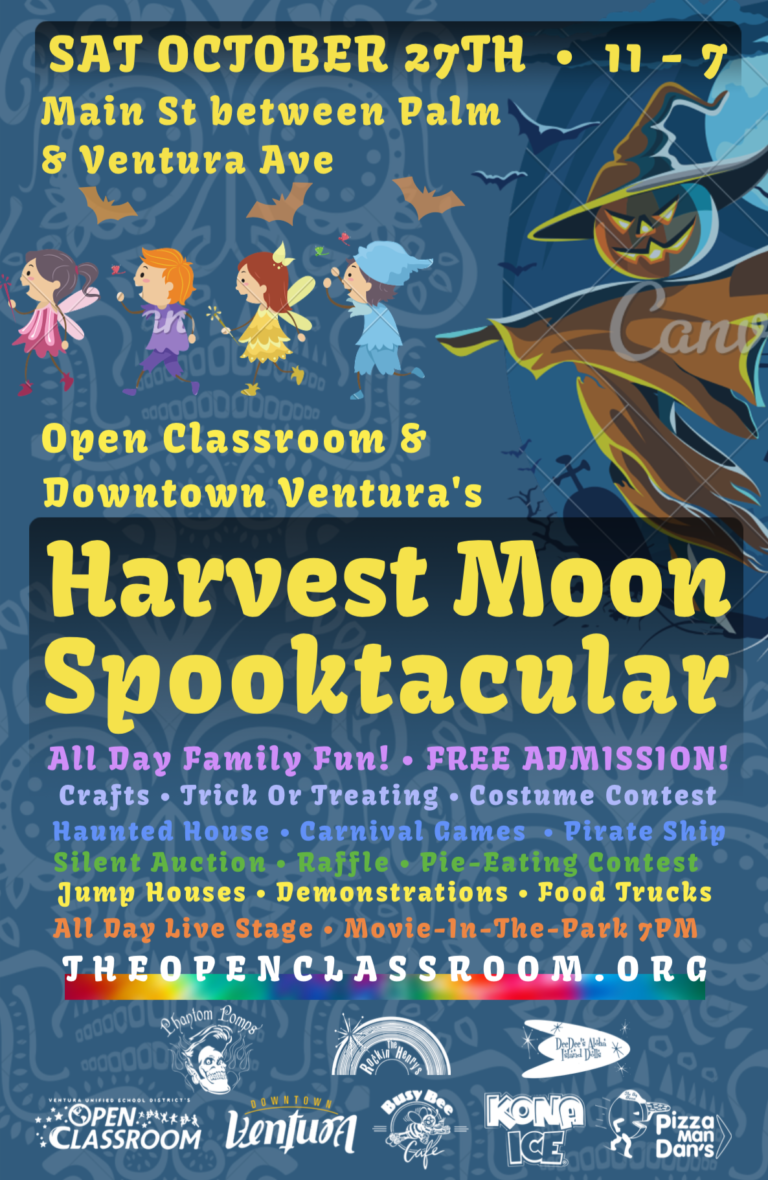 It's that time of year when frights and chills abound, and if you head Downtown on Saturday, October 27th you'll find both – plus a ton of fun! It's time for Downtown Ventura and Open Classroom's 7th Annual
Harvest Moon Spooktacular
. This year, the magic is happening at a new location: Mission Park and the 200 block of Main Street. The whole event kicks off at 11 am. Expect games, crafts, bouncy houses, live music, a haunted house, a pie eating contest, and more. Don your costume and get there by 3 pm to participate in the annual costume contest so you can win a prize. Think the fun ends after the costume contest? Think again. From 4 pm to 7 pm, kids can trick-or-treat Downtown for free – we've got a number of businesses ready to deliver a treat into your kids' waiting hands – and at 7 pm, we'll be screening a free showing of The Nightmare Before Christmas. This is a full day of family-friendly fun and it's all free. All treats, no tricks!
Let's boo-gie!
We're really excited to share another great month with you. Which Downtown Ventura event are you most looking forward to in October 2018? Let us know in the comments!
Discover More
Get to know Ventura, and discover the best things to do around the city.
Ventura Partners With