Posted: Tuesday, Mar 1st, 2016
Favorite Places to Shoot Photos in Ventura, California
by Mike Laan
We are lucky to have so many talented photographers in Ventura who consistently capture unique photos that represent what Ventura means for them. We've asked some of our local photographers to share their favorite places to shoot in Ventura in hopes of inspiring others to capture Ventura through their own lens. Remember to share your photos with #VisitVentura so we can celebrate your images too!
Santa Cruz Island
"One of my favorite places to photograph is Santa Cruz Island. Every season offers new opportunities to catch nature doing something special. I usually camp 1 or 2 nights to be outside for sunrise and sunset leaving the rest of the day for hiking or kayaking." -Doug Mangum
Surfers' Point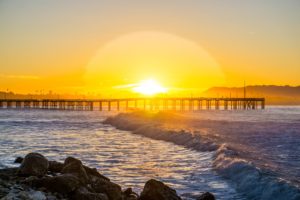 "My favorite place to shoot would have to be Surfer's Point. I love that life is always changing there; one day it's great waves and surfer's catching some sweet rides, and another day it's street jugglers and artists selling their work. There's always something different to shoot. The best, in my opinion, are the sunrises and sunsets. There's always something about the sunrises and sunsets here in Ventura; they're uniquely Ventura." –Hayden Berger
Grant Park

"Grant park not only gives you a stunning view of downtown and the coastline but offers photographers many unique vantage points. Some of my favorite things to photograph from here are the waves in the bay as they form a seashell shape around Surfers Point (C-Street), new angles of the buildings and streets in downtown, and of course the overall view. On a clear day, you can see the Channel Islands across the water and this makes for a particularly beautiful photograph." –Kamilo Bustamante
Depends on the Sun
"Wish I had a simple answer but it really depends on what time of the year and where the sun is setting. If the sun is setting at its most northern point west, I go to Emma Wood and north for the long reflections on the beach looking north. If it is set at its most southern point west then I like pretty much anything looking south starting at Surfers Point. Finally, when the sun is setting true west, then for me it's all about getting the photo of the Pier, Serra Cross, or downtown." –
Leslie Collier
Ventura from Above
"My favorite place to shoot on Ventura is from above looking over downtown. Where the city meets the ocean is something very special to watch from above." – Broc Ellinger
All of Ventura

"I'm not sure if I have one specific place, other than to just say, VENTURA! I'm so blessed to have been raised and still live in our beautiful town." –Felix Cortez
Discover More
Get to know Ventura, and discover the best things to do around the city.
Ventura Partners With